Reggaeville Riddim Corner #20
09/04/2017 by Dan Dabber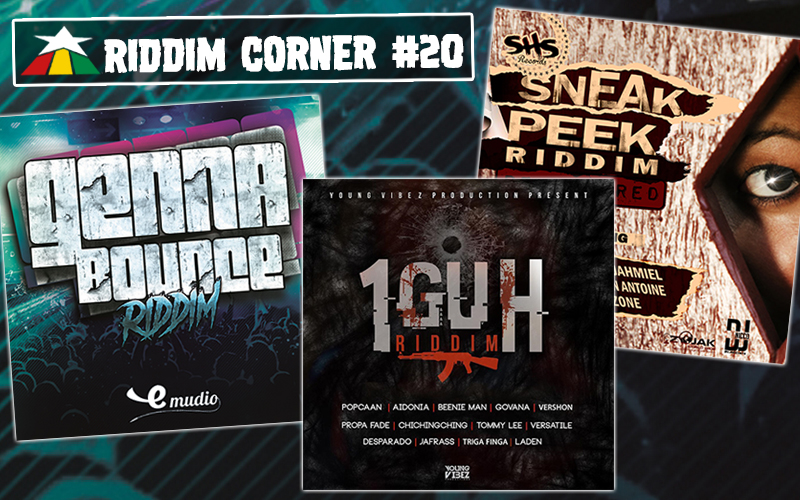 GENNA BOUNCE RIDDIM (EMUDIO RECORDS)
Emanuel Schirmer is the producer behind Emudio Records and Aidonia's Yeah! Yeah!, one of the biggest dancehall hits in Jamaica this summer. Although Schirmer resides full time on the island, he is a German citizen who relocated to Jamaica two years ago to pursue his dream of working in music. It didn't take long for the young expatriate to find work at Freddie McGregor's Big Ship studio as a producer and engineer. Months later he would form his own label, Emudio Records, and begin releasing jugglings. Emudio's latest release is Genna Bounce Riddim, the highly anticipated full length extrapolation of the backing track from Yeah! Yeah!
Listeners familiar with the Big Ship camp will remember it as the homebase for Grammy-nominated super producer, Stephen "Di Genius" McGregor, who is widely regarded as one of the most innovative and important producers to come out of Jamaica in the last 20 years. Since Schirmer is now a part of that same camp, it is no surprise that there are traces of Di Genius' influence on Genna Bounce. The chopped-up, breathy synth fill, the machine gun drum hits that fire unexpectedly mid-verse, and the subtle, organic clap all seem to be taken from McGregor's playbook.
Genna Bounce's built-in hit single begs the question - is there enough heat on the juggling to make the riddim a hit? Artists from both Big Ship and Aidonia's J.O.P. (Jag One Productions) crew showed up to do their part. On the Big Ship side, Laden stands out on the surprisingly rugged Certified Gyallis, and, aside from Aidonia, Govana is the J.O.P. artist who flexes the hardest on Genna Bounce. His tune, Gyal Clown, has an annoying triggered-sample hook (on some early 90's Slick Rick-type vibe), but it can be easily pushed into the background by focusing on Govana's performance, which is as unconventional as it is engaging. Dancer/artist/trendsetter Ding Dong, who represents his dance crew, Ravers Clavers, is equally captivating on Genna Bounce, inviting the listeners to participate in the accompanying Genna Bounce dance with his track, Dweet (Genna Bounce).


1GUH RIDDIM (YOUNG VIBEZ PRODUCTIONS)
Throughout the 90's and well into the 2000's, the Shocking Vibes label was a staple in the dance. Riddims like Gun Inna Baggy (1990) and All Fruits Ripe (1992) put Shocking Vibes producer, Patrick Roberts, at the forefront during the formative years of modern dancehall, alongside more revered names like Steely & Cleevie and Sly & Robbie. The imprint fizzled out in the mid-2000's, but in 2006, Young Vibez Productions rose from its ashes, operating from the former Shocking Vibes headquarters.
Jamie Roberts is the son of Patrick and the producer behind Young Vibez Productions. Despite the name of his label, Jamie is a certified veteran who has already made his own reputation - completely separate from his dad - with riddims like Mad Vybz (2010), 50 Cal (2015), Wicked Wicked (2016), and many others. His newest juggling selection, 1Guh Riddim, has already created a wild buzz in the short month since its release, and it may be the top riddim for the remainder of 2017. Although 1Guh has a unique, danceable sound and enough star power for two jugglings, the riddim has the rare opportunity to ride in the wake of an established hit.
Even though the riddim is named for Popcaan's track, Aidonia's tune, Fire, is the song that seems to be generating the most heat so far. The initial interest in Fire is in no small way connected to the success of Yeah! Yeah! Although Genna Bounce and 1Guh don't sound very similar, they are close in tempo and Aidonia brings a similar energy to both songs. These connections make it easy for selectors to pair 1Guh and Genna Bounce, and it's likely we will hear them doing just that - running the two back-to-back - well into 2018, especially if Fire, or any 1Guh single, achieves the kind of success Yeah! Yeah! did.


SNEAK PEEK RIDDIM (SHS RECORDS)
Over the last decade, DJ Nicco has built a reputation in Jamaica as an innovative club and radio DJ, but over the last couple years he has shifted some of his focus to honing his production skills. Through his label, SHS Records, Nicco has had a slow, but steady trickle of releases since 2015, including a laidback, beachy juggling called Vacation in 2016. His latest project, Sneak Peek Riddim, is more about the floor than the shore, linking dancehall rhythms with pop and electronic elements. There's a lot going on in Sneak Peek - almost too much - but the part of the instrumental that stands out the most is the choppy 8-bit synth, which could have easily been sampled from RC Pro AM or created virtually with bitcrushing plug-ins. Whether synth, sample, or a sampled synth, it isn't a novel sound, but the way it washes over Sneak Peek Riddim is mesmerizing and movement inducing.
Sneak Peek's artist line-up lacks huge star power like a Popcaan, Beenie Man, or Mavado, but Nicco's artist selections are well thought out and pack a load of talent. The most prominent names on the juggling are Bugle and Jahmiel, who both contribute solid, inspirational versions that depict struggle and perseverance. Leftside is another name that stands out on the track list, and his track, Playtime Done, is a shot fired at Leftside's enemies and is also my favorite selection from the album. Die hard dancehall fans will also notice Shenseea's name in the credits. The singjay came into the spotlight earlier this year when her combination with Vybz Kartel, Loodi, became a smash single, and even moreso when controversy arose about her involvement on the track. Although Kartel alleged that he had never given Shenseea permission to perform his lyrics in Loodi, Nicco certainly meant to give her the opportunity to do her thing on Next to You, and she delivers nicely.