Reggae Month 2021 - Virtual Launch Live Stream
01/10/2021 by Press Release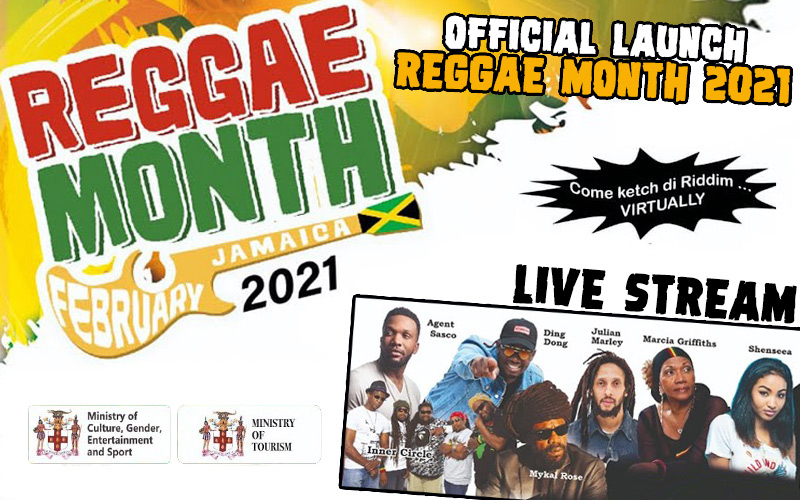 REGGAE MONTH 2021 LIVE STREAMS HERE

"Come Ketch di Riddim" on Sunday, January 10, at the virtual Launch of Reggae Month 2021, which will be broadcast across local television stations and live-streamed on various social media pages, both at home and abroad beginning at 8:00 pm. The launch of the annual month long Reggae music-centred celebration will highlight this year's fantastic slate of virtual activities while also featuring performances by established and upcoming Reggae artistes such as Marcia Griffiths, Julian Marley, Agent Sasco, Shenseea, Peetah Morgan, Ding Dong, Inner Circle feat. Mykal Rose.
The virtual launch will be broadcast locally on Television Jamaica (TVJ), PBC Jamaica, Jam Vision and will also be live streamed on social media, including: PBC Jamaica's Youtube Channel, the JCDC Jamaica Youtube Channel, 1SpotMedia's Youtube channel, WorldAReggae's YouTube channel, TVJ's YouTube channel and the Facebook page of the Hon. Olivia "Babsy" Grange, the Minister of Culture Gender, Entertainment and Sport.
Reggae Month 2021, which is a proud product of a partnership between the Ministry of Culture, Gender, Entertainment and Sport and the Ministry of Tourism, will also see its full slate of activities being held virtually, in keeping with the national social distancing protocols caused by the COVID -19 Pandemic.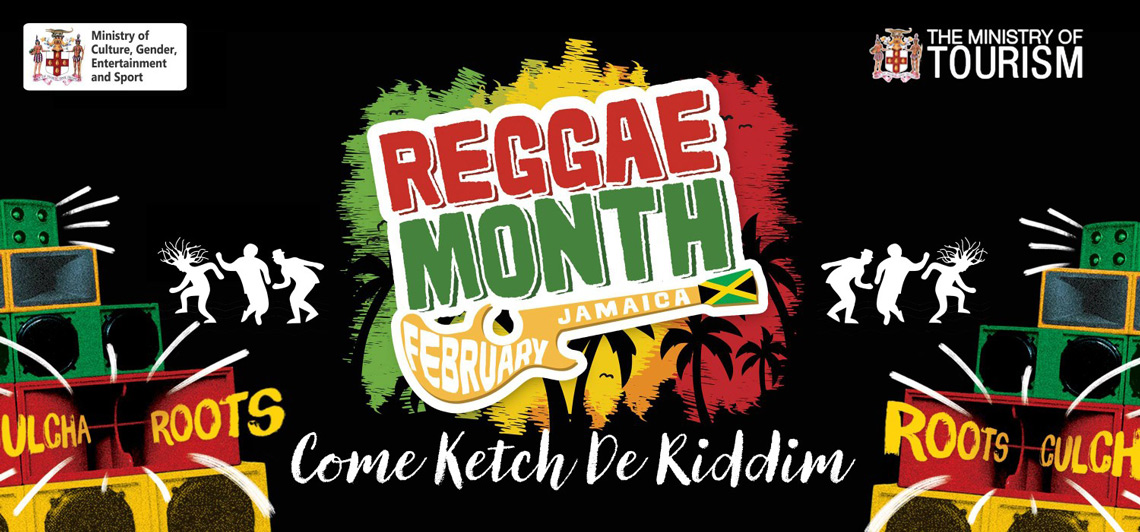 In fine style, the Minister of Culture Gender Entertainment and Sport Olivia Babsy Grange explained that high energy, patriotism and enthusiasm for February's month-long activities will be maintained while encouraging Jamaicans both locally and in the diaspora to support the initiatives.
"Reggae Month proudly celebrates fourteen (14) years this year, and we are ecstatic that this year's staging can continue as planned through virtual channels, despite the devastating effects of the COVID 19 pandemic. Thelaunch will be a spectacular snippet of what Reggae music fans across the globe can expect for February, so we encourage all Jamaicans far and wide to tune in," she said.

Minister Grange also stated that it is essential for Jamaicans take pride in and celebrate Reggae music as it continues to touch the lives of people all over the world as a now established and financially viable international brand.
"Reggae continues to be embraced and recognized by many international sectors and global leaders as a key economic driver for our nation. As a cultural product, it is essential to Jamaica's financial growth and success and it has been deemed economically invaluable by our local corporate sector. Brand Reggae is a significant contributor to our GDP and also a significant foreign exchange earner via the Tourism linkages industry," Minister Grange continued.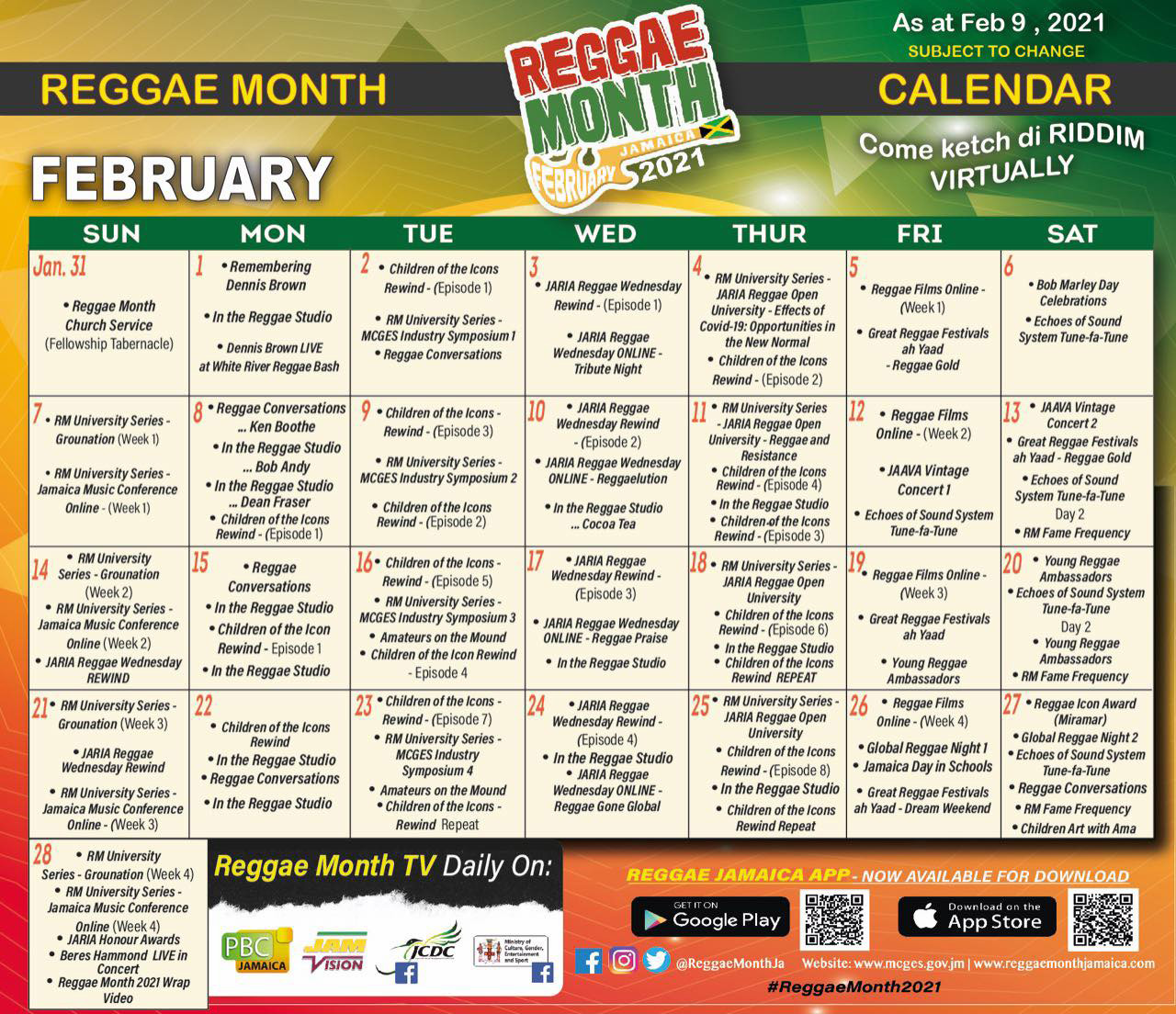 The Government of Jamaica officially declared the month of February as Reggae Month in 2008. This was done to highlight and celebrate the impact of the indigenous musical genre on the country's social, cultural, and economic development. Additionally, the birthdays of two of Jamaica's and Reggae music's late icons are commemorated during the month of February. Dennis Brown, also known as the 'Crown Prince of Reggae', is celebrated on February 1 while Robert Nesta 'Bob' Marley, the renowned 'King of Reggae', is celebrated on February 6. Reggae was recognized by UNESCO as an intangible cultural heritage deemed worthy of protection and promotion in 2018.

REGGAE MONTH 2021 LIVE STREAMS HERE