Buju Banton @ Welcome To Jamrock Reggae Cruise 2019 - Line-Up Revealed
04/16/2019 by Reggaeville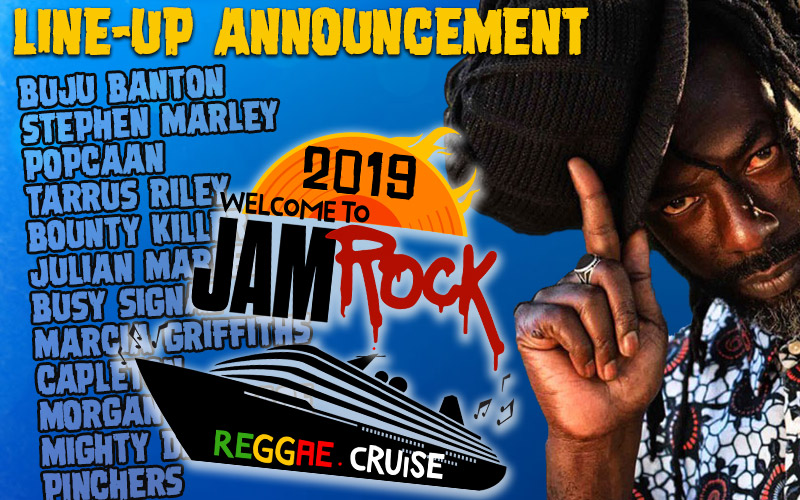 The 2019 edition of Damian Marley's Welcome To Jamrock Reggae Cruise is sold out since last December, but only today the line-up was announced. And yes... BUJU BANTON is on it!

It's to be noted, that captain Damian 'Junior Gong' Marley is not listed as part of the line-up. Does this mean, he will not did a full performance with his band?

Here is the full list of artists. More DJs, Hosts and Sound Clash at Sea to be announced soon.

ARTISTS
Stephen Marley
Buju Banton
Popcaan
Tarrus Riley
Bounty Killer
Julian Marley
Busy Signal
Marcia Griffiths
Capleton
Morgan Heritage
Mighty Diamonds
Pinchers
Sister Nancy
Everton Blender
Ding Dong & Ravers
Clavers
Koffee
Christopher Martin
Skip Marley
Johnny Osbourne
Wayne Marshall
Charly Black
Ghost
Professor Nuts

SOUND SYSTEM
Stone Love
Rory
Bass Odyssey
King Jammy
Black Scorpio
Bodyguard
Kingston 12 Hi-Fi

Welcome To Jamrock Reggae Cruise has become one of the most in-demand reggae gatherings in the world, selling out every year. Each year, fans spanning from over 25 countries converge for their love of reggae and Jamaican culture. The musical performances, entertainment, food, fitness and wellness activities all give cruise-goers a slice of the Jamaica before they dock. Founder Damian "Jr. Gong" Marley has made it his mission for the cruise to embody the island's rich culture through and through.