Buju Banton, Shaggy, Koffee, Usain Bolt @ Covid-19 Telethon Jamaica 2020 - Live Stream
04/10/2020 by Reggaeville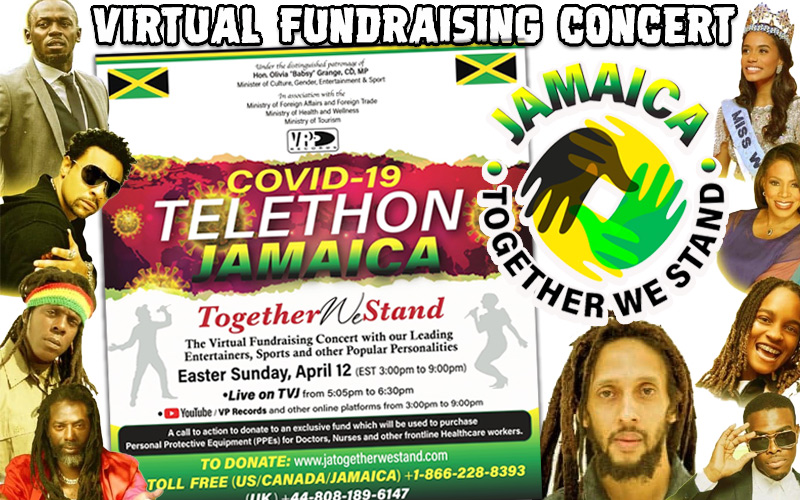 The Together We Stand Global Alliance under the distinguished patronage of The Honorable Olivia Babsy Grange is a joint effort of Ministry of Culture, Gender, Entertainment and Sport, the Ministry of Foreign Affairs and Foreign Trade, and the Ministry of Health and Wellness. The initiative is targeting to raise US$10.5 million to help Jamaica fight the spread of the deadly COVID-19 disease.

CLICK HERE TO WATCH THE LIVE STREAM!

The 6-hour live event will air on YouTube, Facebook and TVJ Jamaica. The title 'Telethon Jamaica. Together We Stand' which is inspired by the recently released Richie Spice song; the goal is to bring Jamaicans together to support this important cause which has affected many citizens globally. The Telethon will feature performances by top Jamaican artists from their home:
Buju Banton
Koffee
Shaggy
Julian Marley
Spice
Cat Coore
Marcia Griffiths
Christopher Martin
OMI
Jesse Royal
Richie Stephens
Richie Spice and many more...
Minister Grange said proceeds from Telethon Jamaica will be used to provide "much-needed additional resources for our health services including ventilators in hospitals and personal protective equipment for frontline staff".
The Minister also thanked members of the entertainment fraternity who have willingly agreed to participate in Telethon Jamaica. "We have always been able to rely on our artistes in times of crises; and I am really grateful for the way they have been responding to our invitation to participate in this life-saving effort."
DONATE @ JATOGETHERWESTAND.com

Why a COVID-19 Fund?
The Government of Jamaica has embarked on a strategic program to contain the spread of the Coronavirus (COVID-19) in Jamaica.

What you can do to help in this fight?
You can donate whatever you can to the Telethon Jamaica: Together We Stand Fund online or over the phone at toll free number +1 (866) 228-8393 and encourage your friends and family at home and abroad to do the same.

How will your donation be used?
Your donation will go towards the purchasing of personal protective equipment for healthcare and frontline workers, testing kits and treatment as they become available.

Telethon Jamaica. Together We Stand
Sunday, April 12, 2020
3PM - 9PM EST
9PM - 3AM GMT
TVJ 5:05 - 6:30PM EST
WATCH THE LIVE STREAM HERE: