Reggaeville Riddim Corner #19
05/17/2017 by Dan Dabber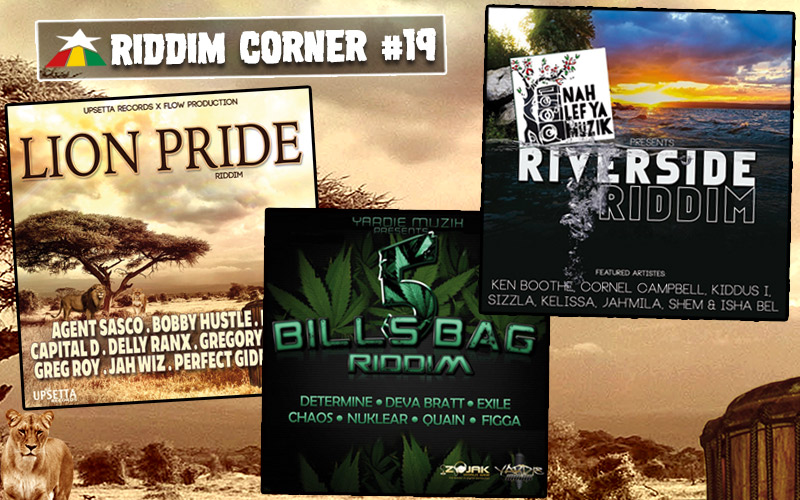 LION PRIDE RIDDIM (UPSETTA RECORDS X FLOW PRODUCTION)
Upsetta Records and Flow Production's newest collaboration, their first of 2017, is Lion Pride - a stripped down, beachy, genre-transcending riddim. Grounded by acoustic guitars and organs, Lion Pride features some top reggae talents, but is missing the repetitive upbeat accents that provide the backbone of almost every reggae riddim. Instead, Lion Pride's backbone is hand drums, which play with an uncomplicated, hip hop swing. Frequent use of filters provides a bit of atmosphere when needed, and gives Lion Pride enough high-tech sizzle to work in a downtempo dancehall playlist. Lion Pride combines these elements from different sound palettes to create a natural, laid back vibe that is essentially pop, if pop were covered in sand and coconuts.
I've never heard of coconuts growing in the UK, but Nottingham-based singer, Bud, is the featured artist best suited to showing Lion Pride's versatility. She describes her own sound as, "Accoustic. Reggae. Dub. Pop," and her song, All for You, shows why she is such a good fit for this juggling. Her voice is velvety and entrancing and her songwriting is beautiful, but her style is more coffeeshop than culture shop, which takes her version of Lion Pride to a place not often found on a riddim selection. American-born reggae singer, Bobby Hustle, takes a less pure pop approach on his track, Never Enough, with his Jamaican influences still shining through in his rhythmic cadences and straightforward melodies.
Lion Pride also features three versions from great Jamaican artists, giving the otherwise ambiguous riddim solid footing in its reggae identity. First and foremost is the Cool Ruler, Gregory Isaacs, posthumously featured on his track, Please Forgive. His vocals were repurposed from a tune originally recorded with VIS Records before Isaacs died in 2010. The update is incredible - as though Isaacs had actually penned the lyrics to Lion Pride - and it gives fans an opportunity to hear what the legendary reggae artist would have sounded like on a contemporary riddim. Delly Ranks is a living legend, and he shows up big with conscious rasta vibes on My Backative, a song about the powers of faith and prayer. Agent Sasco's tune, Winning Right Now, lives up to its name with a wicked performance from the deejay. His thought provoking lyrics burst with gratitude, however his background singers may have had Lion Pride confused with The Lion King. Even with the dramatic African-inspired moments, Winning Right Now is fire and I wouldn't be surprised to see it reappear on a future Sasco album.
RIVERSIDE RIDDIM (NAH LEF YA MUZIK)
Ai Yoshida was born in Japan, but she currently resides in Jamaica where she started her own reggae label, Nah Lef Ya Muzik. Her first juggling, Riverside, was released in April, and, based on the style of music and the artists involved, one would think that the rookie from foreign was actually a seasoned Jamaican vet. With a rootsy, old school rockers appeal, Riverside is the perfect juggling to bring together reggae singers from across a broad range of generations. Several of reggae's original pioneers - Kiddus I, Cornel Campbell, and Ken Boothe - contribute with versions, but the Riverside juggling also includes more contemporary artists like Kelissa. The combination of old and new gives balance and texture to the project, and may make the listener question how much reggae has actually changed in the last 50 years.
Sizzla, who represents a period of reggae history that lies somewhere between Campbell and Kelissa, is featured on Riverside with a tune called Happy To See Another Earthstrong. The title of this track is especially appropriate since Sizzla's earthstrong was on the same day as the Riverside release, April 17th. As the title further suggests, the song is about gratitude, specifically, a gratitude for life. The majority of this message is delivered with an expert performance from one of the most important reggae artists from the last 30 years, but as is occasionally Sizzla's style, he slightly overdoes it with the falsetto for the hook.
Kelissa has a similar thankful message in her tune, Smile A While. Arguably the top selection from the Riverside juggling, Smile A While drips with positivity and Kelissa's impressive singing talent, as she makes an accounting of all of life's blessings. These positive vibrations are a running theme throughout Riverside, as further evidenced by Cornel Campbell's contribution, Good Seeds To Sow. Campbell is the most experienced artist on the project, having first recorded vocals in the 1950's. Ken Boothe began his career in the 60's, but his voice is still buttery smooth in 2017 and his tune is both the lead off and titular track for the juggling. A spiritual tune with a "promised land" theme, Riverside is about a journey home, though I think Boothe's lyrics are meant to resonate beyond their literal meaning.
5 BILLS BAG RIDDIM (YARDIE MUZIK)
On April 14th, Jamaican label, Yardie Muzik, officially released 5 Bills Bag Riddim, a juggling that was leaked all over Youtube and everywhere else in 2012. There was good reason to delay the release. The riddim has a fun and unique sound, but five years ago the artist lineup was somewhat lacking and all of the versions were poorly mixed and distorted. Yardie Muzik isn't a big label. They might need five years to come up with the necessary resources to voice a few more notable artists and hire someone to clean up their tracks. Only they didn't do that. They didn't do any of that. They released the EXACT same juggling that was leaked in 2012.
Even though there aren't many big names attached to this project, Yardie Muzik still manages to get some great performances from the contributing artists, even if the finished product isn't as polished as it should be. One of the names that stands out on the juggling is Exile, who is probably Exile Di Brave. The artist's hip hop sensibilities and personal lyrics on I'm Broke are certainly congruent with the popular singjay's style, and the song is inventive, relatable, and one of the best on the juggling. Founding Portmore Empire member, Deva Bratt, also has a killer tune on 5 Bills Bag, My Brain (Highgrade), in which he unleashes furious, double-time lyrics about Jamaica's second biggest cultural export, ganja.
Marijuana is the loose theme of the project, as evidenced by the riddim's name and cover art, as well as several tunes with weed-laced lyrics. Determine, the third and final notable deejay on 5 Bills Bag, joins the pot party with Gimmie More, along with a couple of the lesser known artists, Quain and Nuklear, who both perform adequately. Even if Yardie Muzik would've just taken the existing tracks and cleaned them up, this would be a release worth buying. But, as is, 5 Bills Bag Riddim is barely listenable, and particularly useless to selectors who should not be playing such poorly mixed music on loud sound systems in public. It might work for an online mix though…