Reggae Jam Festival 2018 - Running Order & Live Stream
08/01/2018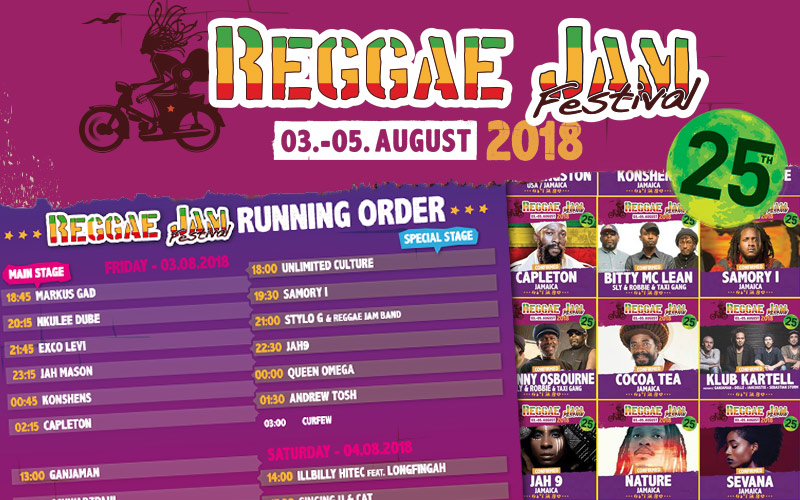 Reggae Jam Festival 2018: the 25th Anniversary edition kicks off officially on Friday, August 3, on the main stages, but Bersenbrück is already inna Reggae vibe. Check below the complete and most recent Running Order for the Main & Special Stage, Dancehall Tent and the Dubcamp.

Reggaeville will be on spot and capture the event. Stay tuned for our Festival Report with photos, live videos, interviews and more…

We have compiled some important things to know about Reggae Jam 2018:

LIVE STREAM
SoundbwoyTV will be streaming again all shows from the Main & Special Stage. Stay tuned for details...
CLICK HERE FOR THE LIVE STREAM!

GRILL BAN
Grill ban on the entire grounds of the Reggae Jam Festival! The heatwave and the prolonged drought are highly dangerous. Nationwide, the second highest warning level applies. Who planned to grill at Reggae Jam, unfortunately has bad luck. In Lower Saxony, barbecuing is prohibited until further notice. Reason is the high forest fire danger.

ART OF REGGAE
The Art of Reggae Exhibition travels to Germany for the first time! Reggae Jam hosts a showcase of 60 posters of the 6th Intl. Reggae Poster Contest 2017-2018. Don't miss it...