Interview with Derajah - Roots Reggae Is Alive And Well In Jamaica
12/17/2011 by Valentin Zill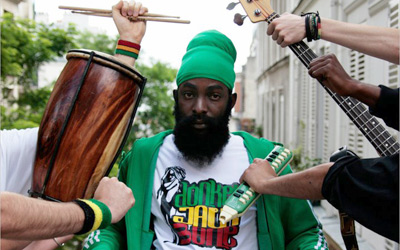 He owes his first introduction to European audiences his teachers, Earl "Chinna" Smith and Kiddus I: with Inna De Yard, Derajah caused quite a stir. Fans were craving for more material of this promising young conscious singer from Kingston. Together with French roots band Donkey Jaw Bone, he recently presented his debut album called Paris Is Burning. Derajah on his stunning album and roots reggae between Jamaica and Europe.


You started to record in the 90s. How come one never heard a lot about you, except for that Inna De Yard project?
What happened is that most of this stuff that I've been working on they didn't release for persons to get a chance to check it out. I am the one who is responsible for most of these recordings. Even if it was done with someone else, it would have been like a case where I and that person are both in charge of what we were doing at the time. So I didn't get a chance to release most of the stuff that I was working on.

How old are you now?
Well, I am 30 years of age. I was born on April the 12th, 1981.

At what age did you start to do music?
I started out in music at a very tender age. But when I really started writing my own lyrics and stuff like that, it was when I was going to high school. Because I was very much instrumental in music, but I was the one who was creating the beats at the time. My friends was more vocal about this thing, and I was at school and I would beat the desk to create the riddim or the beat for my breddren who was the DJ at the time. So I've been involved in music for a while but after that, I start writing my own material because I didn't like the idea of doing other persons' songs. I've always wanted to be more creative in that field, you know.

Your style sounds very vintage, compared to most of today's musical output from Jamaica.
What happened is that this was intended to be like the way it is, because Donkey Jaw Bone is a very deep roots band, and Derajah's always been involved in deep rooted music. I mean, my friends in music are like Linval Thompson, who is an ancient, Cedric Mython, who is an ancient, the Viceroys, who is also ancient, Mighty Diamonds, who are also ancient. So I've been surrounded by these great persons, so the influence actually comes from listening the older persons doing their stuff and lovin' it and wanting to do something that take us back in time. So the album was the perfect thing to bring persons back in time to that ancient sounds... We deliberately was working on an ancient sound, and it worked, you know.

Who was involved in the Paris Is Burning project?
Donkey Jaw Bone, Derajah, Kiddus I, Jack (Ruby) from the Graduation In Zion - you know that track? I actually asked the band to remake that track, and when they did it, I did a song called Bun Dem To Raas on that track. That was actually the contribution of Kiddus I. Earl "Chinna" Smith now, he was the one who created the riddim for Oh Yeah Yah. We actually remade that riddim also with putting in an intro on the riddim and addin' some more instruments to the riddim, but it is basically created by Earl "Chinna" Smith in terms of he is the one who plays the bass on it, he is the one who created the feeling of Oh Yeah Yah, you know.

True that you are related to Chinna?
If I was related to Chinna? I would say yes, I am related to Chinna, because Chinna is like a father figure to Derajah. He doesn't only just teach me music, but he teach me stuff that woulda take me through life and stuff like that. Chinna - I wouldn't say that me and Chinna is not family. I would tell people that yes, we are family of course.

I imagine you guys went to study and recorded everything live?
What happened is that I met Donkey Jaw Bone some years ago on MySpace and they were like, Derajah, we love your songs that you did and that you're doing. It would be great for us to hook up and do something together. And I'm like, OK, you need to come to Jamaica. So they came down here to Jamaica. When they came to Jamaica, we went in Tuff Gong studio and we lay a few tracks over in Tuff Gong studio. Because I was involved in other stuff - I was touring with Inna De Yard crew - I was doing other recording for other persons out there. We didn't get a chance to finish the album until now. We did quite a few recordings in Jamaica. When I went to Europe, I went in France and finalized everything that we were working on. That's what really happened.

Your tour with Inna De Yard was your first tour through Europe?
Yeah, the first time I came to Europe was an Inna De Yard experience.

Was it easy for you to adapt to European audiences?
Yeah, but what I'm used to back a yard is not just what I'm used to because Derajah don't limit himself in what is happening. I have always noticed that there are some great shows keepin' in Europe. Even though I didn't went to Europe until the Inna De Yard CD release - and the people was lovin' it - I was already connected with what was happening in Europe. It was expected of me to see the big stages and the massive amount of people, because even in Jamaica here, we have shows that is very huge in terms of the turnout of spectators and stuff like that. We have big, big shows in Jamaica. We have Air Jamaica Jazz and Blues Festival, we have Rebel Salute, we have St. Mary Mi Come From that is Capleton's show and these shows are a big magnitude of crowd. I was expecting it as it was.


My Sister is one of my favorite tunes from your album Paris Is Burning. What is the story behind it?
This song came about a couple of years ago, after having a bad experience in Jamaica here. I was living with my sister and my father and my mother and my likkle brother. Unfortunately, a gang war was going on in the area, and my sister was involved in a relationship with some other guy from the other community. So what happened is that these guys in Jamaica, what they did was they shoot my sister and kill her. It was so messed up at the time... I didn't even know that I would write a song for this. It just came naturally. I went back one day... The song just came to me naturally, the words were flowing out of my mouth. It was just amazing what I wrote and how it came.

Another favorite of mine is Mario, the second last tune on Paris Is Burning.
Mario is a close friend of mine. We were living together in downtown Kingston in the same house and everything. And when Mario discover my talent, he decided that he was going to go to England to do some work and to get the necessary stuff to come back and do recording. And when he went to England, I don't know what happened - but he was also gunned down by gangsters in England. Something tragic that happened... So I decided to write this song, Mario.

Times are tough for handmade roots reggae music in Jamaica, but it seems as if things would get better - think of bands like Raging Fyah, Dubtonic Kru, yourself... How do you see that?
I can see that the consciousness is coming back in music. You have a lot of young brothers right now in Jamaica that is really stickin' to the original format, which is roots rock reggae music. You have guys here in Jamaica, just the same, who are still doing dancehall music. Me myself have done a bit of dancehall, but I keep it conscious and keep it clean. I really grateful to see Raging Fyah and Dubtonic Kru takin' the legacy thus far. Just like addin' on to what Bob Marley have left us with. We have some guys here in Jamaica who are still conscious about the music that we should have been puttin' out, which is conscious music, reggae music, one drop.

You teamed up with French band Donkey Jaw Bone for your first album. Do you think roots reggae music has an easier standing in Europe?
No, I wouldn't say that. Because you have roots music even right now still going on strong in Jamaica, you understan' me? You have Rootz Underground, you have Raging Fyah, you still have the Mighty Diamonds who perform, you still have the Viceroys who perform. So the music is alive and well, it's just that we need to create this organization right now to take care of us as musicians here in Jamaica, because I've seen persons making great contribution to reggae music, doing their part... Even when these guys pass away, it's like there isn't any financial asset for these guys. Sometimes it's so unfortunate, these guys sometimes have been robbed by producers and different persons out there thief their publishing. It's so crazy. Even me as an artist, I'm very protective of the work that I'm doing, not wanting the same thing that happened to these guys to happen to Derajah.

Paris Is Burning is your first album?
Yes it's my first album that is released. Right now I'm in studio, working on the second album with Donkey Jaw Bone.

Which you will release some time next year, I guess?
Yeah, some time next year. Even if I don't release it next year, I release it some time soon. When I put out this album, the next album come three years after or two and a half years after, just for persons to get a chance to go deep in what I've been doing on this album, Paris Is Burning. I want persons to stay connected with what I'm doing. It doesn't mean that I won't be current at all times, but I don't want to just flood the market with sounds and flood the market with music and then you still have persons who didn't get a chance to review the first album. So maybe it's gonna take a while for me to put out a next album, but it's not gonna be too long because I want this next album to be well-accepted, even greater than what I've done with Paris Is Burning.

What is it about working with Donkey Jaw Bone that you love so much to record two albums consecutively with them?
Donkey Jaw Bone, the band, I really like the guys who are in the band. They have good feel and they have inspiration and style, groove and stuff like that. That's what they bring to the table. And they bring originality to the table as well. It's always a pleasure, working with Donkey Jaw Bone, because these guys, I mean it was said in the prophecy that the Philistines were slain by a donkey jaw bone. So me now, working in this time, I am surrounded by a lot of philistines. So it is just right for me to use the Donkey Jaw Bone to slay these philistines.

There's that debate in Jamaica whether Europeans would - more or less - steal reggae from Jamaica. You don't seem to have any issues working with Europeans?
No, I don't. But what happens is that I really don't like what some of these promoters are going on, you understan' me. An artist that is here from Jamaica and he does his album and his band and everything is besides him and promoters tell these artists Oh, we can't fly your entire band to Europe. Maybe you need to come and use our band and stuff like that. Sometimes, that is not the chemistry! The chemistry is already created with the artist and the band here. So, for me, doing this album with Donkey Jaw Bone, it's a pleasure. But I'm speaking on the behalf of persons who did album here in Jamaica with different bands. Sometimes, the promoters don't want to spend the money to take the guys from Jamaica with their entire band. Sometimes, that messes up the whole thing, because when you go to Europe, the band that is backing you is not as good as the band that you have been working with in Jamaica here.
That'll fuck up your performance and fuck up your tour. That is not good. I think what should be happening is that the promoters should hire the band with the artists and don't try to water down the thing, because we are the original creators of reggae music. This is the birthplace of reggae. We end up fighting against persons in Europe and elsewhere in the world who love reggae and want to play reggae. But me ah tell some promoters from other people, seh when these guys are leaving from Jamaica and you hear seh them have them own band, make sure you can facilitate the band and the artist. Don't try to water down the program and wanting these guys to work with European band and stuff like that. Because it's not every European band that has a good vibe. Donkey Jaw Bone or the Handcart - I met these guys, the Handcart band, backing band, there - some good guys I hear in Europe that is called Homegrown... That is a real good band, and good persons. But, as I've said before, I don't want it to be watered down, I want everything to be authentic, just the same. What time is better for we as artists to bring our own band? Everything is already learned and these guys are magicians. Let us work magic with the team!