Interview with Syrix from Irievibrations
02/28/2017 by Gardy Stein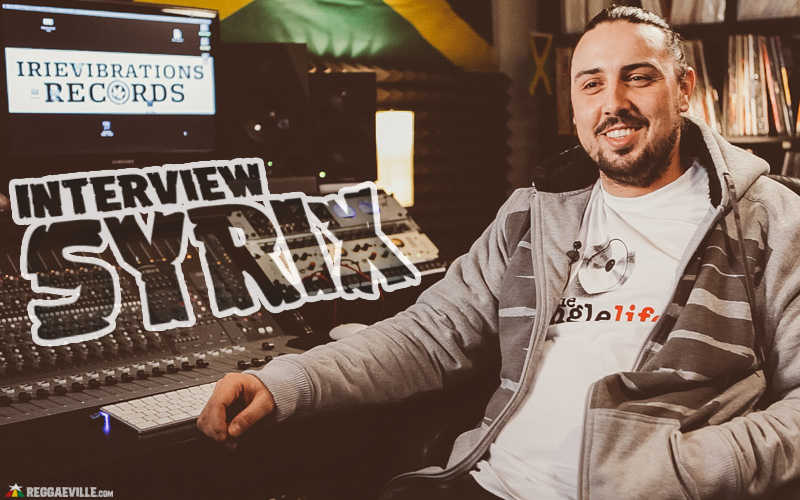 From relaxing hobby to professional release: in our conversation with the effect-master behind Irievibrations' most recent release Dub Station, Syrix tells Reggaeville how the idea to the album was born, which friend was lost on the way and what else he has up his sleeves. Coincidentally, just before the interview was over, the postman rang at Syrix' door. What he delivered? Find it out!


Album Nr. 100... what does it mean to Irievibrations and to you personally?
Well, basically it was a lot of work. We created so much output during the last years, but since we produced for other artists mainly, we ourselves released less. I mean, we always released at least two or three albums per year, but there were years where we released 5 or 6. And over time our catalogue has become so big that I had to bring some of the songs back to memory. For those things I have to say Spotify is quite cool because you can make Playlists for your own songs and listen to them, listen to what you did ten years ago. So, that was quite interesting, but we normally focus more on future projects. I mean, the album is released tomorrow, but for me it's an old hat already (laughs) because it's ready since November. It was supposed to be released last year, but I had a burst pipe in the studio, and we had to rip out everything and I couldn't work for three months, so... we had to switch to February.
Tell us about the idea to the album. How did it all start?
Well, I always loved Dub. For a Reggae producer, next to working with and producing for the artists, it's cool to be free with Dubs. When did I start... we always did Dubs, but we never released them. Not because they weren't good or anything, but I just didn't see a reason for it. And then, I think it was for the Jahcoustix album Frequency in 2012 or 2013, I did one or two Dub versions as bonus tracks, Controller for instance. I think that's the oldest Dub version on the album now. So we did it as bonus version for the album and we got great feedback for it. Everyone was like, wow, Syrix can make super Dubs, and I did it only intuitively. Because of that I sat down and whenever I had some time I just took a track and dubbed it. I didn't produce anything or think about releasing or so, it was just for fun. And most versions on the album, most of what you hear are first takes. Some, like the intro and the Luciano song Hard Road are exclusively recorded for this album, you haven't heard them before. With Denham Smith, we did an EP, so there is a Dub version of a song taken from the EP, but it will be released later, so it's a kind of preview. Same thing with A-Game, the EP will come out and the Dub version is released in advance.
I worked intuitively and listened to it and found it great. Funny enough, this is the most relaxed album I ever did, because I didn't talk to anyone! I didn't have to speak to any artist, even my brothers heard the finished master for the first time! I only played it to them when all was done.
How did you select the tracks?
I skipped through our catalogue, which contains more than thousand songs at the moment. Of course, I kept in mind which artists would be easy to promote and so on, but most importantly I was trying to see if it would be possible at all to make a Dub from it. For example, one song we did, the most well-known I would say, is Luciano's Rub A Dub Market, but the song is not fit for dubbing. It just won't work, so I didn't even try. I just know because it's too fast, the chords and the bass-line are too vigorous to work for a dub, so I chose more unknown songs because I thought they would do the album justice. They might not be so well known, but they are a great base for dubs. So I only looked for tunes that work best. I made many more dub versions than what you find on the album, there are so many more. There will definitely be a Dub Station pt. 2, and if at all possible I would like to bring one every two years or so.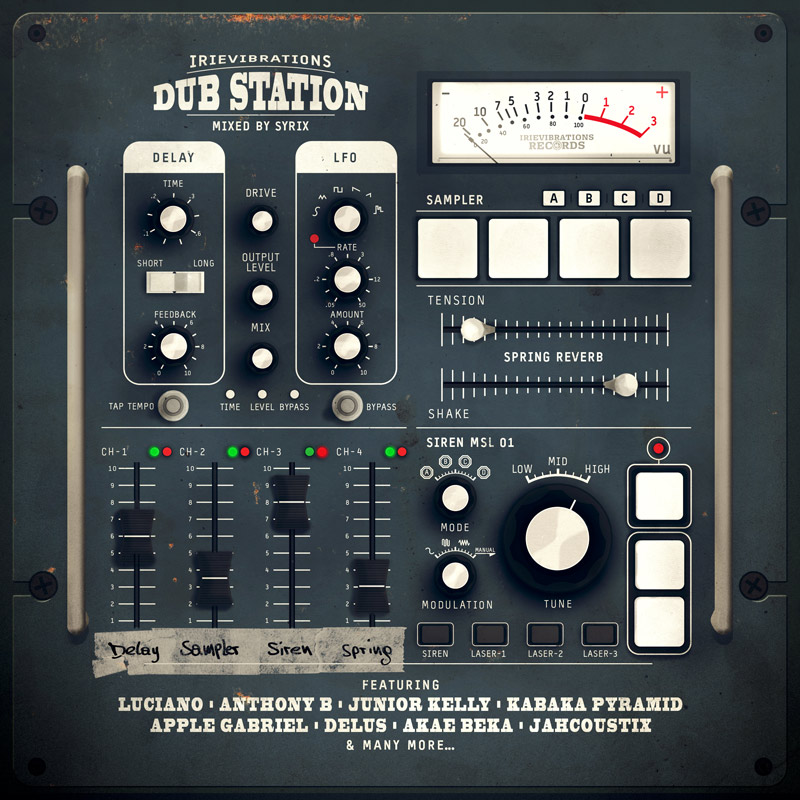 Delus passed away last year. When did you record this song?
By the way, the whole album is dedicated to Delus. His death really affected me, Konshens and Delus are really really good friends, we've known them for ages. I still struggle with the realization that he is gone, and this was my way of handling this. I did the album in his memory. He was the main motivation to get the album done. It wasn't planned at all in the beginning, I told my brethren 'Hey, I will do a Dub album and we can bring it out some day!', and all people who heard it said it was great. It was this feedback that made us do it on a bigger scale. This song was on our producer album Solid Foundation. In case you saw our documentary, the Studio Chronicles… we recorded LaLaLa with Delus while shooting the documentary in Harry J's studio in Jamaica. It's my favourite song on the album. Apart from Controller, LaLaLa was the ignition for the album because it's the most perfect song to dub, with all the rhythmic elements and tempo and sounds and all. Here, the basic production, the original song is already very dubby. I didn't really have to do that much apart from re-arranging and adding effects.
Was there a track that was especially difficult to dub?
Freedom Fighter. It's actually much too fast to make a cool Dub version out of it. But because it's such a hit from Anthony B, I thought I'd just try. And then in the beginning it was difficult because it is just too fast. With Dub, normally you need room for the delays and stuff, in this tempo it doesn't work so well, but I actually quite like the result. But, yeah, it was difficult.
I found the Dankbarkeit track quite interesting. To merge Dub and Rap must have been a challenge as well!
I produced the track for Palmen Aus Plastik, the album that went through the roof in no time. I produce for Raf since I know him, 15 years or so, we started the Reggae thing with Raf. And since this album was so successful, I thought 'Hey, we have this song, why shouldn't we dub it?' With this track, I kept a lot of lyrics. This might be a point some people will criticize, that I left quite a lot of vocals in, as you might have noticed. But I left intentionally more vocals in, because for me, this hybrid is also supposed to work for people who love Reggae but might not be into dub so much, so not only for the dub-heads who say that you can put a ten second hall here and nothing else.
You mentioned some things still in the pipeline for this year...
Yes, I produce a lot at the moment, but not everything is directly Irievibrations. We will release an EP with Denham Smith and a project with Alexx A-Game, a Jamaican, he was keyboarder in Konshens' band, a wonderfully talented artist with whom I work for a year now, so we'll release something with him as well. Production-wise I work with Silly Walks on the new Exco Levi album, but this won't be released under Irievibrations. So I produced some tracks for it and I'll mix the whole album. And in June, a new Raf Camora album will come out, for him I produced as well. And we will push a whole lot of singles, too. The Dankbarkeit riddim will get a selection with big artists.
Wow, sounds like a lot of work. Anything else you want to say about the current release?
Just that it's dedicated to Delus, as I mentioned already. That's important… (door bell rings) Wait a minute... (Syrix goes to answer the door and comes back with a huge package). Now you'll experience live what I unpack here... (unwraps the parcel) this should be something nice... are you curious? (struggles with the wrapping paper) Ah it's wrapped up again. This is like Christmas, you experience my personal Christmas now. Soon ready... (holds up a big picture frame, turning it so I can see the Golden Record for Palmen Aus Plastik) There will be one or two more. It has Gold in Switzerland as well. And I'm sure it will get to Platin eventually.
Congratulations! I guess it's time to celebrate now!