Review
Album Review: Delly Ranx - Weed Market
02/02/2018
by Dan Dabber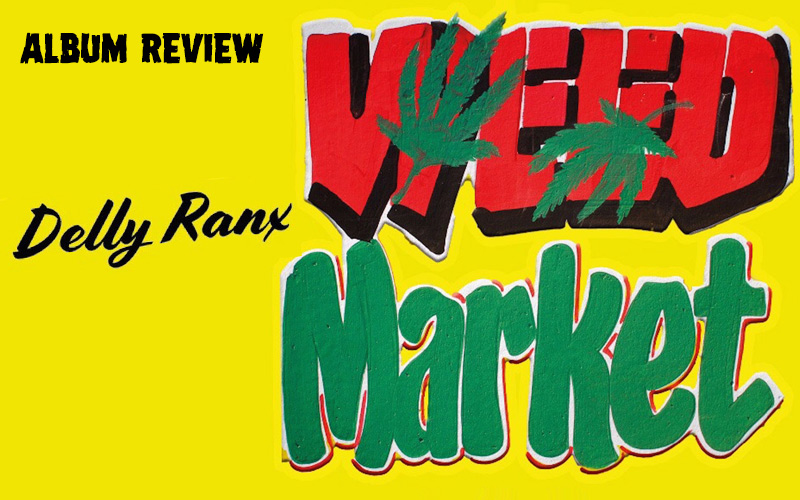 Though ganja tunes have flowed from Jamaica at a steady rate since the mid-70s, there is only one reggae artist pushing the cannabis agenda to the extreme in their music right now - Delly Ranx. His new album, Weed Market, is wholly dedicated to ganja and the growing culture that supports it. And, like a dealer liberated from the black market by recent changes in marijuana laws who can now sell his wares in upscale boutiques, Ranx is refining the ganja tune, offering a variety of perspectives, strains, and riddims, which are sure to please even the most discerning consumer.
The very first draw from Weed Market is the titular track, a detailed description of a wholesale cannabis market laced with good vibes, intermittent smoke breaks, and a laundry list of strain names, all of which seem to sell off quite easily. But more importantly, Weed Market is the song that sets the pace for the first part of the album's journey, a speed that, fueled by relatively slow one drop riddims, can only be described as indica. (Well, one might also describe it as relaxing, chill, or laid back.) But the pace approaches sativa levels with the sixth track, Weed Glutton, as Ranx takes the ganja theme to the dancehall with a hard-edged, syncopated backing riddim. The next three tunes continue this high-energy jaunt until the last two songs, Chalice Affi Blaze and Ganja Devotion, which wind down the album's musical calisthenics with a brief cool down period. This overall building up and subsequent breaking down of the vibes over the course of the album creates a wave of emotions, despite the uniformity of lyrical themes, that will suck even habitual listeners in, whether they are sober enough to realize it or not.
Aside from the intoxicating subject matter and wavy vibes, Weed Market's greatest asset is Delly Ranx's consistency. Very few artists, in reggae or otherwise, are as prolific while consistently maintaining such a high level of quality. Weed Market is yet another addition to his superior canon, with 11 songs and not one that I would suggest skipping on the first listen. That's high praise, but it also makes it difficult to narrow down a favorite selection from Weed Market. More than anything, I was pleased to see so many of my favorite previously released Delly Ranx-ganja tunes from the last few years on the album - tracks like High Grade Alone from Royal Order Music's 2014 various artist release, Cultivator Riddim, Super Love Record's 2016 single, Farmers Bring It, and Blaze Up Di Trees, which was released in 2015 as part of the New Baby Riddim juggling from Ranx's own label, Pure Music Productions.
Even Ranx's most attentive fans will find a handful of new tracks tailored specifically for Weed Market, including the previously mentioned songs, Weed Market and Weed Glutton. There's also Light It & Puff, a newly released dancehall tune that, again, pivots lyrically on strain names, adding Lemon Skunk, Sour Diesel, Power Plant, Big Bang, and Strawberry Cough to the selection. Ranx also drops the name Kheil Stone in the tune, a reference to the Kheil Stone Music label. Some light googling confirms that this riddim, apparently called Gringo, comes from the Kheil Stone camp, which has worked closely with Delly Ranx and Pure Music for several years. What's interesting about Gringo is that I cannot find an official release for the juggling, but there are at least two other versions of the riddim, all voiced by different artists, that were released last year as either a single or a track from an album. This indicates that a full Gringo juggling release from Kheil Stone is likely sometime in 2018.
Despite the strong identification of reggae with ganja, not all of the genre's artists and fans are cannabis users. That ganja use is required of reggae artists and fans is an oft disputed stereotype, and so Delly Ranx's entire album, which lauds and explores the herb is sure to trigger at least one uptight music nerd. But that risk is absolutely worth the reward if Ranx can earn some new fans from the increasingly expanding cannabis community. With the acceptance of ganja use on the rise, the time has come for reggae music to claim its rightful place as the official soundtrack of this brave, new, totally stoned world.

Peter Tosh may not have lived long enough to see legalization and make good on his promise to advertise it, but I get the feeling Delly Ranx is more than happy to pick up the slack.
---
Release details
Delly Ranx - Weed Market
DIGITAL RELEASE [Pure Music Productions]
Release date: 02/02/2018
Tracks
01. Weed Market
02. Kush ina Mi Brain
03. Gimmi a Vibe
04. Highgrade Alone
05. I Feel So High feat. Jah Wiz
06. Weed Glutton
07. Blaze Up Di Trees
08. Light It & Puff
09. Farmers Bring It
10. Chalice Afi Blaze feat. Capital D
11. Ganja Devotion
Featured artists
Jah Wiz