Dellé @ Festiville Magazine 2016
06/16/2016 by Angus Taylor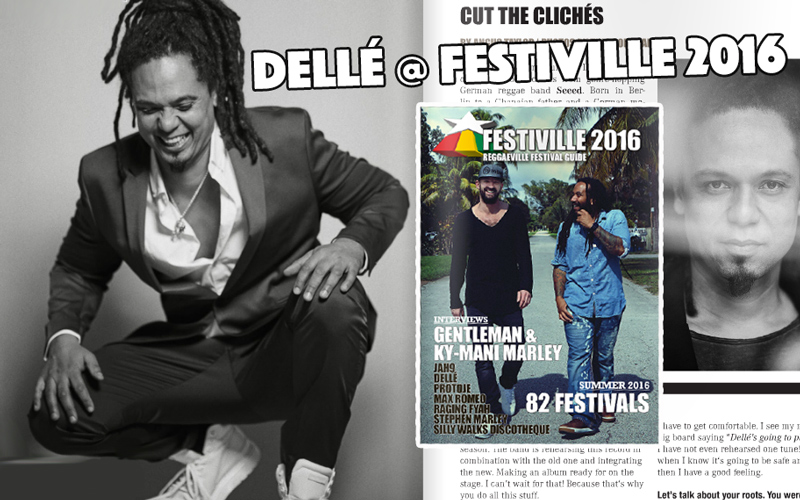 CUT THE CLICHÉS

Frank Dellé – pronounced "Delay" - is one of the trio of vocalists from genre-hopping German reggae band Seeed. Born in Berlin to a Ghanaian father and a German mother, he grew up in both Ghana and rural Germany, before moving back to his birth city and getting sucked into its music scene.

After a decade's mega-success with Seeed, the group went on hiatus, allowing Dellé and his producer Guido Craveiro to create his debut album Before I Grow Old. Following another six years' Seeed madness, on the tide of the solo career of bandmate Peter Fox, Dellé now has a chance to drop second long-player NEO.

Reggaeville links Dellé in Berlin from London via Skype. He is wearing a Bob Marley T-Shirt, the day after the 35th anniversary of Bob's passing. He speaks quickly, apologising for jumping between topics so fast. Naturally, he compares each aspect of his recently revived project with the juggernaut that is Seeed.

The new record is far more eclectic than Before I Grow Old. This is because Dellé wants to bring his fans' reggae perceptions beyond what he sees as European stereotypes and clichés. Stereotypes and clichés he has defied all his life – just by existing…

▶ READ THE INTERVIEW HERE & DOWNLOAD FESTIVILLE FOR FREE!