[Updated] Busy Signal Arrested - Official Statement & Letter from David Rodigan
06/19/2012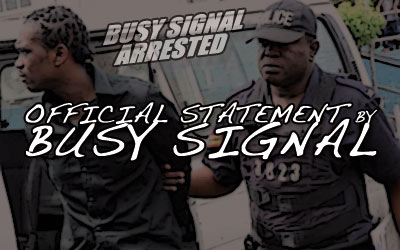 ✖✖✖ UPDATE JUNE 19th 2012 ✖✖✖

The Jamaica Gleaner reports 'Busy' To Be Taken To United States Today

A team of United States marshals arrived in the island yesterday to this afternoon escort dancehall artiste Busy Signal back to America, where he is to face criminal charges in the state of Minnesota.

"A private plane landed this afternoon at the Norman Manley International Airport," a law-enforcement officer, who is close to the matter, disclosed to The Gleaner yesterday.[…]

read the full article @ JAMAICAGLEANER.com


---

Busy Signal, who is still in jail, after being arrested last monday in Kingston, Jamaica, has released an official statement. David Rodigan has replied to it recently.


Jamaica Observer headlines:
[May 22nd] 'Busy' Facing Extradition
[May 23rd] Will 'Reggae Music Again' Prevail?
[May 25th] Busy Signal Waives Right To Extradition Hearing
[May 26th] Busy Signal Denies Involvement In Drug Dealing
Official Statement by Busy Signal
In this a time of reflection, I would like to thank my fans who have supported me through this difficult situation and who will continue to support me. Your messages and prayers via social networks and via members of my team are what have brought light to the darkness of my cell.

I have never admitted that I was involved in any drug deal or drug arrangement. I waived my rights to an extradition trial here in Jamaica, so that I can return to the US to face a charge of absconding bail ONLY. This incident took place ten (10) years ago before I even considered becoming an artiste.

As you can understand, this is a difficult time for me, however during my time away, my fans will not be left with a void – there are several unreleased tracks that will definitely keep you "busy" until my return. I recently released my album Reggae Music Again, which debuted at number 5 on the Billboard Reggae charts. On my recent tour of Amsterdam and Paris, we shot elements for the video to the title track of the album. It features cameos from Marcia Griffiths, Queen Ifrica and Anthony B and that will be released in a couple of weeks.

For my fans overseas, my management team has been in dialogue with promoters who have all shown their support for me and my situation and for that I thank them.

For my family, you have stood by me through thick and thin and I know you will continue to do so. In my time away, I have made the necessary arrangements with my management team to have you taken care of until my return.

To my band. Hi-Voltage, you have toured the world with me and have been a tower of strength. Continue to make good music until I return, cause the mission will continue.

I know that my facebook page has been inactive for a while, but, starting this week, Shane Brown, head of Juke Boxx management team, will assume direct control of my twitter account – @busysignal_turf and my facebook page – www.facebook.com/OneBusySignal. I will be kept updated so please continue to send your love, support and prayers through these channels, as they keep me going.

To my legal team, KD Knight, Bert Samuels and Roxanne Mars, your positive words and unfailing belief and support in me and my case have made this situation a little easier to bear. Thank you very much.

Finally my friends, my fans and my family, thank you again from the depths of my heart. Please keep me in your prayers. "We not going down, cause God alone controls my destiny"

LETTER FROM DAVID RODIGAN IN REPLY TO THE STATEMENT

Shane and Busy,

This is a message of support for Busy Signal during this extremely difficult time. In life we are often faced with difficult decisions; sometimes we make the right decision and sometimes we make the wrong one.

But the circumstances which can bring us to such a crossroads in our lives, are only truly understood by those who have to face them. It is not for us to judge a man!

But I do know that Busy's lyrical contribution to the way we conduct our lives serves as a powerful reminder that every day we have to face up to the truth, and it is how we deal with that which makes us who we are.

His recent press release displayed great strength of character and honesty and is indicative of someone who has the moral courage to face his accusers, causeth what it may.

My thoughts and prayers are with him and his family and friends. May he find the strength to carry him through this dark period and on to a higher light.
Needless to say we are continuing to support his album on air and in the clubs.

David Rodigan.