Reggae Fever - New David Rodigan Film @ BBC
11/16/2018 by Reggaeville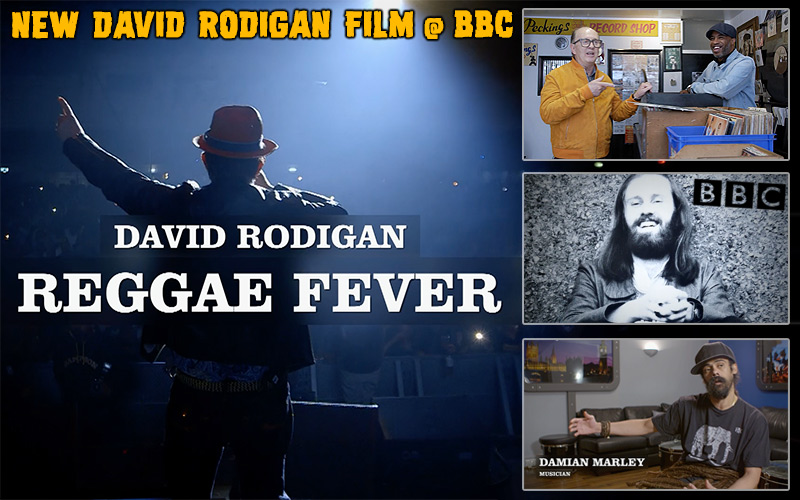 This friday evening, November 16, 2018! We highly recommend to cancel all appointments, make sure nobody calls you for a lengthy chat and tune in to BBC Four at 10pm (UK time) for a diverting one hour documentary about probably the only person ever to have been awarded an MBE and the title of World Clash Champion. BBC presents REGGAE FEVER: DAVID RODIGAN!

The film, produced and directed by Yemi Bamiro, features Don Letts, Damian Marley, Brinsley Forde, Goldie, Dennis Bovell and Rodigan's sons Jamie & Oliver. Just to name a few of the people who speak on Rodigan.

Rodigan introduces important places in London of his own story. He visits Peckings Records Shop, shows the place where he met Bob Marley in 1973 and talks about old times with his childhood friend Colin 'Beastly' Looker, while standing in front of the Oxford Town Hall.

Footage from the depths of the BBC archives makes this film an unique piece of history.

David explains why his passion for the music he loves burning as brightly as ever:
"This is a kind of fever…this music… it's like catching a fever and there is no antidote."

The BBC about Reggae Fever: This film is a testament to this most unlikely of reggae aficionados - a celebration of a man whose story is strangely intertwined with not only the evolution of music in this country but also the evolution of the culture. […] This is a film about the career of David Rodigan but it's also a window through which to see a wider human story about social change in the UK: a story of immigration and integration, and music's role within it. A look at the unlikely career of DJ David Rodigan and the UK's passion for reggae music.
Shortly after the broadcast, the film will be available online @ BBC.co.uk (for UK residents only)


WATCH THE REGGAE FEVER TEASER HERE: