RIP Sam Clayton Jr
04/02/2020 by Gardy Stein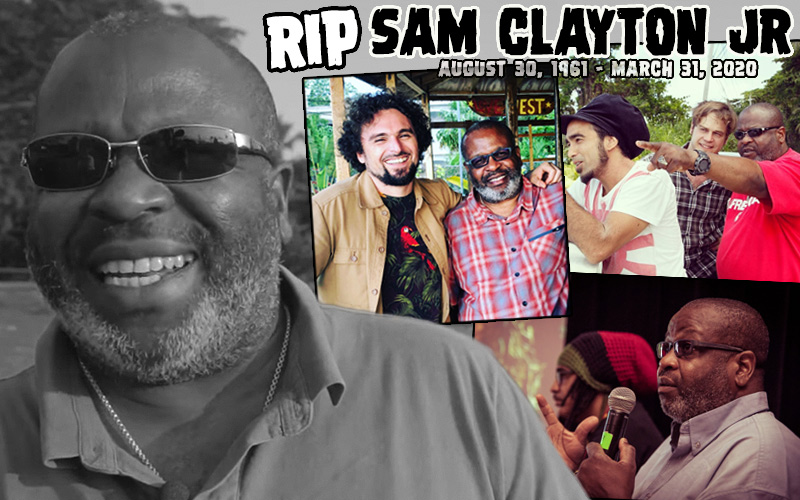 And the dying continues... this time, we lost producer, engineer and musical genius Sam Clayton Jr. He fell victim to Covid-19 in Kingston, Jamaica.

As son of Brother Samuel Clayton, leader of the legendary group Mystic Revelation of Rastafari, he was exposed to conscious Roots early on, soaking up an immense knowledge about music in general and Reggae in particular. Before he turned to producing, he did an apprenticeship as a railroad technician and, by coincidence, even picked a career in sports and became a member of the Jamaican bobsleigh team in 1988. Actually he didn't participate in the Olympic Games, because he was replaced by Caswell Allen.

What he will be remembered for most, however, are his musical achievements. In Jamaica, he was associated with the Harry J Studio, where he worked with Stephen Stewart and recorded Ernest Ranglin, Horace Andy, Harrison Stafford, Danakil, Sebastian Sturm and many others. Together, Sam and Stephen produced other genres as well, including rock, pop, jazz, hip-hop and world music.

Sam lived and worked in France for some years, aquiring fluency in French, and there he produced, recorded and mixed artist such as Dub Inc, Naâman, Takana Zion or Brain Damage in his studio in St. Etienne. Also, he toured as a live sound engineer for performers like Steel Pulse and Toots and the Maytals. His expertise led him to become a sought-after guest at France's Reggae Sun Ska and Poland's Ostróda Reggae Festival, where he was part of both the Jury for the World Reggae Contest and the Reggae University in 2015.

Another great man gone - Rest in eternal Peace, Sam Clayton Jr!

Voices from the Reggae Community:

Harrison Stafford, Groundation:
"It pains me to write that Jamaica's second death from COVID 19 complications was my good friend Sam Clayton Jr. I met Sam through his father Brother Samuel Clayton, orator of Count Ossis's Mystic Revelation Of Rastafari, whom we lost back in 2018. Sadly less than two years later his son joins him in Zion. Sam Jr. was a great sound engineer and wonderful person. I worked in studio with him on many projects through the years and he was my road manager and front of house engineer for my solo "Professor" tours. I will always have his beautiful smile in my memories... I wish I was there to say goodbye. Go with love and peace my friend."

Reggae Sun Ska Festival:
"Hey Sam, you will always be in our hearts! Thank you for your personality, your "joie de vivre", your good humour and your wonderful, sacred productions!!! (...) Your benevolence and friendlieness will be missed forever. One love Sam."

Sebastian Sturm:
"This man was one of the greatest supporters of me and the Exile Airline Band and for sure, he supported many, many more artists beside us! He worked with nearly every big name on the scene.... He was engineering our sound for a hundred concerts in france, He brought us to jamaica, He made my "A Grand Day Out" -album and "The Kingston-Session" possible... He was a friend and maybe one of the funniest persons i've ever met in my life! Thanx for the impact and your strong, positiv energy, great man. We gonna miss you! LOVE & RESPECT, FOREVER!"

David Cairol:
"Sam was a great producer and sound engineer, and also one of the members of the Jamaican's bobsleigh team in 1988... What a life! Thank you for everything man, your knowledge, the connections, your stories and the work you've done with me and for many...I'll never forget. Rest in power"

Broussai:
"The mixing and mastering of "Insurrection", that's him... The recording of "Kingston Town" in the Harry J Studio in Jamaica, that's him... The meeting with Steel Pulse, that's him... (...) The whole team of Broussai knows how much he was part of our career, and we'll never forget the works accomplished, all the great moments shared and and the incountable anecdotes that always started with his favourite phrase: "Hey guys, I will tell you a story..." Thank you for all these pages that we have written together, Mr Sam Clayton Jr... R.I.P"

Quincy Fleur, Dubbeez :
"I learned a lot from you and am still learning when I think back towards the shared knowledge."

Martin Nathan, Brain Damage:
"I will finish that album we were working together on these days... no matter what... for that's what you asked me to do... Rest in peace mi bredren..."