Review
Album Review: Green Lion Crew - Be Still
12/13/2019
by Gardy Stein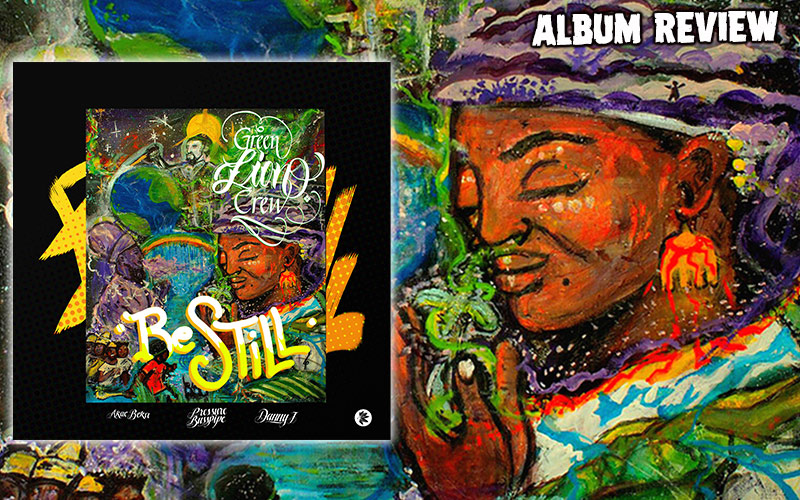 Be Still. A title that is as simple as it is powerful, causing me to stop in my tracks, take a deep breath and, just for a moment, allow thoughts and actions to become completely still - the perfect prerequisite to listen to the release. The title gains in meaning even more with the knowledge that the one who carefully chose these words has recently transitioned to another plane. "This album is livicated to our guiding light Akae Beka" says producer duo Green Lion Crew in a post announcing its release on November 22nd.
Be Still. It is a tragic coincidence that Vaughn Benjamin aka Akae Beka, along with Pressure Busspipe and Danny I the main vocalist of the album, didn't see its completion - too sudden has he left this world on November 4th, and it may well be that the four songs he has contributed to the release were the last he ever recorded.
Be Still. The first and title track starts with a heavy drumroll, a Nyabinghi percussion and a spherical flute pattern. "Beautiful people, forward in still to do Rastafari will, be still!" is the opening line of Akae Beka, segueing into his usual words of wisdom, while the accompanying music bears proof both of the high quality production and the skilled instrumentalists at work. Honouring their contribution, the Green Lion Crew posted four "making ofs" on Instagram, introducing the participating musicians in turn:
1) "Legendary Jamaican bass player Glen Browne handles a lot of the bass playing on our new album. Glen is the eldest of 5 Browne brothers who have ruled Jamaican music for decades. Playing for Jimmy Cliff, Ziggy Marley, Buju Banton and many more, his works have graced hundreds of quintessential reggae albums. Glen we salute you and thank you for your earth shattering basslines!"
2) "Grammy nominated multi talented musician Roots Percussionist provided all the percussion on our new album. A member of Chronixx 's band Zincfence Redemption he has been touring the world playing revolutionary reggae music for years. Singer, musician, dancer, and all around great person! Thank you for trampling Babylon with Riddim on our new LP."
3) "Drums were handled on our new LP by original John Brown's Body heavyweight drummer Tommy Benedetti . Also playing with Organically Good Trio and Dub Apocalypse, Tommy has become one of the premier reggae drummers on the east coast and beyond. Recorded in Boston, Tommy's precision and attention to detail brought our tracks to a new level. Give thanks for the strength!"
4) "The other heavyweight bassie on our new release is none other than modern reggae bass pioneer David Goldfine aka Jah David. A Grammy nominated musician and member of Zion I Kings and Jah9, Jah David has contributed low end theory to countless albums from the USVI and beyond. He continues to push boundaries in reggae music with his own label Zion High Productions and absolutely crushed any track we threw his way!"
5) "Originally learning flute at the legendary Alpha Boys School, Nicholas Laraque went on to learn saxophone and is now one of the "go-to" horn players in the reggae industry. He is a member of Stephen Marley's and Beres Hammond's bands and plays all over our new LP, playing beautiful melodies on tracks like Stay Through The Night, Yes It Is and of course Be Still. We never asked for flute but when it showed up in our inbox we were amazed. That's what we call vibes!"
Apart from those mentioned, producers Zeke Stern and Dana Knowles play keyboard and guitar, and Dean Fraser can be heard on the track We Miss You featuring the wonderful warm vocals of Danny I. This is without doubt the most touching tracks on the album, sounding as if it had been written in memory of Vaughn Benjamin. In fact, however, it was recorded and released long before the sad news of his passing reached us. Danny I graces three more songs, i.e. Pot Of Coal as well as the melodic, pensive To The East which transitions seamlessly into the subsequent Consequences. The way the singer wraps his velvety voice around the decelerated Reggae beats is a joy to follow, especially with the angelic echoes of Adena Myrie, who contributes the backings to the album.
The man called Pressure Busspipe makes the Virgin Island artist trio complete. His Stay Through The Night was the first single of the album, released on September 27th, and both riddim and lyrics are extremely beguiling: "Stay through the night and rest down your weary head, let me rub down your weary legs, girl it's raining outside, stay inside, it's a sign!" He has another love song in store for us with Just The Way You Want It, but turns to more serious subjects as well in Help The Youths and the spiritual, thanksgiving Breathe.
This leaves us with three more songs by the one and only Akae Beka, and it is amazing how well the Green Lion Crew managed to roll out the musical carpet for him to lyrically flow on. True Lineage talks about the connectiveness of ancient science, tracing links from Florida to Morocco, from Ghana to Egypt and from Gondar to Peru - as with many of this artist's songs, it leaves my head spinning with the knowledge of how much more there is to know. "Multimedia in a soundclash of epic proportions..." Class Warfare continues the high-level textual input, while Yes It Is invites us to keep evolving from a purely physical functioning into something closer to the divine beings we all are.
The relaxed mood is deepened by the eleven Dub mixes that close the album, each single one a fine example of the fact that the Green Lions not only know how to produce sounds but also how to play with and refine them. Be Still is a special release in that it's not made for easy consumption, loud nights out or house parties. It is an inward looking, wholesome treatment for your ears, your heart and your mind, especially when you take heed of what it tells you.
Be Still.
---
Release details
Green Lion Crew - Be Still
DIGITAL RELEASE [Green Lion Crew, Ineffable Records]
Release date: 11/22/2019
Tracks
01. Be Still feat. Akae Beka
02. Just the Way You Want It feat. Pressure
03. We Miss You feat. Danny I
04. Pot of Coal feat. Danny I
05. Stay Through the Night feat. Pressure
06. To the East feat. Danny I
07. Consequences feat. Danny I
08. Help the Youths feat. Pressure
09. Breathe feat. Pressure
10. True Lineage feat. Akae Beka
11. Class Warfare feat. Akae Beka
12. Yes It Is feat. Akae Beka
13. Ganja Seed (Be Still Dub)
14. Dub It For You (Just The Way You Want it Dub)
15. Jah Vengeance (We Miss You Dub)
16. Dragon's Layer (Pot of Coal Dub)
17. Dub Thru the Night (I Grade Live Dub Mix)
18. Experience True Living (Consequences Dub)
19. Mountains of Illusion (To The East Dub)
20. Perilous Era (Help The Youths Dub)
21. Eugenics Ideology Inferior (True Lineage Dub)
22. Warfare Reveal Dub (I Grade Live Dub Mix)
23. Cornucopia of Collages (Yes It Is Dub)
Featured artists
Akae Beka
/
Danny I
/
Pressure Busspipe