Best Reggae Album - Damian Marley wins Grammy Award 2018 with Stony Hill
01/28/2018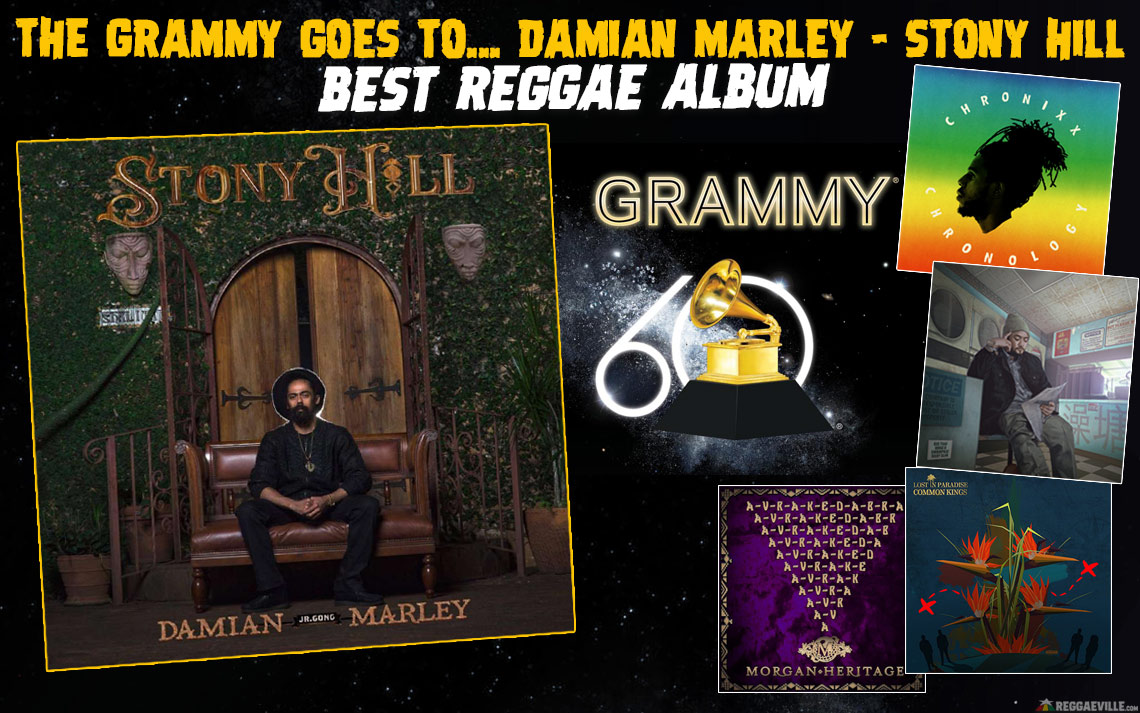 Just announced via the Grammy Awards Premiere Ceremony (pre-telecast live stream):

The Grammy Award winner in the category BEST REGGAE ALBUM 2017 is Damian Jr. Gong Marley with Stony Hill. Congratulations!

Marley didn't attend the awards ceremony to receive his 3rd Grammy for Best Reggae Album. His previous solo albums Halfway Tree and Welcome To Jamrock won a Grammy, while the single Welcome to Jamrock won also a Grammy in the category Best Urban/Alternative Performance.

Also nominated in the BEST REGGAE ALBUM category were:
Chronixx - Chronology
Common Kings - Lost In Paradise
J Boog - Wash House Ting
Morgan Heritage - Avrakedabra

Obviously no surprise that the Grammy Academy choose Damian Marley as the winner, but it seemed everyone was keen to see Chronixx' Chronology winning the Grammy.

Grammy.com asked their users Who will win... and 29% choose Chronixx, followed by 28% for Morgan Heritage and 18% for Damian Marley.

Chronixx topped our own ALBUM OF THE YEAR poll, while Damian Marley was voted on position three. See the full results in the REGGAEVILLE YEARBOOK 2017!

FYI: Shaggy & Sting just released a new single and they performed it live at the Grammy Awards Ceremony. Watch below a short red-carpet interview discussing their upcoming collaborative Album at Clive Davis' Pre-Grammy Gala.
Below you find the complete REGGAE CATEGORY* winner list of from 1984 to 2017
1984 Black Uhuru - Anthem
1985 Jimmy Cliff - Cliff Hanger
1986 Steel Pulse - Babylon the Bandit
1987 Peter Tosh - No Nuclear War
1988 Ziggy Marley & The Melody Makers - Conscious Party
1989 Ziggy Marley & The Melody Makers - One Bright Day
1990 Bunny Wailer - Time Will Tell: A Tribute to Bob Marley
1991 Shabba Ranks - As Raw As Ever
1992 Shabba Ranks - X-tra Naked
1993 Inner Circle - Bad Boys
1994 Bunny Wailer - Crucial! Roots Classics
1995 Shaggy - Boombastic
1996 Bunny Wailer - Hall of Frame: A Tribute to Bob Marley's 50th Anniversary
1997 Ziggy Marley & The Melody Makers - Fallen Is Babylon
1998 Sly and Robbie - Friends
1999 Burning Spear - Calling Rastafari
2000 Beenie Man - Art and Life
2001 Damian Marley - Halfway Tree
2002 Lee Perry - Jamaican E.T.
2003 Sean Paul - Dutty Rock
2004 Toots & the Maytals - True Love
2005 Damian Marley - Welcome to Jamrock
2006 Ziggy Marley - Love Is My Religion
2007 Stephen Marley – Mind Control
2008 Burning Spear - Jah Is Real
2009 Stephen Marley - Mind Control Acoustic
2010 Buju Banton - Before the Dawn
2011 Stephen Marley - Revelation Pt. 1 – The Root of Life
2012 Jimmy Cliff - Rebirth
2013 Ziggy Marley - In Concert
2014 Ziggy Marley - Fly Rasta
2015 Morgan Heritage - Strictly Roots
2016 Ziggy Marley - Ziggy Marley
2017 Damian Marley - Stony Hill

*CATEGORY NAME CHANGE:
BEST REGGAE RECORDING (1984 - 1990)
BEST REGGAE ALBUM (1991 - 2017)