Review
Review: King Size Dub Special Dubvisionist
05/23/2014
by Gardy Stein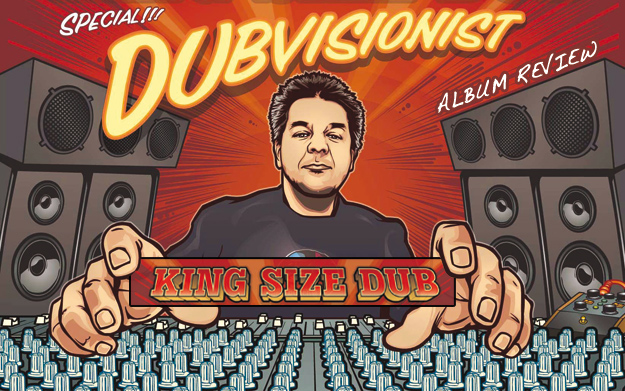 To be honest, me and Dub Music haven't been lovers on first perception. I always feel a little lost in the middle of this instrumental vastness, without a voice to cling to for guidance. Thus I gratefully took the outstretched hand of the Dubvisionist who takes us on an extended tour through the jungle called King Size Dub. Felix Wolter, the genius behind projects such as The Vision, TVS, PreFadeListening (PFL) and Chin Chillaz (the four of which contributed half of the tracks on the album), even took his time to personally introduce me to some basics of his craft, and I now pride myself to know what stems are, for example. Which brings us back to the promised trip to the woods.

Starting out on lunar rays with Moonsteppa, we at once find ourselves within the more experimental shrubs. Throughout the title, a mesmerizing electronic Sitar is providing an unusual backdrop to the more common drum & bass. One of the rare vocal tracks, Struggle combines Dub Syndicate material with a loungey remix that was originally done for the PreFadeListening-Album Solarized.

From moon- over sunlight to voices from the otherworld: the deceased Ari Up can be heard on Soulmate, a tune recorded by Dubblestandard and remixed for release by Felix. Another exclusive remix is the Dub Whirl that will certainly appeal to Roots-Reggae-Fans, displaying a distinct parentage to Dawn Penn's No No No.

Yes, yes, yes! We are moving ahead on a faster pace now. While the Stand Strong Dub impresses with some well-placed piano-highlights, Black Cinderella makes the Errol Dunkley classic shine in new glory, both through the interpretation of TackHead and the magic fingers of Mr. Wolter.

Up next, the skanky Hazzard Dub conveys a glimpse of the fascination instrumentals can have on someone who works with them on a daily basis. According to Felix, remixing material of musicians who know their business thoroughly (like The Senior Allstars obviously do, as they proove again in Baltimore) is one of the greater joys his job has to offer.

Meanwhile, we have moved way into the dense forest. Apart from two more dubs of The Vision, a Chin Chillaz dub and the Goverdhama Dub by the Dubvisionist himself, there are some more exotic plants to discover as well. Dactah Chango, for instance, whose Woman Escuchame bloomed into a mighty fine remix. Or the next tune, Echo, which was originally performed by the German band Fettes Brot and has been enriched with live instruments for this release. Other German contributions are a dub version of the Herbman Band's title Love Don't Come Easy as well as the Dellé-remix Guerilla Maiden.

With another Chin Chillaz title called Konkret we reach the end of our little discovery tour. Less Reggae, more Lounge, it draws to a close in what seems like a sunlit clearing, complete with chirping birds and all (honestly!).

Together, these 17 tracks (hand-picked by Echobeach-Label-owner Nicolai Beverungen) make a smooth album that will bestow upon you hours of easy listening. "My music should not disturb but accompany you, whatever it is you are doing." says the Dubvisionist. Well, it accompanied me for the last few days and I must admit it has grown on me.
A magazine recently claimed that Gregory Porter opens the ears of many listeners for Jazz with his new album Liquid Spirit. I think it can doubtlessly be assumed that Felix Wolter a.k.a. Dubvisionist does the same with this King Size Dub: he is clearing a path through the coppice of Dub for new audiences!


---
Release details
Various Artists - King Size Dub Special Dubvisionist
DIGITAL RELEASE / CD [Echo Beach]
Release date: 05/23/2014
Tracks
01. Moonsteppa - TVS
02. Struggle - Pre Fade Listening & Dub Syndicate
03. Soulmate (Dubvisionist Remix) - Ari Up & Dubblestandart
04. Dub Whirl - The Vision
05. Stand Strong Dub - TVS
06. Black Cinderella (Dubvisionist Dub Remix) - Tackhead
07. Hazard Dub (Dubvisionist Remix) - The Senior Allstars
08. Soul Dub Evolution - The Vision
09. Woman Escuchame (Dubvisionist Remix) - Dactah Chando
10. Echo (Dubvisionist Mehr Echo Dub) - Fettes Brot
11. Sitar Dub (TVS Remix) - The Vision
12. Lion - Chin Chillaz
13. Dub Don't Come Easy - Herbman Band
14. Guerilla Maiden (Dubvisionist Dub Remix) - Dellé
15. Baltimore (Dubvisionist Remix) - The Senior Allstars
16. Goverdhama Dub - Dubvisionist
17. Konkret - Chin Chillaz
Featured artists
Dellé
/
Dubblestandart
/
Dactah Chando