Festival Report: P-Town-Festival 2016
06/22/2016 by Gardy Stein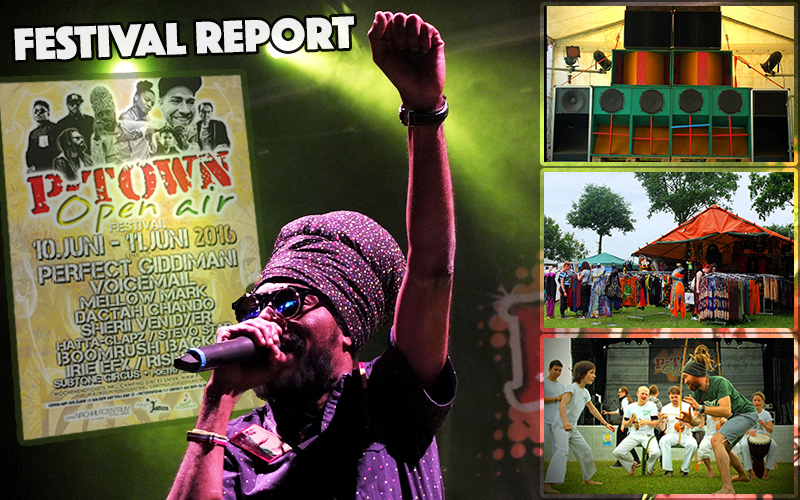 Festival season is here! One of the earliest outdoor-events this summer brings me to the North-German countryside. Somewhere behind Oldenburg, between green fields, cow pastures and chicken farms, a small event called P-Town-Open-Air celebrates its eighth edition this year. It has grown from a circle of friends and still is run by a small team of volunteers around Steffen Blachwitz who simply love Reggae music - an idealist bunch of people!
Arriving on Saturday afternoon, I have missed Friday's Poetry Slam and Dance and thus can't tell you anything about that. What I can tell you, however, is that, prior to the showcases planned to start at 6 pm, the One World Soccer Cup is in full swing, as well as a Capoeira-performance and an African drum- and dance-group. Children have their share of fun as well, since a mobile playground has displayed diverse items of infantine interest. Three bars (a smoothie-bar, a cocktail-bar and a normal one), several food-stands and the obligatory arts-and-crafts stalls complete the festival-set-up, and we are all set for the music to come! Despite its insider's-tip-status and the comparably small number of visitors (this year, more than a thousand people came, a slight increase to last year's 700ish), the festival offers an interesting line-up, as you will discover.
At 5pm, the first artists arrive backstage. Small-talk with Randy Valentine and Singing Gold while sound check is on, before, with a little delay, the stage is opened by Stevo and his soundboys from Risin High. The audience is still in relaxing-mode, chilling on the grass and nodding to the riddim tracks to which Stevo welcomes them with easy-peasy lyrics around sun, girls and happiness. The next act succeeds to make people stand up, though. After the Boomrush Band entered and played a little intro, Sherii van Dyer, a London-based singer, appears in a sparking, sequined dress and showers us with soulful vibes. After the third song she takes off her high-heeled shoes, making her smaller than she already is, a size which doesn't affect her voice in the least, however, as she delivers a sentimental Adele-Hello-Cover.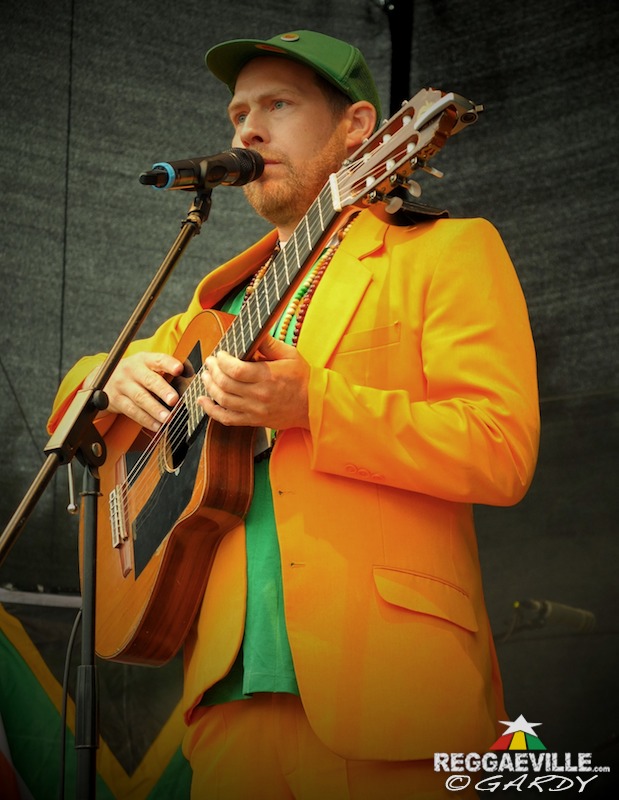 The next artist brings colour on stage. Not only with his outfit of screaming orange (his aka is Captain Orange), but also because of the flags he positions all around him: Ghana, Cuba, South Africa, Brazil, Cameroon... their meaning becomes clear when Mellow Mark sings a song called Welcome Refugees, and he continues these conscious vibes as a one-man-orchestra with a wide array of instruments and sound-effects (drums, guitar, harmonica, megaphone, ocean waves etc.).
In sunglasses and simple black shirt and trousers, Dactah Chando then makes his appearance. I've been looking forward to see him live since I reviewed his most recent album Ansestral. Most of the songs he performs are taken from it, and I'm impressed by the professionalism of the band that plays the tracks almost note by note. That his songs are delivered in Spanish obviously doesn't stop the audience from enjoying themselves, and the meadow in front of the stage is by now filled with a colourful mix of young and old, fair and dark, dancing and smiling people.
After a quick change-over, a duo called Hatta Clapz takes its turn. The singer formerly known as Singing Gold joined producer FedUpFaction, and together they ignite the dancing fever in the gathering dusk. Future Dancehall, they call their dynamic mix of modern and old-school dancehall with Dubstep- and Jungle-elements. The delivery is infectious (after they needed the first three tunes to get going), and thus the mood sufficiently heated up for the next artist, which stepped in as a wonderful surprise for the originally planned, but now absent Voicemail.
Randy Valentine! Ever since his latest EP Still Pushing, he is definitely in my Top Ten of the realest, friendliest, most exciting Reggae artists ever. No exception is his performance tonight: with a constant, warm smile and his beautiful voice, he wins the massive in no time, spreading good vibes and energy with tracks taken from the above-mentioned EP, but also older and newer stuff. Here, especially the switches from laid-back Reggae to speedy Jungle and back make his delivery interesting, and again I marvel at the sheer expertise of the Boomrush Band (Moritz "Mystical Mo" Dortmund on drums, Chris Behr on bass, Philipp Kasburg on guitar, Andi Rüttger on keys and sax, Nikolas Langhammer on sax and Felix Rühling on keys), who accompanies his every move. Towards the end of his show, he even closes the distance between him and audience, taking pictures with (newly won) fans while singing about love and necessary changes. With big-ups to fellow perfomers Hotta Clapz and Perfect Giddimani, he gives it over to the latter.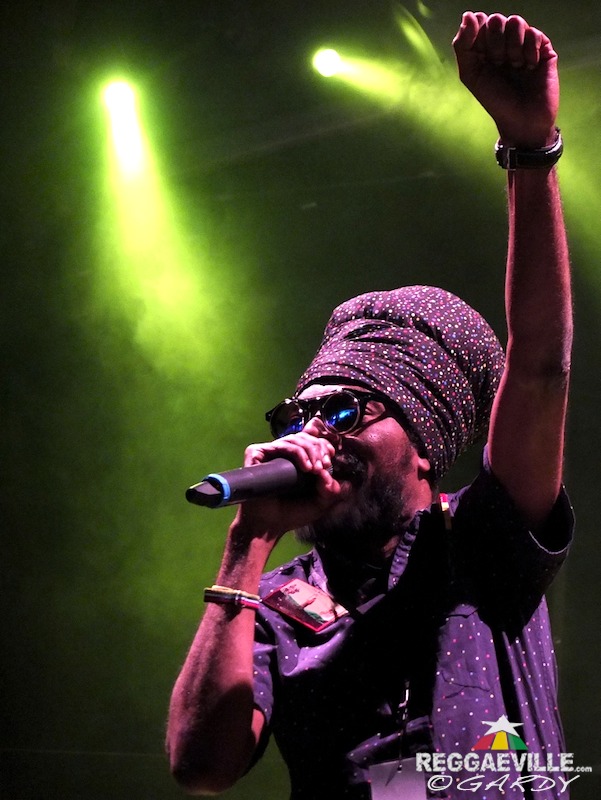 A slight drizzle has started to fall by now, which however doesn't turn into rain and is thus negligible. Even if it had rained, I'm pretty sure no one would have left, now that the headliner was about to start. The Jamaican artist who started his international success with Hand Cart Boy in 2004 just released a new album called Reggae Farm Work, from which he delivers several songs. Starting with the powerful Rasta Rebel, he is at once cheered by the expectant crowd who join him in jumping. It is a breathtaking affair watching him get comfortable on stage, pacing to and fro, shouting and singing and dancing. His exceptional humour is shown during a track which he starts to introduce "This one is called....", then, losing his wrist watch in the process, ending the sentence with "... Watch Remover!" The biggest response gets the fast-paced No Badda Me and, of course, his handcart-anthem.
Around 12:30am, he takes his leave, and Stevo is back on the mic, asking every performer and musician to join him on stage once more. With a heart-felt good-bye, these excellent artists release us into a night of further party with Irie EFX and Risin High.
This festival truly is a family affair, both in size, vibes and kid-friendliness, so in case you are a bit exhausted by the sheer masses of people at Rototom or Summer Jam, consider this alternative next year!


VIEW THE PHOTO REPORT HERE!