Review
Album Review: Da Fuchaman - Freedom Fighter
03/31/2019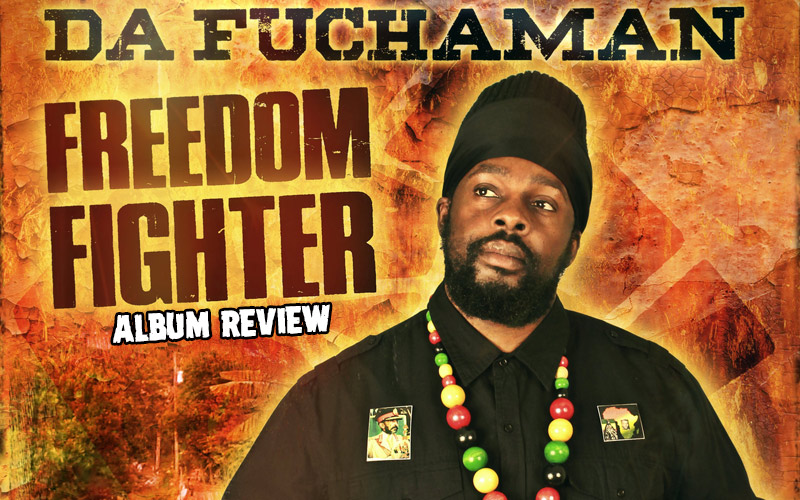 Right now, Da Fuchaman is among UK's most productive reggae artists. Since 2014, countless singles, two EPs and four studio albums have been published. Now, the restless singer, who was born and raised in Middle Buxton, St. Ann, Jamaica presents his fifth studio album entitled Freedom Fighter.

While last year's album Jungle Love is more dedicated to Drum and Bass related styles, for the present album the artist felt more comfortable embracing his original Roots Reggae side. With House of Riddim behind him, such an effort could not go wrong. Each and every one of the thirteen tunes stands firm in the light of Reggae. Yes, Reggae! Freedom Fighter easily gets by without a single Dancehall tune or even allusion. While decent variations in style contribute to the album's versatility and at the same time to its stylistic confidence, Freedom Fighter is not exactly home to a reinvention of the wheel. However, it is, in fact, a reaffirmation of a reggae aesthetic that, as House of Riddim has ever so often shown already done its part. And for Da Fuchaman's Reggae comeback, "never change a winning" team was certainly a good motto.

Apart from Jamdown Mi Come From, which comes along in digital, up-tempo attire and Don't Throw Stones, where the singer shows off the soul in his voice, the album is kept in a more or less standard Modern Reggae style, mostly One Drop or Rock Beat Riddims that shine in the old familiar and popular House of Riddim sound garment. A subtle personal highlight on Da Fuchaman's new album is the sound killer tune Pull Up My Selecta with its steel guitar intro and hook and cheerful and catchy chorus and verse. Content-wise, this album also embraces such reggae themes which you would expect from reading the title Freedom Fighter.

On his new album, Da Fuchaman stands up for, and tries to give a voice to the marginalized members of a globalized society. He does justice to this honorable cause by dropping this fine Roots Reggae album.

---
Release details
Da Fuchaman - Freedom Fighter
DIGITAL RELEASE [House of Riddim Productions]
Release date: 03/29/2019
Tracks
01. Dem Nu Cean
02. Freedom Fighter
03. Trying To Make Ends Meet
04. Jamdown Mi Come From
05. Fading Dreams
06. She's Gone
07. It's Too Late
08. Nothing Else Matters
09. Pull Up My Selecta
10. Don't Throw Stones
11. Survival Story
12. I Nah Run
13. Verses