Festiville 2018 - Reggaeville Festival Guide Out Now
07/17/2018 by Gardy Stein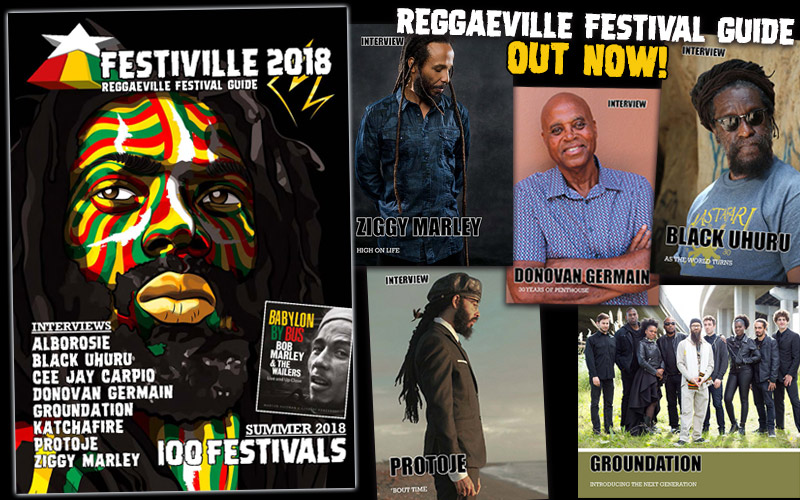 "Too long the people were hidden in the darkness, now is the time that we all should see the light!"

Oh yes, dear Joseph Hill, now is the time! Time to unite in front of festival stages around the world, time to dance and swing in the sunshine, time to sing along to your favourite artists with thousands of friends and family… summer is here!

As always, Reggaeville provides you with an in-depth compilation of 100 inter- and outernational festivals. Our highly regarded Festiville Magazine also prepares you for the upcoming performances by featured artists like Protoje, Black Uhuru, Groundation, Katchafire and Alborosie in interviews and album reviews. Releases such as Kontraband, A Matter Of Time, The Next Generation, Unbreakable and In The Name Of Love come at the right time too, to strengthen us, uplift us and forge that bond between like-minded people, no matter where they come from.

We feature augmented reality artist Cee Jay Carpio; and Ziggy Marley, who celebrates 50 years on Earth in October, 40 years on stage next year and the release of his current album Rebellion Rises right now. Also, Donovan Germain has his say about the new Joseph Hill - Culture Tribute Album which unites more than 20 artists, 40 years after the millennial Two Sevens Clash was released - still an all-time-favourite!


And, to stick with numbers, we wish the following festivals a BLESSED JUBILEE:

40 years of Reggae Geel
30 years of Reggae On The Rocks
25 years of Rototom Sunsplash, Reggae Jam and Sierra Nevada World Music Festival
20 years of Reggae Summer Night and Regalowisko Bielawa Reggae Festival
15 years of Öland Roots, Rastaplas, Najcieplejsze Miejsce Na Ziemi and Lagata Reggae Festival
– together 245 years of Reggae music celebration!!!

And last but not least, we have an exclusive preview of the upcoming book Babylon by Bus - Bob Marley & The Wailers Live and Up Close, which details Marley's visits to the Netherlands in the 1970s.