Culture - Lost Tracks From The Vault
03/01/2020 by Reggaeville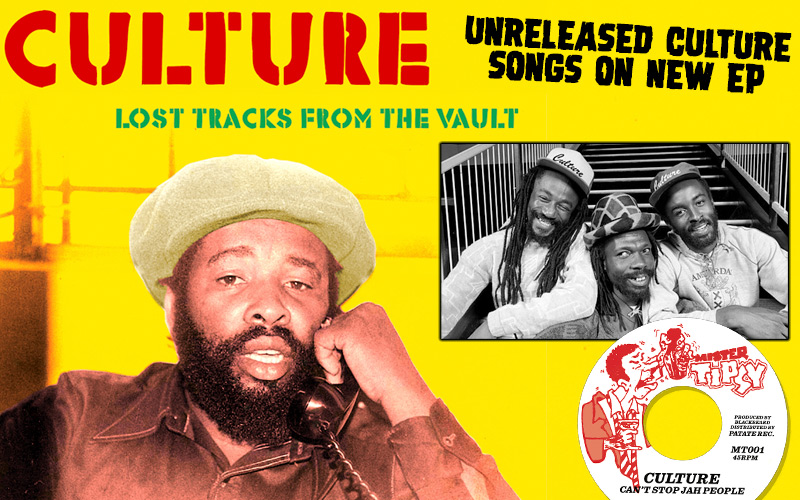 Patate Records out of France presents Lost Tracks From the Vault EP, featuring unreleased songs by legendary trio Culture.

These lost tracks were found on some dusty master tapes at Mr Tipsy studio in Jamaica. Produced by Rodguel "Blackbeard" Sinclair almost 30 years ago (around 1990), these recordings feature Culture at their best along top Jamaican musicians, Sly & Robbie and the Ring Craft Posse with Lloyd Parks, Willy Lindo, Bowpee, Robby Lyn, Ansel Collins, Nambo Robinson, David Madden and Dean Fraser.

Both catchy and bouncy, these new songs have a strong spiritual, social, and political message, and Joseph Hill deliver them with a fervent intensity: Can't Stop Jah People.

The EP will be out March 10, 2020 on all digital outlets. Patate Records will also release two 7" singles.
EP TRACKLIST
1. Can't Stop Jah People*
2. Wah Fi We*
3. Police Man (Respect Version)+
4. Can't Stop Jah People (Rough version)*
5. Wah Fi We (Rough Version)*
*unreleased song
+unreleased version

SINGLE ONE
A: Can't Stop Jah People
B: Can't Stop Jah People (Rough version)

SINGLE TWO
A: Wah Fi We
B: Wah Fi We (Rough Version)

Listen to the snippet mix here: