Review
Album Review: Collie Buddz - Good Life
05/19/2017
by Dan Dabber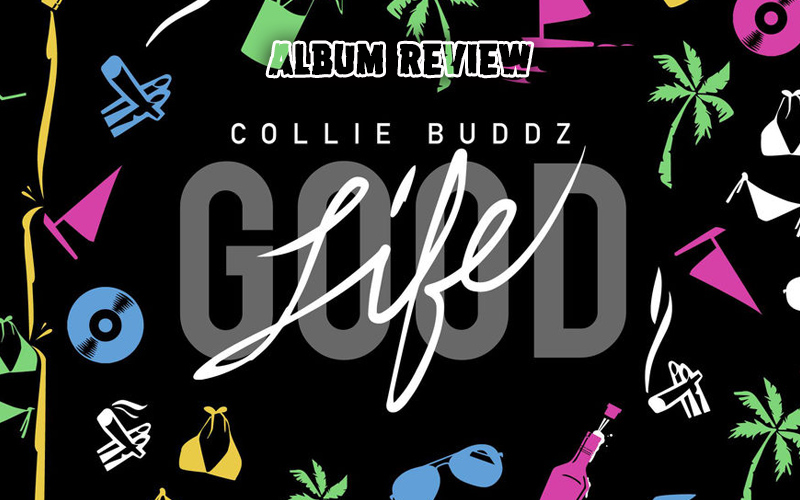 Collie Buddz has been living that good life since his first release, SOS, in 2006. SOS was co opted by the WWE for Kofi Kingston, a wrestler whose poorly executed caribbean stereotype included a mysteriously shaped tam and inauthentic patois. The track was also a part of the WWE's compilation series, The Music, Vol. 8. The follow up to Collie Buddz's SOS was Come Around, a ganja anthem that gained unprecedented momentum and left a profound impact on pop culture. Even Busta Rhymes felt compelled to insinuate himself into an unofficial remix. Come Around was monumental, giving Collie Buddz a credibility with selectors and DJs in Europe, Jamaica, and New York that he would never have earned recording jingles for Vince McMahon.


No Caribbean artist, with the exception of established icons Rihanna and Sean Paul, has been able to ride the current pop-dancehall wave to the top of the American charts. Like Sean Paul, Collie Buddz has a highly recognizable brand with influence across many global markets, and this notability could help propel the right tune to epic, Come Around proportions. If there were a tune on Good Life ripe for Sean Paul-level success, it is most likely either I Got You or Used To featuring Kreesha Turner. Both of these tracks have the same approachable, vaguely Caribbean feel that Justin Bieber, Drake, and Ed Sheeran have successfully marketed to pop audiences. Of the two, Used To, with its strong female presence and EDM-influenced, tropical pop style, is probably best suited for mainstream markets, though I Got You has a bright, cheerful feel perfect for setting the vibe at any summer barbeque.

Good Life is mostly comprised of booming reggae tracks, which is obviously Collie Buddz's chief musical product. The singer is also regarded for his ability to crossover, and he does so in many ways throughout the new album. Besides the possible pop hits and high profile features from hip hop artists Riff Raff (aka Jody Highroller) and Snoop Dogg, there's also quite a bit of American urban influence imbedded in the record, even in many of the more straightforward reggae tracks. Control, Part of My Life, and Save Me From The Rain are true hip hop-reggae hybrids with varying potencies of each element, but all of these riddims are built from choppy drum samples, the foundation of hip hop production. Listeners will recognize similar production techniques in Level, an innovative beat with mellow organs, aboriginal percussion samples, a screaming synth lead, and a trap tempo. Collie Buddz completely murders the track, setting the stage for P-Lo of the Bay Area's The Heartbreak Gang, who outperforms all of Good Life's other cameos. Level indeed takes Good Life to the next level and, although the song doesn't fit within the parameters of what Caribbean-infused pop should sound like right now, it still has plenty of pop and urban appeal. Although I Got You and Used To have the best chance of getting noticed in mainstream markets, Level is the baddest track on Good Life and the song most deserving of widespread critical success.


---
Release details
Collie Buddz - Good Life
DIGITAL RELEASE [Harper Digital Entertainment]
Release date: 05/19/2017
Tracks
01. Control
02. Lovely Day
03. Part of My Life
04. Save Me from the Rain feat. Kat Dahlia
05. Good Life
06. I Got You
07. Used To feat. Kreesha Turner
08. Level feat. P-Lo
09. Glass House
10. Glue
11. Yesterday feat. Jody HiGHROLLER & Snoop Dogg