Review
Album Review: Clinton Fearon - Goodness
03/25/2014
by Angus Taylor
Hands down one of the albums of the year (although it comes as no great surprise)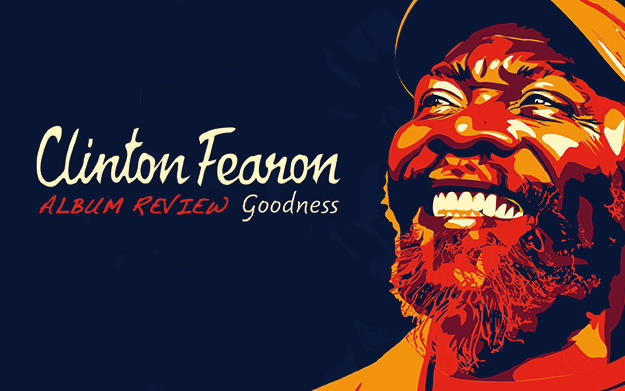 When Clinton Fearon left Gladiators while on US tour in 1987, he began a solo career using local musicians in his new home of Seattle, Washington. Only with the arrival of engineer Mel Dettmer to the project for 2004's Give and Take did the sound he was forging - old school roots reggae like Gladiators but adding a rural American feel - take flight.

Each successive album thereafter was a progression in quality, reaching a high point with 2010's Mi Deh Yah. Follow-up Heart and Soul was something of a detour: an acoustic revisit to songs he wrote for Gladiators that represented a tribute to his past. For latest effort Goodness he is electric again: writing and producing all original compositions. And if anything, he has improved on Mi Deh Yah's heights.
 
Many of the familiar themes and ingredients are present and correct. The complex songwriting for reggae (plenty of bridges and middle-eights). The woody, bucolic folksy feel. The strings on the jaunty highlife meets ska of Come By Yah. The knowing references to Bob Marley in the clavinet driven Long Run Short Catch. The soothing way he sympathetically chides us for our foibles and misdeeds on Blame Game and The Hunter - like musical therapy. How his music hits instantly with no feeling out process. Other discs that are so immediate often lose their power. Not this one.
 
But post acoustic stop-off - when he gave his messages room to breathe - everything is clearer, cleaner, tighter, more unified in sound. It's his third consecutive release on bass duties and he anchors all tunes with surety. Every reverb and delay on every snare seems sparing and judicious: to give atmosphere or presence yet never to confuse or be-fudge.
 
Unlike young retro producers, Fearon is not lionising a mythical age. He has unfinished business with the music he has been creating since the 1970s. The flute and cuica decorated Wi No Know It is remarkable: for both its seamless blend of a classic soul intro to its main body of rustic roots and for a message – rare for culture reggae – of being unsure what will happen next.
 
Clinton is not an experimental artist making wild leaps on each record. He is a craftsman, an artisan, refining and getting better at doing the same thing every time. Packed with goodness this is as strong song-wise as Mi Deh Yah, displaying increased unity and more assured production. Hands down one of the albums of the year (although it comes as no great surprise).
 
---
Release details
Clinton Fearon - Goodness
DIGITAL RELEASE / CD [Chapter Two Records]
Release date: 03/24/2014
Tracks
01. Blame Game
02. The Hunter
03. Goodness
04. Poor Nana
05. Come By Yah
06. Another Party
07. Wi No Know It
08. Jamdown Boogie
09. Long Run Short Catch
10. Freedom
11. Talk With A Friend
12. Galang
13. Shadow (Bonus Track)
Produced by
Clinton Fearon