Review
Album Review: Chronixx - Chronology
07/07/2017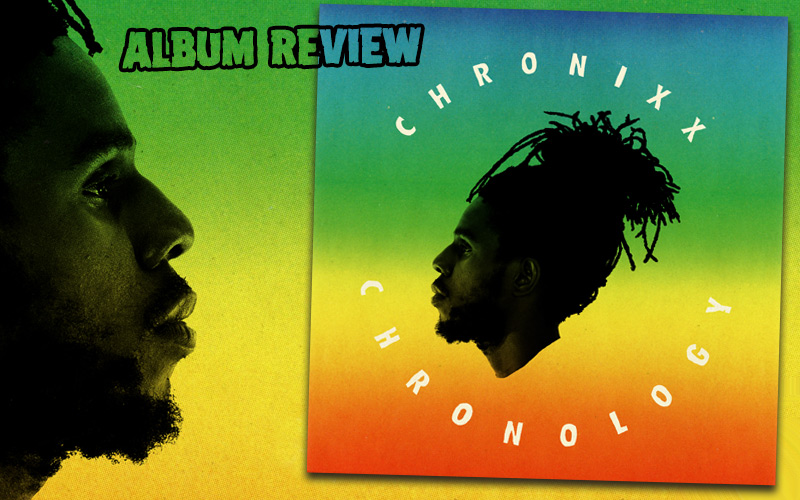 When I saw Chronixx perform live in Kingston, back in 2015, I had no clue that the recordings for Chronology had already been in full swing, right in that very location, at Skyline Levels Studios, where at least six songs on the long expected debut album were recorded.

He has always emphasised his origin from Spanish Town, and I remember him singing "Spanish Town me born, dat a weh me come from" on this very concert. Spanish Town Rocking is the opener of the album and a mission statement. The simultaneously old school and modern flow constitutes the singers main musical facet and embeds lyrics about his upbringing in De La Vega City, which is just a stone's throw away from the famous Prison Oval Football Stadium in Spanish Town, also commonly known from Barrington Levy`s Prison Oval Rock.

For Big Bad Sound, Chronixx teams up with his father Chronicle and leads us on a riddim journey extraordinaire. The song launches in a one drop, swells to dancehall and eventually concludes in a refined percussion session. A very innovative family ting.

Wait until Skankin' Sweet gets stuck in your head! It may take a very long time to get it back out, which is not desirable even for this delicate tune.

Contrasting this sweetness, a rougher side is revealed on Ghetto Paradise. However, the roughness is rather subliminal and disillusioning, depicting the dark side of a paradise-like Jamaica.

Country Boy deals with another common Jamaican narrative, Kingston's rudeboy mentality. The song has a hip hop feel to it which is supported by a characteristic midi Hi-Hat.

Smile Jamaica surely is one of the biggest tunes on this album and the spherical, EDM-inspired, motivational, forward-looking or even euphoric I Can brightens your mood every time you hear it. In the intro and outro, no other but Peter Tosh recites Psalm 121 "The sun shall not smite I by day, nor the moon by night" crashing all fearfulness.

In Black Is Beautiful, Chronixx sings about the concept of black beauty in all possible aspects of human live, whereby he is deconstructs racist prejudice and paves the way for the the self-produced Selassie Children, definitely one of the most experimental Rastafari credos in contemporary reggae. Celestial sounds indicate a divine matter and make the song a celebration of the newly popular embrace of Rastafari.

The video single Majesty, a modern Roots interpretation of Otis Gayle's 1971 Studio One classic I'll Be Around adds on to this conscious spirit. Chronixx said in the press release that this song is about "The divinity within the woman and the balance that can be found within I&I".

What goes up, must come down. The higher we climb in Majesty, enchanted by thoughts of royal togetherness, the farther we fall in Loneliness. However, it is characteristic for reggae to combine sad and desperate lyrics with a positive mood. Even though Loneliness is a pop dancehall tune, viewed from this angle, it somehow turns reggae.

The dancehall tune Likes that has been online since February, wears a modern sound garment and heavily criticises the social media hype of our era. "Substance over hype!"

Another hip hop-inspired tune on this album is Tell Me Now, which is home to beautifully lamenting string arrangements and a lovesick Chronixx who forms his pain into bittersweet melodies. A manifestation of Jamaican optimism and pride, and a paradox allusion to anything between humility and arrogance is the pop song Legend with its 70s acoustic guitar sounds and campfire harmonies.

The love song Christina fuses gospel, soul and blues into a funky crossover mix. After 15 songs, the album closes with a bonus track entitled I Know Love. But I don't want to give away too much for now. Let's keep this one a surprise.

With Chronology, Chronixx dropped a really innovative and unexpected album; in musical and ideological terms, a border-crossing and transgressive debut, which deals with controversies and truths through upright effort and emotion on a musical platform that sometimes refuses to be reggae, but never to be Jamaican.
---
Release details
Chronixx - Chronology
DIGITAL RELEASE / CD / VINYL [Soul Circle Music]
Release date: 07/07/2017
Tracks
01. Spanish Town Rocking
02. Big Bad Sound featuring Chronicle
03. Skankin' Sweet
04. Ghetto Paradise
05. Country Boy
06. Smile Jamaica
07. I Can
08. Selassie Children
09. Black is Beautiful
10. Majesty
11. Loneliness
12. Likes
13. Tell Me Now
14. Legend
15. Christina
16. I Know Love [Bonus Track]