Reggaeville Riddim Corner #5 [April 2015]
04/22/2015 by Dan Dabber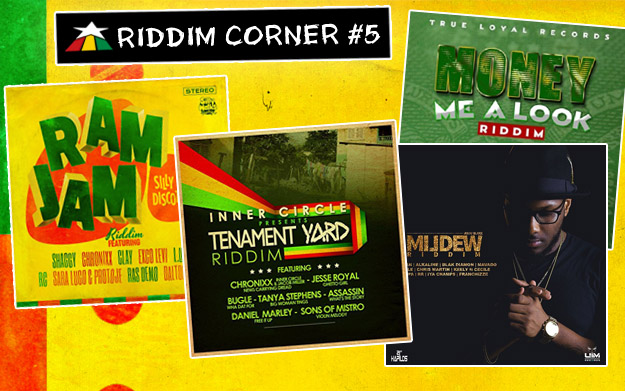 This April is full of a wide variety of quality riddim releases, the most anticipated of which arrive with a "big chune" already included. However, with summer right around the corner and the likelihood that many more riddims will come out between now and then, what are the chances that a riddim that is making noise now can continue to excite fans well into the warm weather season? Here is a look at four of the biggest riddim releases of the month to see if they have what it takes fi rule di summah.


TENEMENT YARD RIDDIM
There may not be a reggae fan left on the planet that has not heard Chronixx's News Carrying Dread, the massive lead single from the newest reincarnation of Jacob Miller's 1976 roots reggae classic, Tenement Yard, released April 21st. The updated Tenement Yard Riddim instrumental is played by none other than the original backing band, Inner Circle - the same Inner Circle that would later find commercial success with their theme song for the television show, Cops, and their global pop smash from 1992, Sweat (A La La La La Long).


Although lead singer Jacob Miller was tragically lost in a car accident in 1980, his spirit has been infused into the new riddim with clever placement of vocal samples from the original tune. Many of the featured artistes on the juggling also get into the concept of the riddim, either by writing their song about similar subject matter as Miller sang about in Tenement Yard or, as Jesse Royal did on the infectious cut, Ghetto Girl, by adopting Jacob Miller's distinct vocal style.

One of the more interesting tracks on the Tenement Yard release is Tenement Yard in A Major, essentially a violin cover of the original Miller version performed by a two-brother group from Florida called Sons of Mystro. Though it is doubtful that the violin version will get much play in the dance, the Tenement Yard juggling will likely take over the world in the warmer months to come with its historical power, its chill, rootsy vibe, and its broad range of top level featured artistes. The Chronixx version has already caught fire and there may be a few more on this release that will see the same kind of success. The most likely candidates would be Bugle's Wha Dat Fah? or Assassin aka Agent Sasco's What's Da Story?, both top notch ganja tunes for the month that put the four in four twenty.


RAM JAM RIDDIM
Germany's Silly Walks Discotheque led the Ram Jam Riddim release by a few months with a lead single, Sara Lugo and Protoje's Really Like You. The track was also included on Lugo's 2014 album, Hit Me With Music. The combination of Protoje, who came to prominence in 2012 with his smash reggae single, Kingston Be Wise, and Sara Lugo, whose genuine approach, jazzy vocals, and outstanding song-writing talents are quickly making her a global sensation in her own right, makes for a very catchy song.


Silly Walks pulled no punches for the highly-anticipated full Ram Jam Riddim album, released April 17th. It features another killer cut from Chronixx (an artist Silly Walks found success with in 2013 with Smile Jamaica on their Honey Pot Riddim) called Play Some Roots and further contributions from artistes like Shaggy, Dalton Harris, and Exco Levi.

Chronixx and Shaggy probably have the top selections from the project but Harris' Watch Over, Levi's Hello Mama, and RC's Can't Bridge My Defense are all very nice contributions as well, filling out the juggling in a big way. Given the artistes involved, the quality of their work, and the fun and nostalgic vibe of the riddim, this release is likely to find its way into many selectors' one-drop sets in the near future, if it has not already done so. Well-suited for summer festivals and other seasonal soundtracks, Ram Jam will likely achieve some longevity if it can continue the momentum it has already built.

MONEY ME A LOOK RIDDIM
True Loyal Records is a relatively young label that is starting to attract some attention. Their latest riddim release, Money Me A Look, was recently described in The Jamaica Star as "a favourite in the bus parks and taxi stands in the Kingston Metropolitan region." The riddim's fast rise to prominence since its April 7th release is in no small part due to the Jamaican "Dancehall Hero" turned "Worl' Boss" turned convicted-murderer-serving-a-life-sentence,
Vybz Kartel, who leads the impressive pack of featured artistes with the titular track, Money Me A Look. The instrumental is dark yet danceable and Kartel uses it as the backdrop for another heart-felt homage to currency however, how "Worl' Boss" continues to make music and money while in jail is anyone's guess.

Though the Kartel cut seems to be the natural top selection from the juggling, Alkaline continues to connect in a major way with his musical, Kartel-inspired style on Love Your Everything. The popular singjay I-Octane also has a nice track called Queng Dem, but Demarco came up a few coins short with Money Money Money. Other artistes like Iyah Champs, Motion, and Likkle Dainjah fill out the Money Me A Look Riddim with solid cuts and the riddim's wide selection of versions to choose from will likely keep it playing in the dances, bus parks, and taxi stands, at least until summer sets in and a new crop of yet-to-be-determined, possibly more beach-appropriate riddims compete for their time in the sun.

MILDEW RIDDIM

UIM Records' CEO/producer, Anju Blaxxx, is being held in a United States prison right now, awaiting trial for scamming charges in North Dakota. Like Kartel, imprisonment has not stopped Blaxxx from releasing music, and his highly-anticipated Mildew Riddim, a powerfully menacing instrumental featuring some of the biggest names in dancehall, is dropping on the same day Blaxxx's trial begins, April 28th.

Bugle, who scored a big hit with a 2013 single from Blaxxx's 4Play Riddim called Nuh Compatible, puts his best foot forward on Mildew with Secrets, a song that will win listeners over despite being an obvious attempt to recycle the troubled relationship song formula that they nailed so perfectly two years ago. Another tried and true convention that works well on Mildew is Alkaline being sexually explicit and musically cutting edge on Nice Suh, which, again, may be the top selection of all the versions on this riddim.


Mavado relies on a kind of ballad style, attacking the riddim with a half-speed cadence in his laidback reality tune, Story. The space afforded by his approach allows the track to breathe, resulting in a song that is genuinely emotional. Popcaan is also quite effective on Mildew with Way Up, another unruly party anthem from the dancehall superstar. Talented singer Christopher Martin is also featured, but his version, Under the Influence, comes off rather stale with a repetitive hook that fails to entice the listener's ear. Franchizze, Black Diamon, and Propa pull up any slack though, and their versions round out this juggling, ensuring that selectors will play the Mildew just a few minutes longer in the dance.

Whether or not there is a "big chune" on the Mildew release will be determined in due time. Despite some very good versions on the riddim, like Money Me A Look, Mildew will have an uphill battle achieving any sustained notoriety due to its dark, moody, almost melancholic vibe that may conflict with the impending feel good days of summer.


So which riddims will dominate the summer of 2015? As Chronixx or Protoje might say, who knows? It's still very early in the year to make such a judgment, but a heavy spring buzz will give the right juggling the push needed to take over the season of sunshine. All of the above riddims have the potential to do just that and Inner Circle's Tenement Yard stands out as the lock. Mildew's cast of high caliber artistes and free advertising from the Anju Blaxx trial may propel it to a spot in heavy summer rotation despite its rather dreary demeanor, but a similarly dark vibe will likely mean the end for Money Me A Look which will only go so long before another, badder Kartel tune inevitably hits. Ram Jam is the wildcard whose fate will largely depend on how much play it gets from selectors in the weeks to come, and if the Shaggy and/or Chronixx tune breaks, Ram Jam and Tenement Yard may be contending for the biggest one-drop riddim, not just for the summer, but for all of 2015. Whether or not any of these selections survive the spring, they are all big releases in their own way and worthy of whatever shine they can find.


LISTEN TO THE RIDDIM MIX