Jamaica Reggae Industry Association (JaRIA) celebrates Reggae Month 2021 with Signature Events
01/20/2021 by Press Release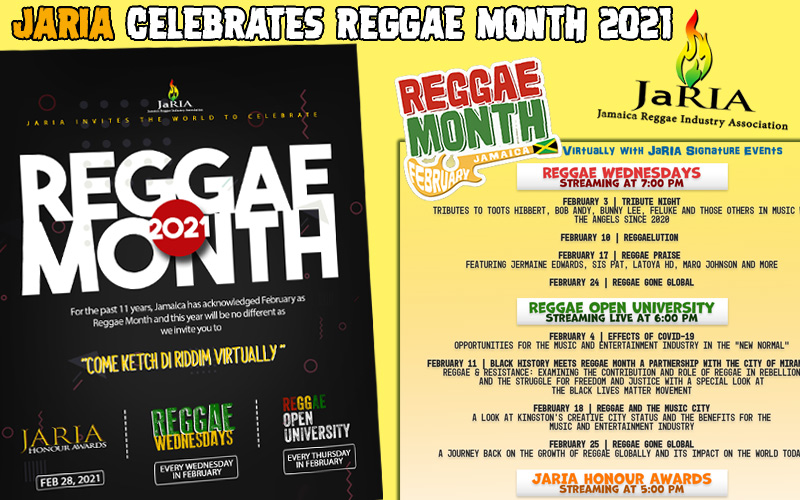 REGGAE MONTH 2021 LIVE STREAMS HERE

The Jamaica Reggae Industry Association (JaRIA) joins the Ministries of Culture, Gender, Entertainment and Sport and the Ministry of Tourism in presenting Reggae Month 2021. The overarching theme "Ketch di riddim virtually" will guide JaRIA's Signature events – Reggae Open University, JaRIA Honour Awards and Reggae Wednesdays.
Reggae Open University 2021 will include a practical workshop on Thursday February 4th for industry professionals exploring themes covering Online Events Promotion, Digital Auditing, Subscription Services and Digital Music Distribution. The weekly webinar will feature outstanding industry professionals and academia sharing their perspectives on "The Contribution and Role of Reggae in Rebellion and the struggle for freedom in Jamaica" and across the world on February 11th. "A look at the creative city designation for the city of Kingston" and what it means for the music and entertainment industry on February 18th. The final week's discussion will explore the impact of reggae internationally under the theme "Reggae Gone Global" with a special focus on dance on February 25th.
JaRIA will also engage schools across Jamaica for a special edition of the Reggae Open University entitled Reggae Stories with artistes such as Marcia Griffiths, Ibo Cooper, producer Mikey Bennett and music manager Copeland Forbes engaging the youth on their respective journey in the industry.
JaRIA aims to maintain the spirit of the usually anticipated Reggae Wednesdays' series with themed nights including a special tribute on the 3rd for musicians and practitioners who passed in 2020. February 10, 17 and 24 will also be themed – "Reggaelution", "Reggae Praise" and "Reggae Gone Global" respectively.
The JaRIA Honour Awards will close the monthlong celebrations on February 28th honouring 27 stalwarts in 18 categories in the music industry.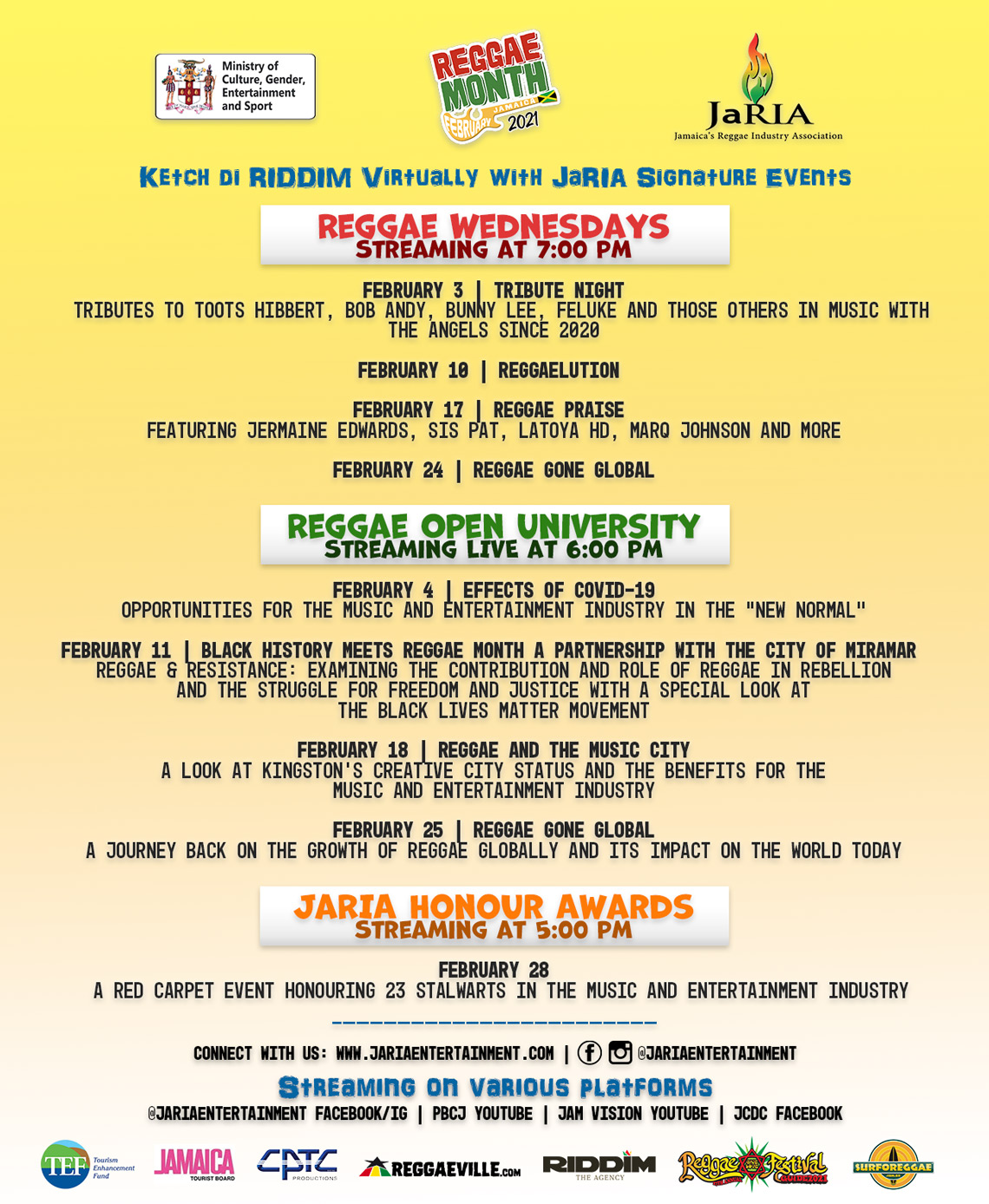 About Reggae Month
Reggae Month was declared in 2008 by then Governor General of Jamaica, Sir Kenneth Hall, and was spearheaded by the Jamaica Reggae Industry Association with support from industry, ministries of culture and tourism and the CHASE Fund.
About JaRIA
JaRIA is an independent, non-governmental organisation serving the needs and furthering the common interest of all individuals, institutions, and firms directly and indirectly involved in the Jamaican music and entertainment industries.

REGGAE MONTH 2021 LIVE STREAMS HERE