Interview with Chronixx - Chronology
10/10/2017 by Angus Taylor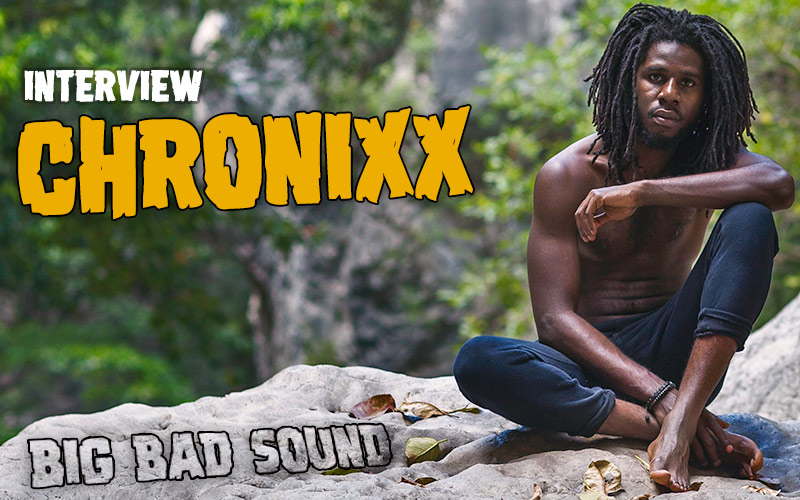 Chronixx released his long-awaited first album Chronology on June 30th. (This may confuse fans of 2014's 10 track Dread and Terrible project, which was an "extended EP".) Chronology features contributors including Winta James, Bost and Bim, Natural High and the Picard Brothers – but much of the production, arranging and building of the record is by Chronixx alone.
Chronology's 16 songs are arranged to take the listener on a lyrical and sonic journey. He begins by introducing himself, his family and the island he is from, over reggae one drop rhythms. Gradually the topics expand to Rastafari, Black Pride and life's fundamental meaning as the music morphs into global fusions to carry these more challenging messages further.
Reggaeville met Chronixx on a grey drizzly day in London in as he was preparing for his six date UK tour (May 2017). A last minute change of plan meant the interview was conducted in his van, driving around visiting relatives and meeting friends in Camden and the East End.
Outside the rain was beating down. Several times the police drove by, sirens blazing. Yet inside all was spacious and tranquil as Reggaeville and Chronixx sat at a table talking at length and depth about Chronology and the ideas that inspired it. When the journey was done we exited the van on Holloway Road to find our wet way home.
You've just completed a massive 45 date US tour with revolving support acts but with you as the constant. Do you get tired working that hard, and how do you deal with it?
45 in 60 days. I had to perform every night. Jah9 was there was there for three or four weeks, then Jesse Royal came for two weeks and Kelissa was there throughout the tour.
You get very tired. But it helps you to realise your different sources of strength. We all have different sources of strength. Your strength can come from anywhere. Some people get strength from food, some get strength from exercise, some get strength from breath. Sometimes what brings me through the shows is the music itself. I did most of the tour with my voice gone. And that taught me that there is a deeper voice and a deeper strength that you can't lose.
When I've seen you perform at Brixton Electric and Somerset House it seemed like your shows were assembled into sections. Would you say your new album is assembled into sections?
(Laughs) There are many different stages and types of music on the album. I don't really try to put it in sections, more moods. Different moods and levels - different realms. Music does different things to people. I am one of the people who are affected by music in that way. Different sounds in different kinds of music have a certain impact on me so I like to perform songs according to that truth. These songs can bring people to a certain point and then from there I need to take them to the next place.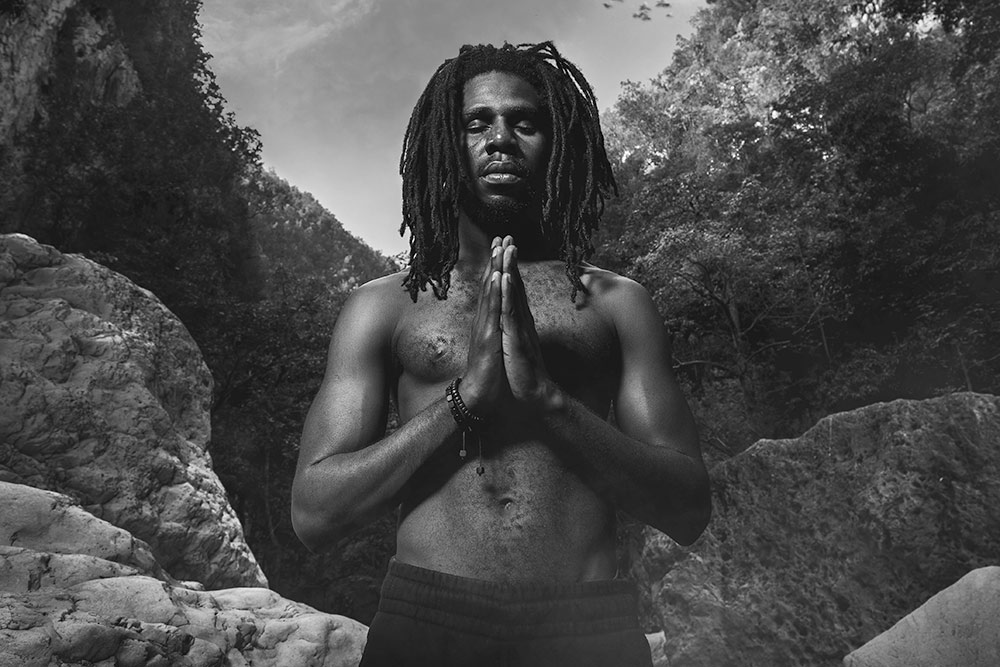 Dread and Terrible project was very much about Rastafari and Babylon. In the early part of the new album you talk a lot about yourself. Who you are, where you're from, your family and so on.
The whole album is very personal but also very universal music. I see myself as a micro-version of the universe. Which means every single person that exists on earth, a little piece of them is in me. I try to bring that out in my music. I have a little bit of Haile Selassie I but a little bit of Osama bin Laden. A little bit of Barack Obama and a little bit of Michelle Obama and a little bit of Marcus Garvey. We have a little bit of everyone from everywhere in the world. We are all connected and I am trying at this stage of my life to become more aware of that.
You spoke on social media about your admiration for Bonsai Caruso, the main engineer on the album. You've been working on your engineering lately. You did some mixing and played guitar on this album and the Kelissa Spellbound EP. You did Likes pretty much all yourself - but could you build an entire reggae track with live instruments yourself if you wanted to? Do you try to learn all aspects of music?
Yeah, Likes is programing. I play the keyboards and the synths. The bass is a synth bass and I programed the drums, recorded it, recorded the harmonies, the lead vocals and mixed it, along with Bonsai. I did a little bit of everything on the album. I wrote all the songs and produced most of them. Mixed and played instruments on a few of them. I am not an instrumentalist like a virtuoso but I can touch an instrument to make music. I definitely can produce from instruments. Bass, guitar, piano and drums. I like instruments and appreciate music to the point where I try to understand each and every instrument I come into contact with. That is how we are able to make music so freely.
The second track Big Bad Sound features your father Chronicle. One of my favourite records of his was a 2004 UK dub 12" produced by Russ Disciples, Row Fisherman Row. His voice is out of that Barrington Levy, Half Pint school but it's got its own richness.
Yeah! He's definitely highly influenced by Barrington Levy and many other singers. My father is a huge fan of Half Pint, Cocoa Tea, Horace Andy and all of these people. Likewise myself. I had to listen to whatever my father liked so I ended up liking most of what he likes!
Talking about fishing makes me think of something you sang on Eternal Fire from Dread and Terrible project. There's a lyric about ackee and saltfish and its claim to be the Jamaican national dish.
Well it's not just a claim. (Laughs) It is the national dish of Jamaica. But we have to understand we are coming very close to the end of the nationalist era where people won't see themselves in terms of which country they were born in anymore. I am one of those people. I'm one of the forerunners of that movement - which was foretold by His Majesty Haile Selassie I, Emperor of Ethiopia, Conquering Lion of the Tribe of Judah, King of Kings, Lord of Lords, Light of the World. I don't really see saltfish as a part of my diet in any way. I don't see any great sense in it being the national dish since it is not one of the foods that you can find nationally.
The fish is imported.
It is imported, so in my opinion it says a lot about the foundation upon which the nation of Jamaica was built on. Imported food.
Foreign telephone company. Clarks shoes.
Yes! I have no problem with people [eating it]. I grew up eating saltfish and ackee. I personally prefer just ackee. But when my grandmother make saltfish it tastes good - it is really nice. You have saltfish and red herring. Jamaican food that is very tasty and very delicious. But as far as the national dish is concerned that's a whole different thing. Lasagne tastes good but you can't make lasagne your national dish simply because it tastes good. There are a lot of things in Jamaica that I feel could be. Ackee by itself is good enough.
Big Bad Sound also features the late Nambo Robinson on trombone. He is a foundation musician whose music touched the new generation whereas you are an artist from today who has intergenerational appeal.
Nambo Robinson and Dean Fraser helped me to arrange the horn section. I did the arrangements and Dean Fraser came in, added his touch to it and so did Nambo. I worked with Nambo Robinson on many different occasions - both live and in studio. His son plays with guitar with me.
Nnamdi plays guitar on almost every track on the album.
That is how close we were. Nnamdi is a brother to me. So his father automatically becomes like a father to us and treats us like that. He's a great inspiration to our generation in terms of how he helps us to understand the depth and truth in Jamaican music. Not just in the lyrics but the actual musical build. I think that kind of knowledge can only be passed on in the way Nambo Robinson teaches it. It is not something you can go in a formal classroom setting such as a music school to practise. It is something that you have to feel and experience. He is a person who understands the musical environment a Jamaican musician needs to experience in order to be a good musician. He brings us into that environment all the time to create that environment for us. So much that we were very blessed to be in his presence so many times. Nambo Robinson is a great part of the reason why I sound the way how I sound. And he is a great part of the reason why I appreciate the music as much as I appreciate it right now.
On Skanking Sweet the harmonies are very ethereal and soothing. How much time do you spend perfecting vocals and harmonies?
For me the part of recording takes most of my time is the lead vocal. I started out my performing life as a background vocalist. I used to sing harmonies for different gospel artists and in studio with people like Lutan Fyah. I remember doing background vocals for Echo Minott and Leroy Gibbons and different singers. That's a lot of my studio and live performance experience. I am more experienced as somebody who arranges and records harmonies than I am somebody who performs and records as the lead singer. So they're fairly quick for me. It can take days, it can take hours, it can take minutes. Literal minutes to do a full song. 12, 13, 18 tracks of harmonies.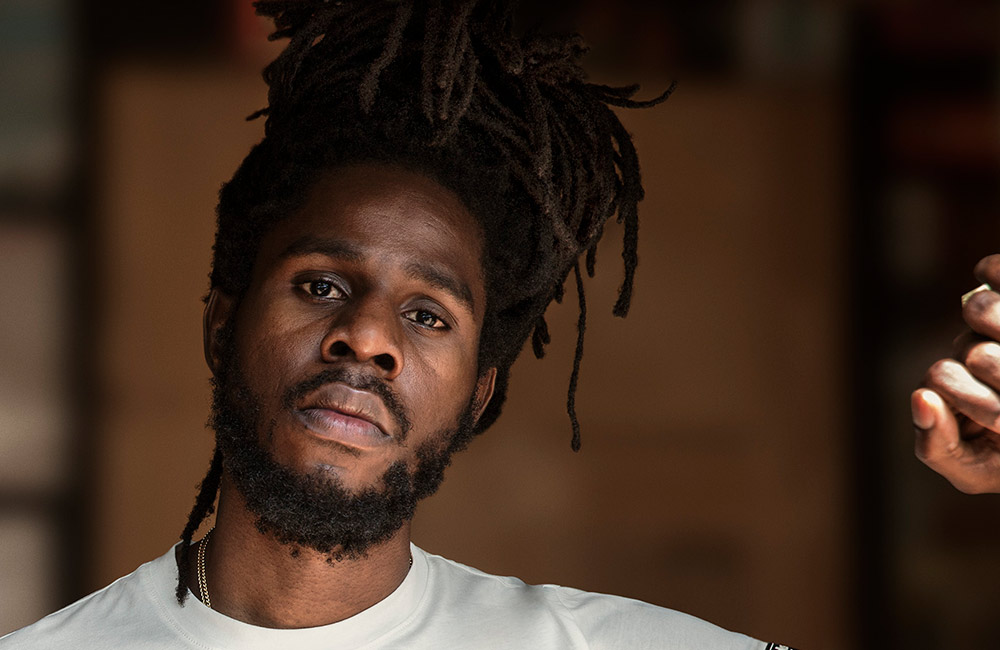 When you were a child in De La Vega you used to direct your church choir.
Yeah. I was brought into the church choirs at a very young age. When I started I was maybe nine years old on the children's choir. I started out leading the songs in the children's choir and I used to go with my mother to the youth choir practice and the women's choir practice. Until eventually at that young age of 10 or 11, I started singing with the youth choir as well. The youth choir would be like from age 18 to 30 years old so I started singing with the choir even though I was just 11. I became a lead singer in the choir. Then I started directing the children's choir. I helped to rehearse the choir until I was maybe 13 or 14 and then I started to direct the youth choir as well.
Which denomination of church was that?
They call it Church of God but it is not really any denomination. It's just church. Sunday church. You have Catholic and I don't know if they would call that Protestants? It is not Seventh Day Adventist, not Catholic, not Methodist and not Anglican. It's street church you know? (Laughs) We used to do a lot of street church where they would call it "Crusade". I am sure they don't understand what the word "Crusade" actually means but we used to do things called "Crusades" where were they would go and baptise people by the hundreds! Christianise the garrison, you know?
So was there a point where you had to leave the church?
Yeah, I mean, I didn't really have to leave the church because I wasn't really in the church like that. I went to the church to study the Bible and to learn music and to sing. I never, ever left that. I still do that every day. So what church really meant to me is spiritual growth and nurturing your spiritual self through music and through meditation. I still love meditating and praying. I used to love to pray and meditate as a little youth. And that's mostly what I went to church to do - pray, meditate read the Bible and to sing! I am still doing all of the above right now every single day so it's a great thing and I never really had to leave the church.
Most of the songs on your album are new or have recently been released as singles but Smile Jamaica, produced by Silly Walks, is an older song. Why did you choose to include that song?
It is a nice song. I think it helps to tell the story that I am trying to tell with the project. It is somewhere I wanted people to go along the journey.
After Smile Jamaica, the album moves away from one drop rhythms and from lyrics specific to you as a Jamaican. As you start to talk about bigger topics the rhythms become more global.
Yeah. Because music is just mystic. Because you have to talk to people in their language. If I have to talk to you - you can understand me. Music is a universal language and that's one thing I love about music. I can speak to the whole world just by putting it on the right beat. I speak mostly with the music. The words are for those who can't really see beyond the words. But the real message is in the music itself. The oohs, the aahs, the hmms, and the actual drumbeat in the bass-lines. That is where the message really is.
The song I Can has a very contemporary pop chorus. Did you arrange those backing vocals?
Yes. I arranged it along with Lisa Davies and Latoya [Hall-Downer] who are very talented singers and musicians. Latoya is one of the greatest keyboard players in Jamaica. She is very awesome. They are gospel musicians and I know them from church time. Those were people who are used to look up to as a kid in the church. I went to gospel concerts and watched them play and sing. It was fun. Lisa Davies is a background vocalist for Toots who plays multiple instruments. Really talented.
You sang a Toots song, Pomps and Pride for BBC 1Xtra that was released this week.
Yeah! We are quietly the biggest fans of Toots in the world.
Where does the Peter Tosh sample at the beginning and end of I Can come from?
I don't know where exactly where it came from but that song was produced by the Picard Brothers in France. Actually I got that rhythm from Diplo. Diplo sent that beat to me along with some other music when I was working on the Roots and Chalice mixtape. Diplo sent some music to contribute to the mixtape and that was one of them. When I recorded it I decided that it was too nice for the mixtape and I was going to put it on the album.
After I Can, the songs Selassie Children and Black Is Beautiful use crossover rhythms to convey very powerful messages.
Black Is Beautiful. That is a beautiful track. It is produced by Natural High. Jordan and Blaze.
Who also worked on the Kelissa EP.
Yeah, they did the Kelissa project as well. So me and them have a good production chemistry. But it's reggae music you know? I just want you to know that. It is fully reggae music. If you listen to it and all the elements you'll know that it's reggae music.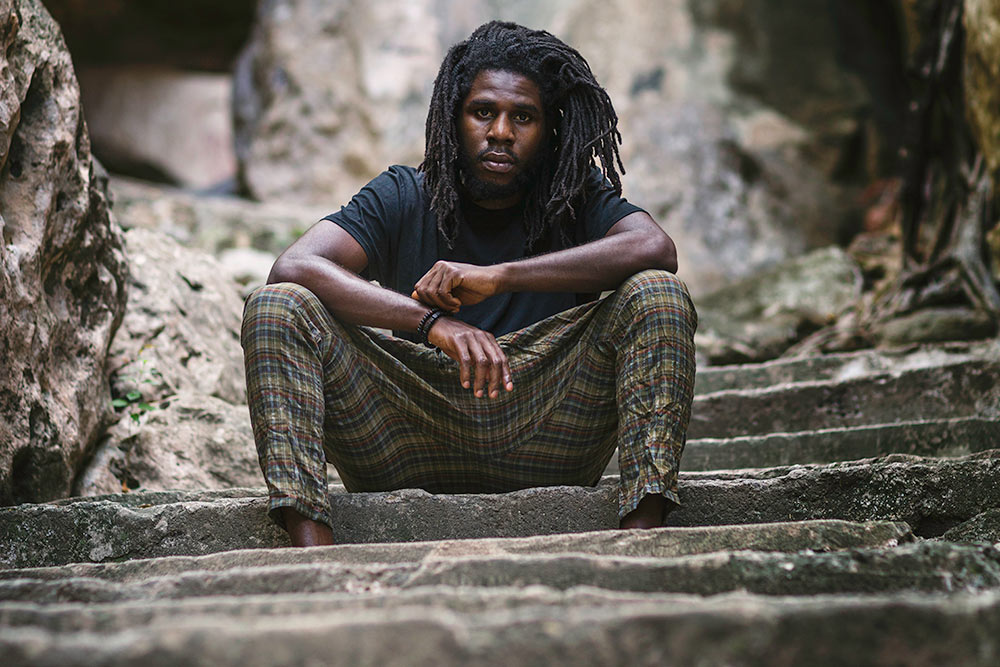 One lyric from Black Is Beautiful says "I see a lot of faces long but this is not a racist song, this is a song for the children who were never told where their race is from". This lyric strikes to the heart of modern debates about racism and reminds of the uniqueness of the black experience.
Yeah and I chose to put it there. I was writing the song and I caught myself. I was like "Yo but you sound a little racist?" Because I argue with myself. And I allowed myself to argue back with me and say "You know but this is not a racist song. As much as you might feel a hint of racism I am addressing race so you're going to end up talking about race". But the song was meant directly for people who don't have a sense of where they are really coming from. You're born in a black body and that is as much as you know. But it's for a reason. And the reason lies in you – you'll find the reason more when you dig deep.
When you ask a white person, he can tell you about his great-great-great-grandmother and hundreds of years of so he has a sense of where he's going. Because he knows exactly where he's coming from to 500 years ago. For us it's different. I can't. Someone can tell you "I am Irish". I can't even tell you where in Africa I'm from. So I start looking at African history and African history brought me to world history which is studying about the Moors, it's studying about Amílcar Cabral.
So it's not just about Jamaica and slavery. Slavery is just a wink. Slavery is nothing. Slavery is not the reason why everything in the world is happening the way it is happening. I don't blame slavery for everything. I don't blame slavery at all. Because how did such a powerful people end up in slavery? That's a big question we need to ask. How the greatest kings of the world ended up in chains? Filling in the middle pieces. First we hear about Cleopatra and Queen Asheba and King Solomon and all these great people and then we fast forward to the middle passage.
So that song is leading people towards the Dogons, Kemet and Kush. Towards Haile Selassie, Rastafari. And through Haile Selassie you have to go thousands of years back to King David. Along that journey, you're going to have to walk past Jesus, past John the Baptist and all these other people and go to King David. And when you reach King David you're going to have to walk past Moses and everybody and go back to Melchezidek. And when you walk and you walk and you walk you realise the way how we look is a big coincidence. Just like how black people and white people marry and have interracial youth. That has been happening from the beginning of time. And that is how we look the way we look.
So everybody is everybody. Everybody is everybody. But we have to address it first. And allow the youth them to start the journey without criticism. Don't criticise the youth who is on his journey. Wherever on that journey he is. He might be on his phase of the journey where black people are the supreme race of them all. Some people are at a point in the journey where they don't even understand anything about black consciousness and they don't care. Some people are at the point where they can literally see within themselves the whole universe and everything it that is in it. Not just the other races but all the other species. Because when I look at myself I see a little reptile, I see a little bird, I see water, I see fire, I see all the elements, oxygen, carbon dioxide, carbon, silicon. Every single thing. But that's just where I am. I have to respect where other people are. So that song was specifically purposed towards helping youths to start their journey.
In the final section of the album you talk about some real basic truths of humanity. Loneliness, humility, mortality.
Yeah because something very important happened in my musical journey. I started to travel a lot and I'd meet people and make a conscious effort to connect with people. Look in their eyes and feel their emotions and talk to people and learn different cultures and read. Don't just go into a country and have a blissful experience where is just all about me. I try to connect with the struggles of humanity. And this album was a way for me to share some of that experience. On I Know Love and songs like that. A lot of people don't get to travel so they don't get to see the world as one world. So they are in Jamaica seeing the world as a Jamaican but when when you are forced to be more than just a Jamaican you get to see where the world is going and where it is coming from.
I can tell you that humanity is coming out of the religious era. That is why you see the religions are intensifying their force upon humanity because they are in panic to see that very soon people won't feel like they have to go to church anymore. And it's not a bad thing. Like all of these great prophets and people that you see - you will have greater prophets than them. Even in this modern era with Instagram and Facebook you're going to have some greater prophets and greater people than everyone who is in the Bible.
Because these people, they didn't just die. They were elevated so their consciousness will live forever. So you will have Elijah, you will see Mohammed again, you will see Jesus Christ over and over and over and over in different ways, even in this time to remind us that your body is a temple. And you will have Haile Selassie I who will come over and over and over again to remind people that until the colour of a man's skin is no more significant than the colour of his eyes there shall be war. And if you notice how drastic the Earth changed after the World War. Like literally the way how people eat changed, people's religion changed, a lot of things changed. And right now we are living in a very silent war and when the war is over things will be different.
Earlier you said we are coming out of the nationalist period. Nationalism likewise is intensifying right now.
Yeah but we are coming out. What they're doing is using public relations to keep people in that mind-set. They use public relations and all of these black life this and white life that and blue life and purple life and straight people and gay people and whatever. But really and truly people are just people trying to find their way. We are just people trying to piece the puzzle of life together. That's our only task as human beings. We were not indebted with any other responsibility more than how did we get here and how do we find our way? So everything in between is just helping us to accomplish that. More and more people are seeing that.
During this interview I've asked you about a lot of specifics but your answers take things to the bigger picture. Would it be fair to say you are a philosophical person?
Well, I am still trying to figure out what philosophy really is. I am really, I would say more of a spiritual person, or rather I aspire to be spiritual. Because you can't talk about spirituality in a very superficial way. You can't meditate if you're not meditating. You can't do yoga if you're not doing yoga. And you cannot be spiritual if you're not communicating and manipulating the spirit. I am not manipulating in the sense of controlling but you should be conscious of the spirit. You should be able to talk to spirits, sit with spirits and learn from spirits.
So yeah I more like a spiritual. I am not sure what philosophy really is. I am very interested in philosophy and I feel like a lot of people who have been labelled as philosophical are really spiritual people who aspired to be more than just successful humans. People who have stretched far enough to change the consciousness of humanity itself. People who after being dead for years are still a part of the whole culture of human life, simply because they aspired to be much more than just somebody who is good at what they do.
Einstein is different from Newton. For many reasons. And even a lot the great musicians, the Jimi Hendrixes, the John Lennons, the Bob Marley, the Peter Tosh. When you look at all of these great people, it wasn't just that they were good musicians because for every Bob Marley there is a Toots. There are so many great scientists and so many great musicians and great athletes. For every Muhammad Ali there is a Joe Frazier. And for every Muhammad Ali there is a Mike Tyson. And also for every Muhammad Ali there is a Floyd Mayweather, who is very successful. But some people go further than just their careers and seep down into the consciousness of every single person who has heard their names.
I'm glad you mentioned boxing because some of your songs, Here Comes Trouble and Warrior, are very good themes for boxers to use as their ring-walk music.
(Laughs) I actually saw a boxer walk into Here Comes Trouble once. I was like "Yo that's sick! Mad". Yeah man, because I man is a fighter you know? I is a fighter man. Because what is life without a good fight? You have to find a fight and participate in it. But I is a spiritual fighter or a musical fighter you know?
You've released a few features with rappers recently. With Joey Bada$$, Allan Kingdom and Little Simz. On your song with Little Simz you say "I'm not half the man Marley was". Can you elaborate on that?
That was basically a poetic kind of way to look at our generation, in terms of I feel like we need to be more active with our spirituality. Less Facebook spiritual. Less Instagram spiritual. Less Twitter conscious. Not just superficially awakened. Not because you have tattoo of Nefertiti on your chest - that doesn't mean shit. Bob Marley never had an Ankh tattooed on his face. But I feel like he was actively spiritual in terms of how much he chose to give of himself and when you can reach that level of selflessness then you're ready. I was just using it to compare our generation to that time. For instance nobody really wants to get shot like Malcolm X and Bob Marley. And nobody really wants to be an enemy of the FBI and the CIA like Marcus Mosiah Garvey. So we end up being very comfortable with our spirituality where "It's just me in my spiritual corner".
So yeah, I'm not half the man Marley was because I am just 24 years old and Bob Marley is a great individual and sometimes people compare us a lot to musicians and people of that time - not allowing us to discover our own greatness and purpose. I feel like that is that is what our generation is charged with right now. Finding our own purpose. And in the song I went further to say "We still don't hear the voice of Garvey calling us, and Luther King's soul is still patiently waiting for our dreams to come true because it feels like the same thing again. Still a fight fire with fire" which means we're still attacking racists with racism, still trying to fight terrorism with terror when it's really spirituality we should look towards.

We published this interview first in FESTIVILLE 2017 magazine, which is still available as FREE PDF DOWNLOAD HERE