Interview: Chronixx Reflects On First European Tour
04/21/2013 by Angus Taylor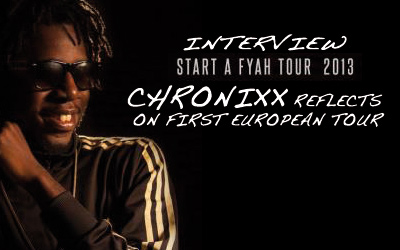 This month Chronixx has been in Europe for his debut nine show tour. With the last concert done we woke him up this morning for a quick chat about how it all went before his flight home to Jamaica. As usual, even so early on a Sunday morning, he was in a philosophical mood…

How do you feel after your first European tour with Zinc Fence band?
I feel I have accomplished one of the things that is necessary as an artist. Performing live with my band. It is Zinc Fence's first time in Europe as Zinc Fence. All of the members of the band are well travelled people, we know how to carry ourselves, but this is our first time here together. It's a good feeling to know you can really do those things. I feel like we are on our way now so you can look forward to much more coming in the future.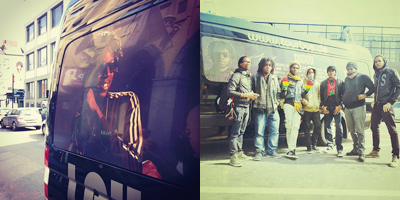 What was the highlight of the tour?
Just being on the road with the ones here it was like we were always on a high. Within our minds we were always very philosophical. These are some deep youths we roll with. Performance-wise, the show last night [in Zurich] was very divine and the man played from their souls. It is natural that Jamaican people react to things differently – physically, psychologically and in every way. And it is the same here in Europe – people react differently. But we got a very overwhelming reception from the people. You're half way around the world and people love your music – and they love it in a very special way. They want to be a part of it and they want to support the music forever. That alone gives me something to work forward to.

It's nice to be able to bring your own band on your first European tour. Not every artist from Jamaica has had the opportunity to do that.
I think every artist in Jamaica does have the opportunity because there are a lot of musicians there who are willing to come together and build the music. But what I think is most artists don't exploit this opportunity. As a matter of fact they don't see it as an opportunity. They see it as a bad thing– as something that is not monetarily or economically wise and is not good for their earnings. For me though, it's one of the most divine feelings in the world because it's like you're out there with an army rather than a lone soldier out there fighting this war. You have keyboard player and guitarist striking out the beat space, the bass player doing his thing, and the drummer knocking out the bass beats, and the singer singing praises to The Most High. It's a combination and a divinity of music.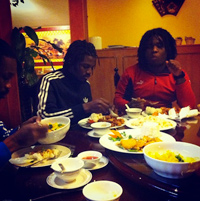 What has the food been like? Have you always been able to get what you needed diet-wise?
My thing is vegan and in some places in Europe they don't even know what vegan means and it's just about vegetarian. My solution is – find an Indian restaurant. Indian or Chinese always have a little vegan. I didn't really have any trouble finding food unless it has been in some remote place like this little village in Germany where we were one day and there was only one restaurant in the whole town! But food is always there man – fruits, natural juice and nuts and then your belly full and vital. You have your fat from your legumes, your vitamins from your fruits and your hydration from your water so you're just going to feast up. The thing is, when you eat that way you just eat eat eat and be energetic. Every food is vegan before they kill a chicken or an ox or murder any animal. Every food is vegan before they process the natural earth authentic. Every food is natural so I don't worry about food much.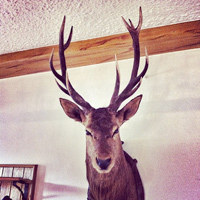 Have you seen any interesting animals on your travels?
We didn't see much because we were mostly in cities but we saw some deer in Austria and some very beautiful birds in Italy. Very beautiful birds.

It's been colder than usual in parts of Europe. There's been a lot of snow.
I am not a fan of very extreme weather conditions – whether it's too hot or too cold. I am from a place in Jamaica where it is cool and sunny and warm and nice. It never impedes me musically but if I could choose then I wouldn't deal with the cold. But it's very beautiful and we took a lot of pictures in the snow! It's an element same way, just like rain and sunshine. These elements are natural things. It's not mankind that falls snow. Jah falls snow. So we don't fight it. If I could choose sure, but fortunately I am not the Creator and I am not God. Because if I was given the opportunity to choose it would not just be snow, I would choose a lot of stupid things in life!


If you had the chance to go back and improve anything else about the tour, what would you change?
We have learned a lot but we are not people who dwell on the past. We look forward to the future. So when we come back things will adjust themselves naturally because that's how it goes. After learning how to walk a man would never go back and creep without doing it consciously. We will not come to Europe and creep again. Next time we come we'll walk, the next time we come we'll run, and the next time we come we'll fly.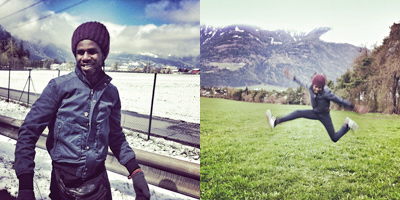 You went out to Costa Rica with Kabaka Pyramid, Midnite and Protoje – would you like to do something similar in Europe?
Last year I was supposed to come to Europe and some shows with Kabaka Pyramid and it was supposed to be the same this year but it worked out a little different. I think we are still going to do a tour but not yet. We went out to Costa Rica and it was very good so we will most definitely do that in Europe and Africa and America. I don't think that plan is mature yet and it's for a reason. Because when we touch the road it is going to be Zion on Earth. We tried to link up with Raging Fyah – they called when they had a show – but it just needs to mature a little bit more. Because we're enough people and we all have a band so we have to find a creative way to do it.

You are preparing to tour the USA – are you looking forward to that?
Yeah, that's a good one. The US is a very tough place because there is a lot of music coming through to the people so they have a lot of music on their plate and a hard time choosing. So it's a place where you have to go and make a statement about who you are. Because people might hear your music or see your videos but they may not understand if you just have a conscious tune or if you are a Rasta or who you really are. So that's when the music has to really go and speak for itself so we have to just bring it – 100%, original, steady.

How is your first album progressing? Which producers are involved and when is it coming? Can you give us a clue?
We are working with some of the greatest that reggae music has ever seen. I'm talking about the veterans and the young legends coming up so we're working with the greatest of the greatest. I'm not talking about anybody who you hear these days making music. I'm talking about the future and the people who actually created the music. The movement who created reggae and dancehall and the movement who are evolving reggae and dancehall. I don't want to give out too much information but we have finished recording one of the projects already and we are still recording because we want to come up with the ultimate project!

You've said in the past that you don't look for controversy. Is controversy starting to follow you now that you are a big artist?
People take offense in what they wish to take offence in. They say the truth is an offence but not a sin. Really and truly we do not set out to attack anything. It's just our mission we are on. It's like in a game of football, defenders have to defend and the striker has to shoot and the midfielder has to create play. You just have to do your part. Our role as Zinc Fence is to go out there and liberate people through our music. Liberate the minds of people. That's it. And when their minds are liberated we are good. We will tell them things that will aid the liberation process and will make the evolution of their minds happen more smoothly. We are the people who are supposed to bring people through evolution through music and we are going to do it until the game is over and Jah says "Alright, my son, my good and faithful servant, well done". I don't really find anything hard in that and I don't really partake in controversy. Controversy happens when people try to make a story out of what they don't have. Make up their own this and their own that. I don't partake in controversy because it's a very misleading and distracting thing. For our mission and what we are doing we need as little distraction as possible – if not no distraction at all.

Thanks for your time.
I just want to tell the people thanks for all the support and to keep supporting the music. This is not the end of Zinc Fence, neither is it the beginning, it is just the tip of the iceberg. Give thanks and praises, Europe was a success and it was more than we bargained for. We are coming back in the summertime and we will definitely find the time to visit Europe on a Zinc Fence note again.

[PHOTOS FROM CHRONIXX' INSTAGRAM]


WATCH CHRONIXX LIVE IN WUPPERTAL, GERMANY 4/13/2013