Chronixx Announces Roots & Chalice Mixtape and Album Release 2016
12/21/2015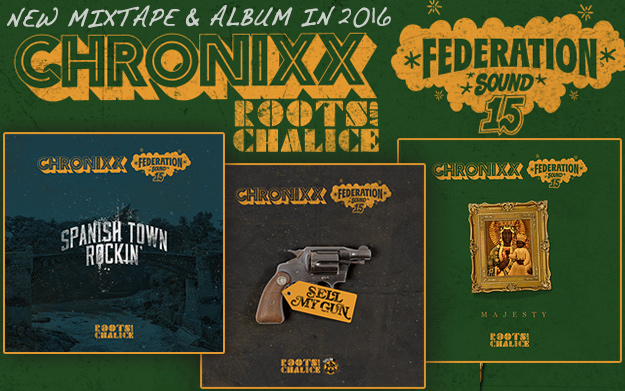 Shortly before the year 2015 is ending Chronixx published three new songs via Soundcloud. Big tunes [listen below!] as a teaser for a very promising 2016 as the following press release announces:

After a year rich in features (Joey Badass, Inner Circle, Major Lazer, Protoje & Maverick Sabre), Chronixx returns with new music and a new concept titled Roots & Chalice - It consists on a new mixtape in collaboration with Brooklyn's sound system Federation Sound - Following Chronixx's first mixtape Start A Fire in collaboration with Walshy Fire (Major Lazer) back in 2012, Roots & Chalice wil ease the wait of Spanish Town's singer first album planned for Summer 2016. Max Glazer & Kenny Meez of Federation Sound compiled more than 20 tracks & freestyle together and Chronixx delivered lyrics & flow on a very eclectic selection of beats on Roots & Chalice.

The mixtape features tracks from previous projects revisited on different beats, current songs that haven't been part of any project and new original songs exclusive to this project either produced by the in-house production team (Zincfence Records/Special Delivery Music) or on classic instrumentals. The first track taken of Roots & Chalice is titled Majesty - New song recorded for the mixtape on the original version of Otis Gayle I'll Be Around (Sound Dimension/Studio One) with some added guitare from Namdi of Zincfence Redemption. The second track is Spanish Town Rockin, a future classic and the third track is titled Sell My Gun produced by Teflon of Zincfence Records.

Chronixx is ending another great year with the second part of Capture Land Jamaica Tour 2015. He performed in his home town Spanish Town, Manchester, and Falmouth.

Chronixx is planning to release his first LP early summer 2016 and will announce really soon all the dates of his forth coming World Tour along side Zincfence Redemption - The young musicians will visit Africa and Asia for the first time in 2016.


LISTEN TO Majesty, Spanish Town Rockin & Sell My Gun