Review
Album Review: Christopher Martin - Big Deal
02/08/2017
by Gardy Stein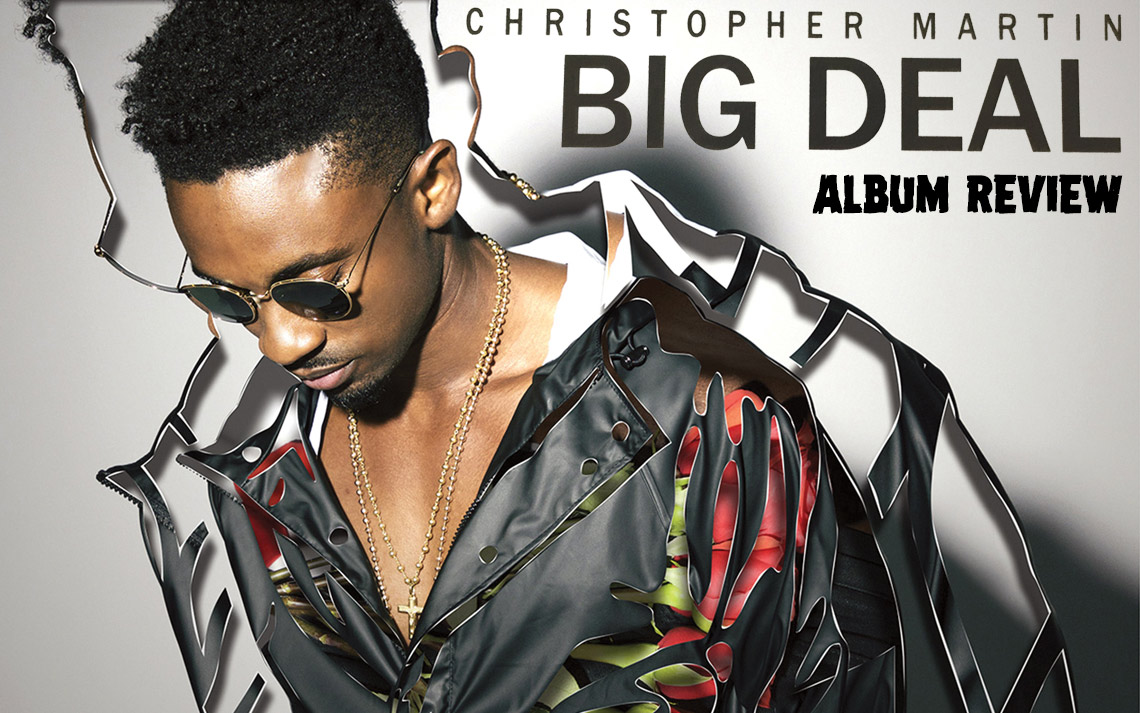 This is his DEBUT album? Fi real? A fact hard to believe considering that Christopher Martin, whose name alone ecstasizes fans around the world, released dozens of sing-along hits already. His rise from Digicel-Winner in 2005 to international Reggae & Dancehall star has been a rapid one, but, yeah, Big Deal is his first full-fledged studio album (there have been a few EPs and a self-titled Japan only album release, though). And with the title track that kicks it off, the singer makes clear what to expect. I'm A Big Deal is a self-conscious and at the same time encouraging piece that, without arrogance, sates how important it is to value yourself – "big up your chest and stand proud, and don't matter about nobody, no man no more than no man pon this earth!"
A wide array of genres takes us through 16 tracks and over 10 years of artistic development. Thus, we find Dancehall-flavoured pieces such as the Busy Signal combination Steppin, the Reggae/ Rocksteady tune Hide Away, including a wonderful Dub interlude, or Cumbia/ Latin touches in My Love and Lady Of The Night. The quality of this variety is assured by a host of producers: Troyton Music, Shaun Chablal, Andrew "Blaxx" Myrie, Shawn Allwood, Sting International, Chimney Records, Tarik "Rvssian" Johnston, Llamar "Riff Raff" Brown & Lydon "Kingy" Lettman, Evan "Zum" Powell, Clive Hunt and of course the brethren at Martin's base Big Yard Music contribute to a smooth album flow.
Naturally, the majority of the songs is dedicated to the ladies. Whether well-known hymns like Cheater's Prayer or brand new exclusives such as Distance or Blind Girl, the singer maneuvers through issues of attraction, temptation and emotions in a way that is both recognizable and credible – this man knows what he is talking about! When it comes to bedroom stories, featured artist Chip doesn't mince words in Under The Influence; neither does Martin in Magic, hence the "Parental Advisory" label is absolutely legitimate. A more romantic approach to love is implemented in Long Distance Lover (featuring New York-based artist Destiny Moriah) or Better Than The Stars, the beautiful instrumental base of which was laid down by masters Sly & Robbie, "Dubwise" Browne and "Lenky" Marsden.
Other subjects are touched in One Life with ad-libs by Tanto Blacks, Easy Like Sunday Morning or the digital bonus track Mom and Dad, an ode to his parents. One of my favourites is Pirate Of The Caribbean, an innovative piece that winkingly depicts the artist as a pirate of hearts, on the hunt for the pretty diamonds, pearls and gems of his territory. "Me slicker than Jack Sparrow, me rougher than Black Beard!"
Speaking of innovative: explicit mention deserves the fine artwork of the booklet, a collaborative effort of photographer Levi Mandel, art director Andrew Grey and creative directors/ stylists Stephanie & Christina Chin. The results are awesome to behold!
Big Deal is what it says – an impressive, versatile and professionally delivered debut album that will certainly men a big deal to Martin's fans around the world, and those that are yet to become.
---
Release details
Christopher Martin - Big Deal
Release date: 02/10/2017
Tracks
01. I'm a Big Deal
02. Steppin feat. Busy Signal
03. Cheaters Prayer
04. In.vo.ca.tion (Skit)
05. Under the Influence feat. Chip (Remix)
06. Magic
07. Long Distance Lover feat. Destiny Moriah
08. Distance
09. Better Than the Stars
10. Blind Girl
11. Hide Away
12. Pirate of the Caribbean
13. My Love
14. Lady of the Night
15. One Life feat. Tanto Blacks
16. Easy Like Sunday Morning
17. Mom and Dad
Featured artists
Busy Signal