Reggaeville Reaches 1 Million Subscribers On YouTube
06/24/2019 by Reggaeville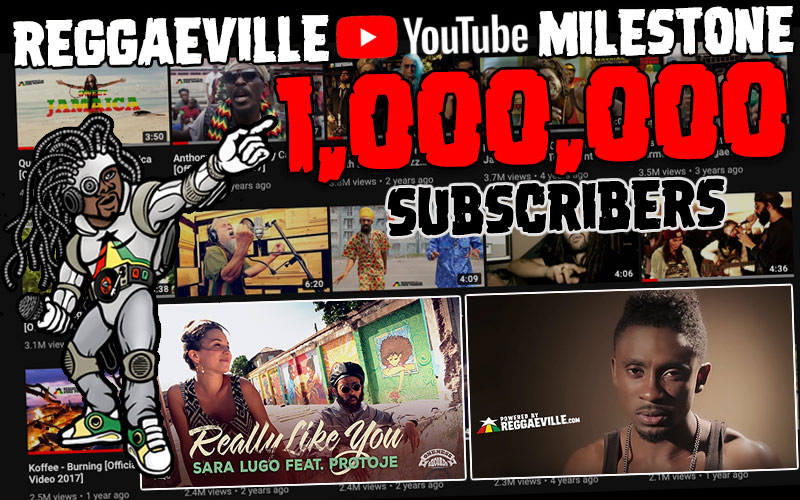 Just 18 months after we celebrated 500,000 subscribers on YouTube, the Reggaeville YouTube channel has now reached another impressive milestone: 1 MILLION subscribers!

Since our channel launch in July 2009, we did more than 5800 uploads, which gained a total of 380+ million views with a total watch time of 980 million minutes!

Our uploads include more than 2000 live videos, 220 interviews & festival reports and more than 2000 official music videos submitted by artists, labels and video directors.

With more than 100 million views during the past 12 months, the Reggaeville Youtube channel is one of the most lively Reggae channels and the main source for brand new videos. In total we have premiered more than 1700 music videos!

Big up all subscribers, viewers, artists, video directors & labels!

If YOU are not a subscriber yet, make sure to subscribe NOW @ YouTube.com/Reggaeville

CHANNEL MILESTONES

2015
147 video premieres. Click here to watch all!
100,000 Subscribers (July 6th)
38 Million Views

2016
334 video premieres. Click here to watch all!
200,000 Subscribers (August 17th)
61 Million Views
2017
466 video premieres. Click here to watch all!
300,000 Subscribers (March 29th)
94 Million Views
2018
496 video premieres Click here to watch all!
500,000 Subscribers (February 24th)
700,000 Subscribers (August 11th)
115 Million Views
2019
237 video premieres (January to June 22rd) Click here to watch all!
900,000 Subscribers (March 3rd)
1,000,000 Subscribers (June 22nd)
47 Million Views (January to June 22rd)
REGGAEVILLE CHANNEL STATS:
380 million views, watch time = 980 million minutes
1,14 Million Subscribers gained and 140k Subscribers lost!
98% of all views take place on Youtube.com & Youtube App.
only 1,7% of all views take place on external websites and Apps.
main traffic sources are Suggestions (40%) and Playlists (21%)?
the average view duration is 2:33 minutes!
most viewed video is Christopher Martin - Let Her Go with 24mio views!
most viewed video premiere is Sara Lugo & Protoje - Really Like You with 12mio views!
first upload on June 20, 2009: Matthew McAnuff - Reggaeville Drop

Watch below... all Reggaeville Video Premieres from 2015 till today in one playlist: