Reggaeville Riddim Corner #18
04/11/2017 by Dan Dabber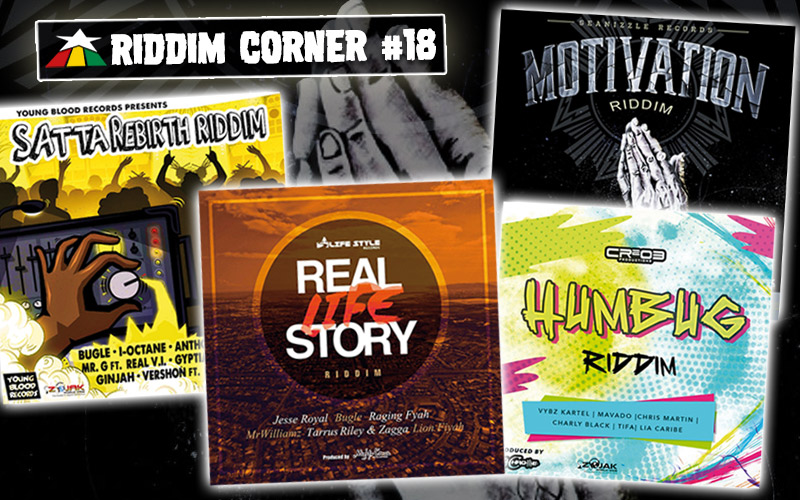 SATTA REBIRTH RIDDIM (YOUNG BLOOD RECORDS)
Few songs are as important to the development of reggae as the Abyssinians' 1969 release, Satta Massagana. Originally titled Far Away Land, the tune wasn't an immediate hit, but it was one of the first records to contain Rastafarian-centered lyrics, setting the trend that would boost Bob Marley, reggae music, and the island of Jamaica to worldwide prominence within a matter of a few short years. The riddim track, originally recorded by Sound Dimension at Studio One for the Clinch label, became legendary in the early 70s and by mid-decade it seemed like every studio in Jamaica was voicing their own version of what became known as Satta Massagana Riddim or, later, Satta Riddim. Throughout the five decades since Satta Massagana's release, many of the most influential producers in the history of reggae music (King Jammy, Lee Perry, Coxsone Dodd, Bobby Digital, Bunny "Striker" Lee, Augustus Pablo, Prince Buster, Niney The Observer, Joe Gibbs, and many more) have taken a crack at Satta.
The latest producer to re-lick Satta is Mr. G, who is also the veteran dancehall artist originally branded as Goofy. His label, Young Blood Records, was the force behind many hit records including RDX's Ben Ova, Beenie Man's Eva Clean, and Jah Cure's Same Way. Young Blood has now joined forces with Jamaica's most beloved saxophonist, Dean Fraser, to produce Satta Rebirth Riddim, a 10-song juggling packed with top-level artists and quality versions. Although the riddim track is replayed and not based on samples of the original, Young Blood's update isn't "too clean" and retains some of the grit embedded by the relatively primitive studio gear used to record the Abyssinians' original. Dean Fraser plays the iconic horn part on his sax, which mellows some of the epicness captured by the Sound Demension horn section on Satta Massagana, but the melody retains it's anthemic magic.
It's the right riddim to re-lick and it is re-licked well by Young Blood, but Satta Rebirth also has a long list of amazing contributing artists. Mr. G steps to the mic from behind the controls to deejay on the paranoid Foot Steps alongside the upcoming talent Real V.I. The popular crooner, Gyptian, appears to channel Tenor Saw at times on Revolutionist, a gut-wrenching self-affirmation with more breathing space for the riddim track than most of the other versions. Ask You Self from Jahvinci is an exceptional performance from the singjay, and with an intense spiritual energy that matches the vibe of the Abyssinians' version. Anthony B takes the harder route with Duppy Bat, a badmind tune with a gangster edge that reminds listeners not to get the Bobo Rasta "head hot." Vershon & Loyal Flames team up for a wicked sleeper track called White Lines that is propelled from the beginning with a killer, inescapable hook. I also have to mention the Christopher Martin track, Love Me, which is the only version on Satta Rebirth that takes a lovers direction. The song stands out because of Martin's world-class vocals, but also because his delivery on the tune has something authentically vintage about it, a quality that jives with the throwback riddim on a temporal plane. There are a few more versions, all of which are nice in their own right, making Satta Rebirth - a well-chosen re-lick that was reproduced well and voiced by a large number of great artists who all give stellar performances - about as good as it can possibly get for a juggling.
REAL LIFE STORY RIDDIM (LIFESTYLE RECORDS)
Since their celebrated World Clash victory in '99, Mighty Crown has been one of the biggest names in soundclash. Hailing from Yokohama, Japan and sometimes referred to as the Far East Rulaz, the soundsystem is comprised of a handful of members led by brothers Masta Simon and Sammi T. Mighty Crown's contribution to reggae culture, in a general sense, goes far beyond what even their feared dub box is capable of. They have inspired Japanese youth to embrace Jamaican music and they have legitimized the presence and authenticity of non-Jamaicans who participate in reggae, dancehall, and soundclash culture. But all those accomplishments, mixtapes, and clash trophies - even a one-time deal with Nike - aren't enough for Mighty Crown. In recent years, they've contributed to the scene in another way - by establishing Lifestyle Records and releasing their own music. Their latest project is Real Life Story Riddim, a 6-track juggling that features some big artists and music that will inject a little funk into the reggae party.
Real Life Story is almost too funky, embracing a sound that combines elements of 60's and 70's music from both America and Jamaica. If it went any further to the funk side, it may have resembled something a band like Phish might throw together if they were jamming some reggae-type vibe. But as is, Real Life Story is just a fun culture riddim with a funky/early-reggae twist. Of course a culture riddim isn't really fun without a Tarrus Riley version, and he combines with Zagga for Justice, a unifying song with a slightly lighter tone than the title might suggest. Raging Fyah brands the riddim with his titular tune, Real Life, which is a badmind song at it's core, but with Rick James-esque showmanship on the vocals. On the opposite side of the spectrum is Bugle and Mr. Williams, who both take a measured approach to Real Life Story, bringing a leveling, down-to-earth quality to the juggling. Jesse Royal probably throws the most heat with his song, Fyah Fyah, a lyric-fueled blaze of judgement and the only version to feature nyahbinghi drums.
MOTIVATION RIDDIM (SEANIZZLE RECORDS)
When it comes to dancehall production, Seanizzle is about as creative as they come. His riddims consistently push the boundaries of what dancehall, and sometimes reggae, can sound like. Motivation Riddim, Seanizzle's newest release, is a blend of acoustic flavor and electronic production techniques. This concoction goes down at a danceable, yet mellow 90 beats per minute and has an extended guitar intro that builds into a fuller, R&B-inspired sound with bass, kick drums, claps, and some minimal percussion. Motivation straddles the line between reggae and dancehall, and Seanizzle shrewdly selected a cast of highly effective artists to play to the dual appeal of the riddim. Christopher Martin, Vershon, Demarco, and Bugle all contribute to the project with deep and meaningful songs, adding a rich, conscious texture to the project.
One of the top selections from Motivation is I-Octane's Dem Ago Chat, a song that encourages the listener to live for themselves through a complicated, yet soothing melody and a hook that says, Whether you do good or bad, dem ago chat. Even further down the self-help aisle is Jahmiel's Believe In Yourself, which is extremely well-executed and charming, despite a hook that could be construed as a little corny. It's A Great Day by Jahvinci has similar saccharine qualities, but the singer's talent and distinctive vocals lift the song and draw in the listener, even if they aren't necessarily having a great day. The most cleverly written tune on Motivation has to be Wasp's Crab Inna Barrel, which balances his deejay style with a simple, 3-Star-style singing hook. Dem do anything fi hurt you... Dem waan block your blessings… Inna barrel. Crab inna barrel. Crab inna barrel.
HUMBUG RIDDIM (CR203)
ZJ Chrome is another staple producer in the Jamaican dancehall scene. His projects are often conceptual, like the Dancehall Sings double release from 2015, or the Cardiac riddim series which spanned from 2010-2013. The first juggling to be released on his label, CR203 Records, in 2017 is Humbug, an uncomplicated, one-off riddim with a poppy sound built from luscious strings, sweeping filters, and a chirpy lead synth. The kick drum pattern alternates from a syncopated beat on the verses to a straightforward "four-on-the-floor" during the hook, creating a rhythmic juxtaposition that gives the riddim motion and breath. The bird's eye vibe is sugary sweet, but the short artist lineup is tough, with versions from Mavado, Tifa, Christopher Martin & Lia Caribe, Charly Black, and Vybz Kartel.
Kartel is a master, especially on pop-oriented riddims, and he has a history of voicing big tunes for Chrome. His contribution on Humbug, So What, is a good song - well-written and well-delivered - although essentially just a list of things Worl' Boss likes about his lady. For my money, the top selection from the juggling would be Mavado's track, Careless Gal, which is a cautionary tale and novel approach to a riddim that seems to demand more sexually-charged gyal tunes. The singjay's unorthodox subject matter is merely an afterthought though, as Mavado's performance is perfectly suited to the riddim and with a pace that quickens and slows to match the alternating kick drum patterns. Another big tune from the riddim album is the sexy and playful Show Them You No Lazy by Christopher Martin & Lia Caribe, both singers with sensuous, velvety voices. The male-female duality creates a powerful dynamic that no artist could possibly achieve by themselves, and this energy brings the Humbug juggling up a notch on the whole.