Review
Album Review: Charly B - Journey Of Life
11/23/2017
by Gardy Stein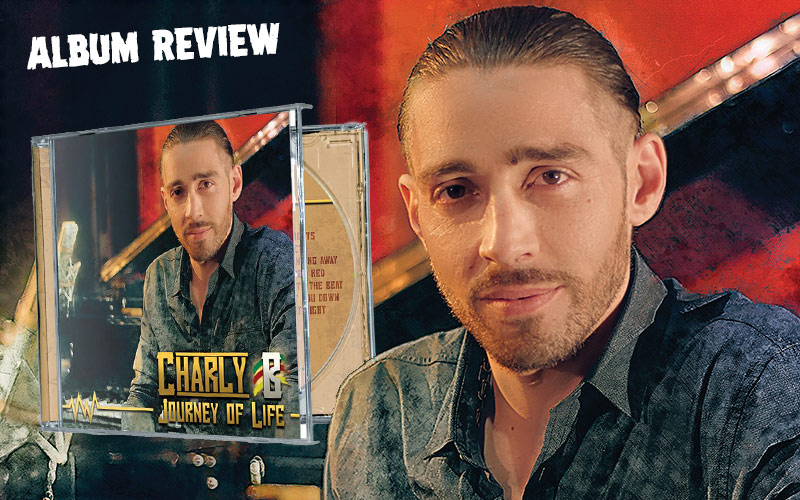 Thumbing through the booklet of his new album Journey Of Life, my eyes are caught by the words Charles Blanvillain aka Charly B chose for his vote of thanks. "A journey of a thousand miles begins with a step, and this album represents a grandiose milestone." he writes, and continues with an emotional expression of gratitude for his supportive family: "I love you and thank you for understanding that I had to leave France in order to accomplish this dream, especially my father who passed away during the creation of this album. I really wish he was here to share in this moment with me, but I am sure he is somewhere smiling at me."
Apart from giving a very intimate insight into his personal affairs, the quote also enlightens us about his own and the origins of his album. Raised in France, he fell in love with Jamaica and Reggae at the tender age of 15 during an exchange year at a local high school. Ever since then, the island and its music guided his steps, until he decided to move there for good in 2015.
This decision soon proved to be the right one as, teaming up with the Tower Music Media Group (TMMG), singles like Eyes Dem Red, One Phone Call and especially Prophecies Untold created a stir that propelled Charly B's name forward and paved the way for the present album. Fourteen tracks grant a comprehensive view on his artistic output, tracks that have been recorded at notable studios such as Mixing Lab, Anchor and Tuff Gong. TMMG's Tower Band consisting of Andre "Kryss Ras" Barnes (drums), Lorenzo West (bass), Corey Coombs (guitar) and Rayon "Professor" Smith (keys as well as mixing and mastering) form the backbone of the music that's been tailor-made for the release.
Instrumentally solid, most tunes move within the traditional realm of Reggae music, Jah See And Knows, Step By Step or City Lights for example, all three of which are arranged wonderfully, including horns and backing vocals. A bit more genre-diversity comes in with the seriously rocking Eyes Dem Red or the softer, almost balladesque notes of Nah Give Up and No Running Away. While Shoot You Down and Reapers aptly illustrate the thematic focus and lyrical depth of the artist, other tracks such as Welcome or Rock To The Beat are more simple in words and beat and almost seem like fillers. The cheerful Live It Right, on the other hand, is perfectly positioned at the end of the album to send us off on that happy whistled melody.
With Journey Of Life, Charly B is presenting a musical reflection of his experiences and the circumstances that have brought him to this point in space and time, and it is quite certain that his journey is far from over. He still has many miles to trod and many stages to rock! And, another thing that's for sure: Daddy Blanvillain looks down from heaven, smiling.
---
Release details
Charly B - Journey Of Life
DIGITAL RELEASE / CD [Tower Media Music Group]
Release date: 11/24/2017
Tracks
01. Welcome
02. Jah See And Knows
03. Step By Step
04. Reapers
05. One Phone Call
06. Ego
07. Nah Give Up
08. City Lights
09. Respect
10. No Running Away
11. Eyes Dem Red
12. Rock To The Beat
13. Shoot You Down
14. Live It Right