Chaka Demus - The 'Success' Interview in Portmore, Jamaica
03/30/2019 by Gardy Stein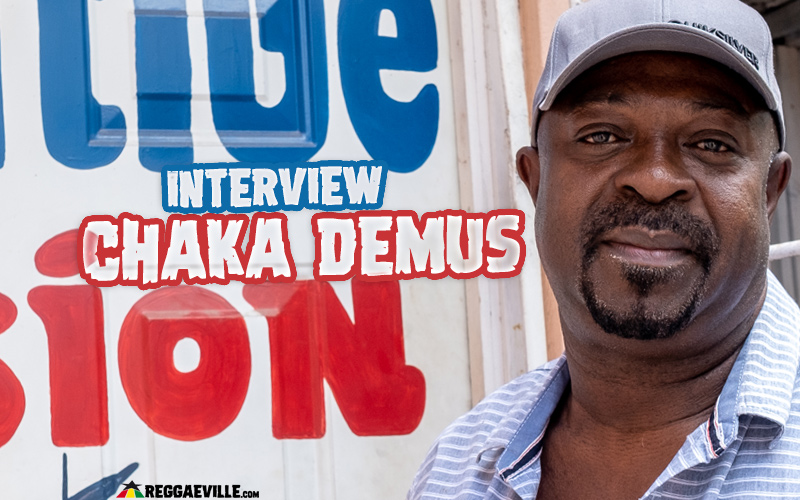 When, during Vinyl Thursday's at Nanook, a man took the mic, it seemed to be the usual "let everybody forward and sing" kinda vibe. But once he started chatting with that signature voice of his, revealing himself as the "original Chaka Demus", people surged forward to greet him and listen, as he hadn't touched a local dance in years. On the occasion of the release of his new solo album Success, Reggaeville was invited to meet the Raggamuffin foundation artist in his home studio in Portmore, an invitation we more than willingly followed. Read on to find out what John Taylor aka Chaka Demus has been up to during the last years, how he spends his free time and what you can expect from the new release:
We are here in Portmore with Mr. Chaka Demus. You certainly don't need an introduction, but can you tell us about this place? Where are we here?
This is my studio, my wonderful home studio called Positive Vision, which is about 4 or 5 years old. My new album was recorded right here. My son is a sound engineer, he was the one I recorded it with. His name is Marvin, his stage name is Marvellous. Big things a gwaan! I can wake up like 2 or 3 in the morning and come over to record. That's very convenient, I can just call my son and say "Come, I have a vibes!" (laughs)
Wow, so talent runs in the family! It seems there was a quiet time during the last few years - did you take a break?
No man, you can never take a break ina di music business. We've been working continually with Chaka Demus and Pliers,recording and ting, but sometimes when you leave a recording company and you don't have a strong record company behind you that can distribute all over the world, you don't get that promotion weh you need. But we've been recording still, working and touring all over the world! Last year we had to cancel a tour because I fell ill, but we will pick up on that tour in May, about 35 shows in the UK, Chaka Demus and Pliers. But I'm going to promote my album as well.
Speaking of - when did the idea for a new solo album come up?
I don't really remember, you know, I just found myself start recording! And when I start recording, it wasn't planned you know! It just feel good and when we done 3 or 4 songs me say 'Chaka, the four song sound good!' And when me reach 8 songs now I thought we could just as well do an album! Then a producer by the name of Paul 'Jah Screw' Love came and I gave him the hit songs and he took them to a company by the name of Jet Star, who are Phoenix Records now, and they said they really love the tracks and asked Paul to get involved. And Paul asked me if he could produce some tracks, so he produced 6 and I produced 8 of the tracks.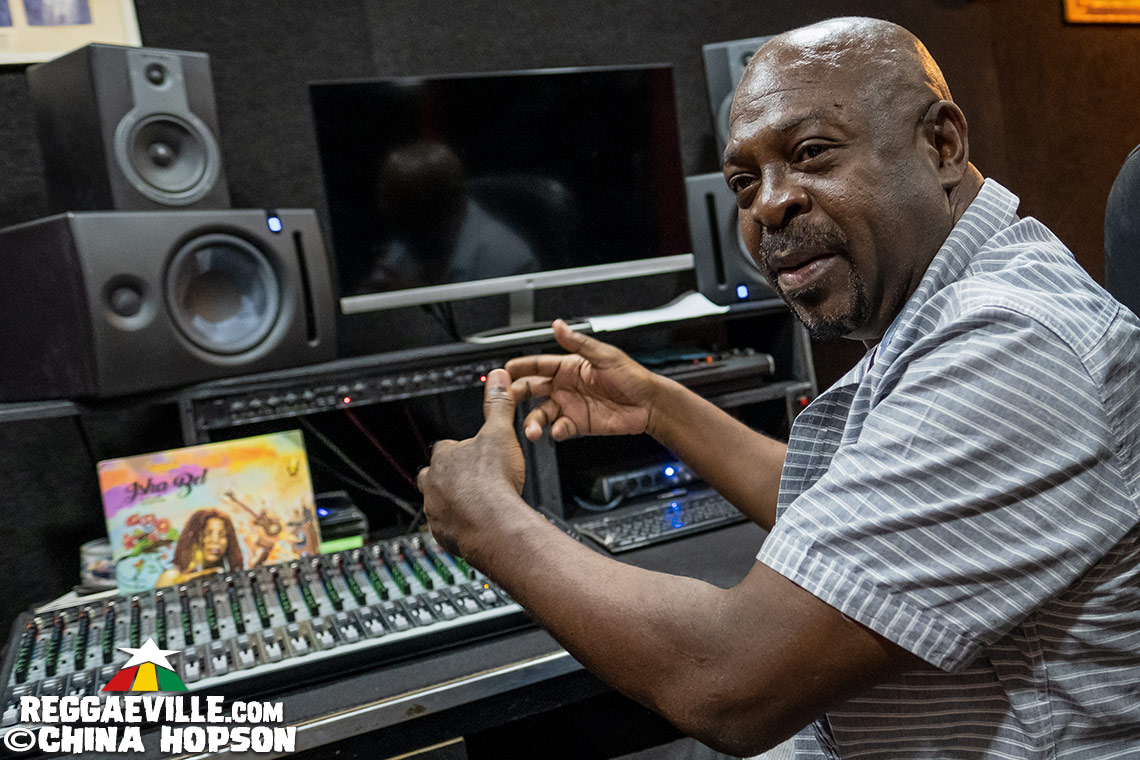 The album is called Success - can you tell us something about the concept behind the title?
You see, everybody is supposed to want to be successful. So me right now as a man I thought this is my first album in years by myself and I produce and record it in my studio, so I want it to be successful and I feel it going to be successful. I just took the name because success is a really strong name. And when people hear it they will wonder "What is success?" If the tracks sound good them will want to hear and if they hear it now they will choose fi say... cause I make a lot of interviews and people been talking about several of the tracks, everybody loves the album so far. I did about 30 odd interviews, I did about 10 with BBC and other radio stations in the UK, everbody loves it!
And for you personally, what's the secret to your success?
You have to love the music first! You have some people come ina di business and first thing them start think bout is money. You can't do that! You won't get the real energy and vibe and substance ina di music! You have to make sure it comes from your heart! So me a say, the music right now, the reason why I'n'I ina this business for so long, the reason how you see me last night, it's because it's a joy working, I love the work, and I put the work first before money! I'm not saying that me no want no money, but you still have to think about the work first, cause without a good job, you not going to get pay because nobody nah go hire you. So you have to put the work first! I'n'I love the music first and then the money, that's my policy from day one. Cause I never know I woulda get pay from music! When first time a man look pon me and give me my first 30 Dollar for DJ, I asked him whe him give me the 30 Dollar for. And him say because you mash up the dance! Me say 'Eeh, well me a get pay fi talk? All right, I shall talk more!' (laughs) Love for music and hard work, as you say, is the key to success.
The album was just released, an impressive 14 tracks, who else was involved in the production apart from Jah Screw?
My son Marvellous, as I said, and this lady here, Isha Bel. She did a lot of the backup vocals, probably about ten of the songs them, no so? (Isha nods) She also has a song on the album with me called Beautiful Place, that is one of my favourites. I think it's so strong, it has a really strong meaning behind it, you know! It talks about Africa.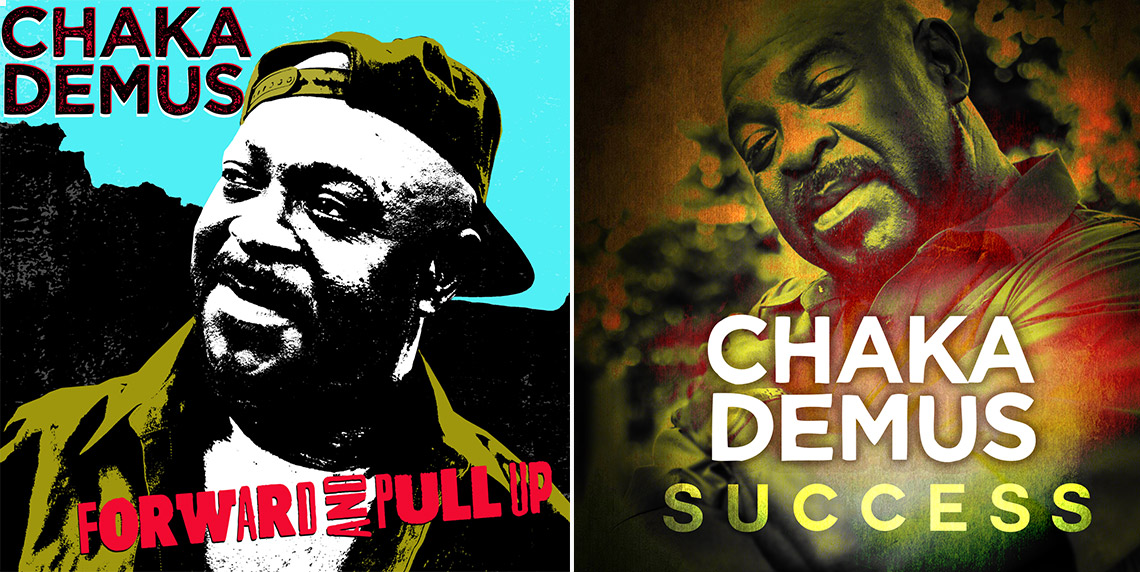 Has any of you been there already?
A lot! I've been to Uganda, Kenya, Ghana, South Africa, Nigeria, just to name a few, but the place where I was really surprised first time I travel to Africa I didn't know what to expect. And when we reached Uganda, they sing our songs word by word! But the surprise is that the biggest song in Uganda was a song that we cover by Ernie Smith called Pitta Patta. (sings "Have you ever been in bed with music in your head..."). That song is bigger than Murder She Wrote in Uganda, we had to sing it seven times pon stage! I was so surprised.
Let's talk about some other songs more in detail. What, for instance, was the inspiration for Conqueror?
Sometimes people come to you with negative vibes and it makes you think certain things like 'Bwoy, rigt now wha you try fi do, you try fi conquer me?' So me jus ruff up myself and be strong ina myself and say 'I'n'I is a lion! We conquer all evil, so don't even try fi come and conquer me!' So we are the lion, the conqueror, we move all obstacles out a di way, stand up pon them and step pon dem and go through. Nuff fight me get ina di business you know, but me still stand up strong cause Jah guide me and give me the strength.
In Nuh Fear Them, I couldn't quite grasp the subject of the song. Can you help me out?
Nuh Fear Them is about people who love... we have a thing in Jamaica weh dem call... you ever hear about Obeah Man? So it's about them who believe in God but still go to Obeah Man to mek them successful, heal dem, when they should pray to God and go to the doctor. Them go to Obeah Man to balm, rub up themselves with all kind a oils to protect them from evil and ting, so people are confident in themselves. So I say me nah go them place and try fi show them seh, those people tek unu money and rob unu! Bun them out! Pray to God and believe in yourself!
Ah ok! I get it now. In Trouble, you mention some Jamaican proverbs. Can you explain some of them to us?
"Carry go bring come" means you carry news to other people, like when people chat up dem mouth. Same time youth pick up badness so you nah tek nuh talk. "Anybody disrespect Iron Dog a go bark". That means if a man disrespect him, he will lick shot pon you, so Iron Dog is a metaphor for the gun. "Him talk bout him head hot and him freeze him heart", that means he is a cold-hearted person, he will just kill you for nothing. So we talk to them in parables. "When water hit pumpkin belly", so when things come to bump...
Isha: Like when them say when the shit hits the fan? You know that saying? (laughs) Everything comes down.
No Escape, the one you performed yesterday at Vinyl Thursday's, is almost a Jamaican Anthem...
Yes, because we likkle but we Talawah! A whole heap a good things going on in Jamaica but sometimes people only like to highlight the bad. We have a lot of talented youths here and the place is beautiful and we have great riddims which to me is even some of the most powerful music in the world, so we have a lot of good things to talk about!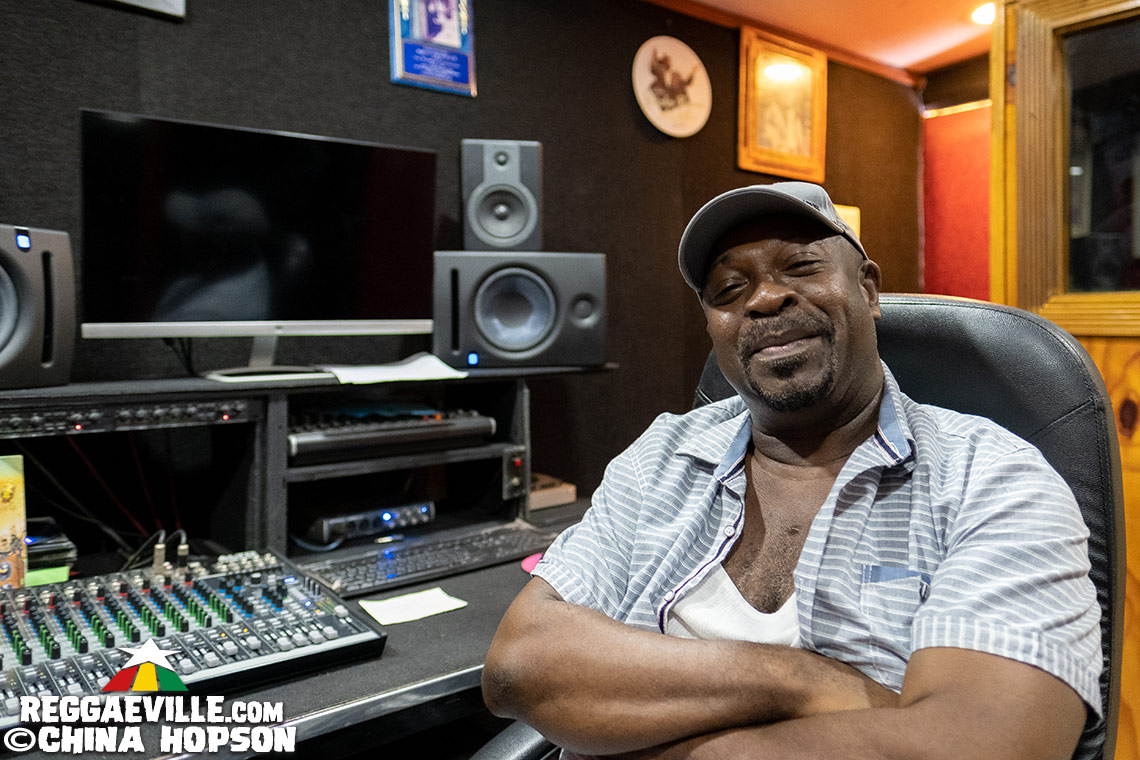 True! In the song, you mention the name of your favourite comedian. Can you introduce this scene to us?
Yes, that's Louise Bennett! Also called Miss Lou, she is my favourite. Other comedians are Oliver Samuels, Itty and Fancy Cat, Pain Face... nuff a dem, you know! But they are not really known internationally, so they are not big. They appear on stage mostly, like on cabaret. They don't really appear on TV, hardly... Sometimes they have shows, you should see one!

Isha Bel: Louise Bennett-Coverley is our cultural icon. She set the tone, she carried Patois all over the world, she was one of the first Jamaicans to have a big stage on BBC and all these places. She used to have a program on TV called Ring Ding, so us as kids learned from Miss Lou growing up, so it's somebody you should know. Even the DJ Style, Miss Lou was doing One Drop long before anybody was doing it. A lot of her audio is on Youtube.
Original Thing and Whine You Waist both include rhythms and melodies that sound familiar. Can you enlighten us about their origins?
Original Thing is a lick over we did. A cover riddim, the original is called Cuss Cuss riddim, a Harry J production but later re-released by Massive B. In Whine You Waist we use a children's rhyme song (sings) 'Brown girl in the ring, shalalalala'
Is there a song on the album that is especially close to you?
Yes, that would be Give Thanks. The reason why I do that song... (hesitates) I nearly dead you know! I went to Miami, I have a sickness named Diverticulitis, I don't know if you ever heard of it. They had to tek out part of my intestines, I had to get 25 bag a donor blood... one time the doctor say me heart stop beat! I really don't like talk about it, but after I come out of hospital, me have to say give thanks to Jah. I write it right when I came out of hospital and when I felt strong enough, I recorded it. Just listen the words and you will know what I talk bout. Give thanks to the doctors and the nurses! And when it came to choose a riddim for it, I remember Bob Marley's tune Thank You Lord (sings), you understand? So I say Give Thanks For Life!
Fi real! How does the album fare so far, what's the feedback you get?
A lot of people in the UK talk about especially No Money No Love, the ladies dem... I tell you! (laughs) Dem tell dem man you better have money! And Forward And Pull Up, this is also received very well.
Do you plan any videos for the songs?
Yes, No Money No love is supposed to be out on video soon. Isha Bel has most of the ideas for it, so what she put to me so far is excellent!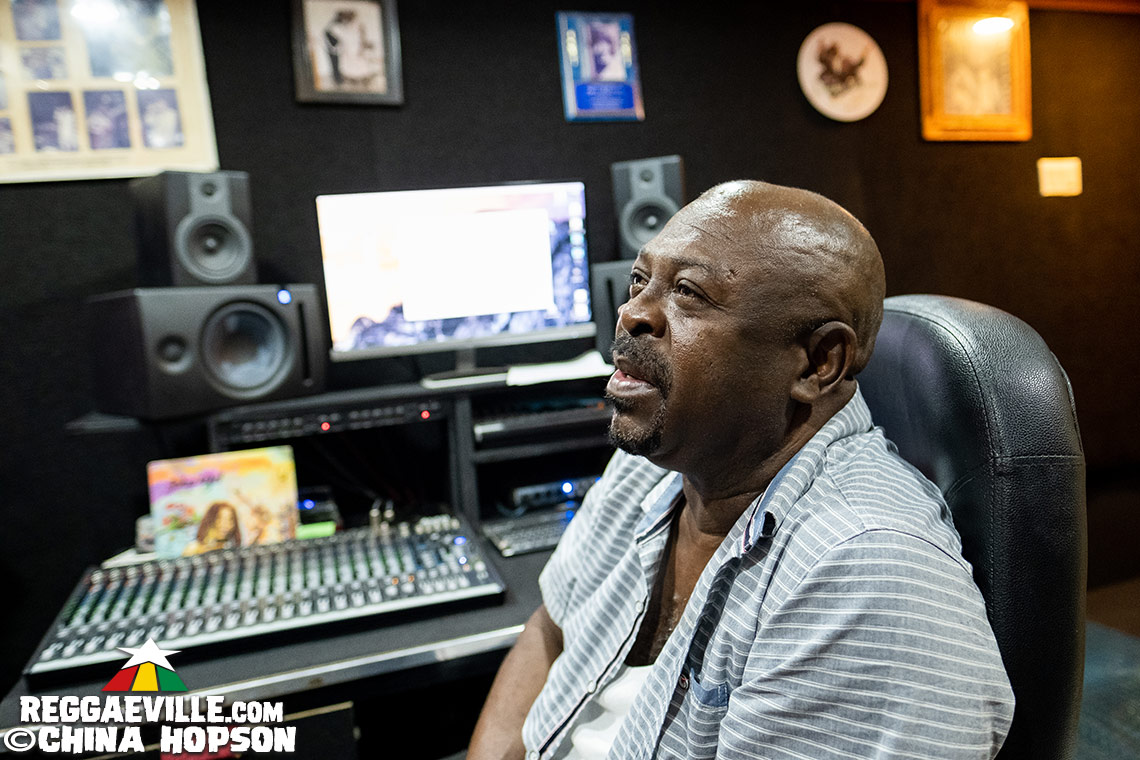 What is the musical family you move with, like within Kingston and Portmore?
When we rehearse, me and Pliers link most time, we have Richie Spice, Spanner Banner, Junior X, Freddie McGregor, lot of them, mostly elder artists still. We try to bring the younger ones who no buss yet, but we mostly flex with the elder artists. But we try to get some youths fi record in the studio through dem have the talent and we want try put certain things together, me and my son and this lady.
Do you often go out like last night?
Not really, I'm not a person who loves to go out. I love to just stay cool, you know... But last night, she say the same person weh invite me invite she too, so I was really happy last night!
People were so surprised when you took the mic! I think they long to see you.
Yes, it's about 20 odd years me never touch a mic in the dancehall! Mostly stage shows me do, but no Dancehall. The feeling me have with the people dedeh, me love it, I really enjoyed it.
Apart from music, what do you spend your free time with?
I love domino and cricket and horse racing. That is my favourite sports. I put in a little one bet sometimes, not a lot... I love horse racing! It's big in Jamaica. The track is just close by.
Did you ever ride horse yourself?
(laughs) No, that's not me! I used to own horses, but it's very expensive to maintain so I gave it up. Cause every horse needs shoes, not even your kid needs shoes like a horse (laughs).
What else would you like to mention?
I want to tell the fans give thanks over the years for the support, and to the youths them, I want to let them know seh them must try fi live in love and unity. Stay far from the drugs. And nuff a di elders them who sell drugs to the youths, stop that! Unu stop sell di youths dem the drugs, unu better practice what you preach and stop sell drugs!

Also, I have an upcoming project with my label called Bright Star Production, we have a new project we work on a riddim named Soul Whisper, we have about 11 artists on it already. We did mix 6 tracks already, so we will do another six soon. We are waiting on Richie Stephens who will voice the riddim too. We recorded Junior X, Pliers, Spanner Banner, Limey Murray, Isha is on it too... the release will be very soon, it's a riddim compilation. Check out this, check out my album. Nuff respect!