Review
Album Review: Ce'Cile - Music + Magic
03/31/2019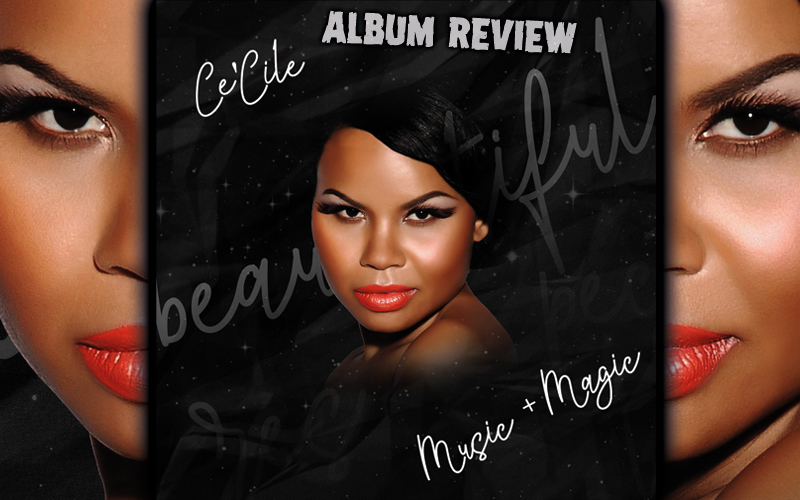 There is hardly a topic that dominates Ce'Cile's new album more than "man", or to be more precise, the magic between woman and man. On Magic, she makes very clear that the magic she put on the album (along with music), is symbolic for this very issue that seems to hold the world together in its inmost folds. "Right now," she sings, "you must understand that you're my magic, and without you, it's just static." Furthermore, it goes "when you kiss me it's like magic, I wanna make you my bad habit."

On Music + Magi, Ce'Cile not only gives the magic metaphor a sexual undertone, she also alludes to the dark side of mutual attraction, calling her counterpart a "bad habit". Good and bad, however, blur on this album, making it more a musical expression of an emotional status quo, and a yearning for balance, rather than a manifest of a moralizing agenda. This becomes very clear, when outcries for a monogamous and fair relationship with men (Worthy) become just as loud as the desire to control or even dominate the male body (Beg, Common). Sex-fantasies meet relationship issues stays a prominent combination of song topics in Jamaican music. It just never gets old!

As we are used from previous Ce'Cile releases, in terms of music and aesthetics, she tries to meet with sate-of-the-art sounds and styles. In order to continue in this tradition, Ce'Cile worked with renowned Jamaican producers like Dale "Dizzle" Virgo or Andrew "Anjublaxx" Myrie, the latter mostly being known for his production work with Popcaan (Unruly EP, 2012) and Vybz Kartel (Gaza Man Crazy EP, 2012). Cloud Rap, Trap and Grime have left unmistakable traces on Music + Magic (No More, Plans, Worthy). Tunes like Don't Love You and Beautiful are embedded on Modern Roots Reggae Riddims, whereas Nah Let Go would certainly feel at home in any dancehall 2019 playlist.

With this album, Ce'Cile steps to the frontline of Jamaican dancehall feminists, conjuring and in many ways criticizing and condemning aspects of masculinity prominent in dancehall music. She pleads for equal distribution of respect, and dignity in partnerships, while at the same time complaining about her own flaws as a loyal and faithful spouse.

Overall, Ce'Cile's now opus positively reflects current dynamics in Jamaican music production, in musical terms, content-wise, and to be less analytic, also in terms of magic.

---
Release details
Ce'Cile - Music + Magic
DIGITAL RELEASE [1Rock]
Release date: 03/29/2019
Tracks
01. No More
02. Plans
03. Worthy
04. Nah Let Go
05. Common
06. Respect
07. Don't Love You
08. Beautiful
09. Man
10. Beg
11. Magic
12. Everyday