Review
Album Review: Ce'Cile - Diary of a Journey
02/28/2016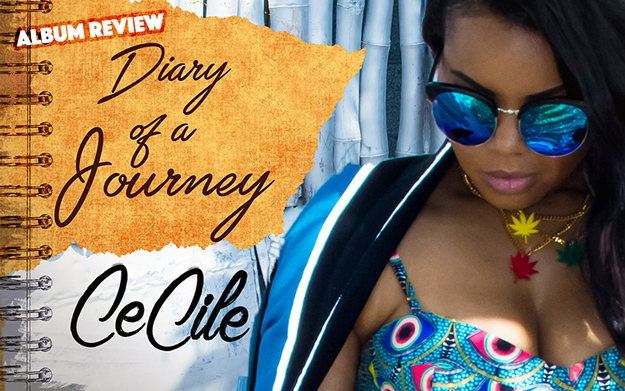 Whoever publishes his own personal diary reveals sincerely his innermost emotions to the public. Sharing insights into her privacy is exactly what singer and songwriter Ce'Cile does with her sixth studio album, which she entitled Diary of a Journey. You can expect a set of eleven songs with a diverse range of pop-influenced reggae songs and club-compatible dancehall tunes. The singer continues along the path of global electronic dance music and dedicates the songs not only to her dancehall fans, but also to all fans of modern, fresh, and edgy pop music.

It's been a while that Ce'Cile has been voicing new Riddims. It seems like she has changed her musical priorities. While many think she is no longer active, she was actually busy focusing on her new album project. Diary of a Journey was created by a small but creative team, consisting basically of three people. Besides Ce'Cile herself, the team included producer Jason "J-Vibe" Farmer based in Florida and Richard 'Richie Loop' Webb in Kingston. Jason Farmer, the recently honored Grammy-winner for being the producer of Morgan Heritage's Strictly Roots album, produced mainly Ce'Cile's Reggae songs on the album and mixed and mastered all songs. Richard Webb, who was a feature guest on Ce'Cile's previous album Still Running, produced the upper tempo dancehall tracks for the new project and also did the vocal recordings with her at the Big Yard Studios in Kingston. The album does not come with any features of guest artists. It's entirely Ce'Cile herself.

Opening song "Love It" is an anthem to all the countless countries and cities she has visited on her journey and to which this song — and perhaps the entire album — is dedicated. Starting with her hometown Kingston, she lists the places of special meanings for her and where she had been involved in memorable adventures. "Kingston – London – New York: Let me hear you! […]/ Rude boy from Japan, Miami, Bahamas, let me hear you, let me hear you!" Her vocals come along with an electronic reggae groove with melodious pop interludes.

Money Love, the very first single of the album, is paced smooth and slow. The melody embraces Ce'Cile's serious words explaining that she is not that type of girl who loves a man only for his money. "The cars and the cloths and the bling on the ice, a no' that catch my eye, don't care 'bout the glory, you couldn't use that for hold me!" The message here is clear and direct: "Money can't buy my love!"

Musically in My Mood the rhythm and the defining kick drum is dominant and the beat supports the lyrical clear statement. She speaks out her mind to her critics and to everyone who wants to change or influence her. "You can talk how you want I'm not hearing/ I'm too high, nobody can't get me down/ I see no evil/ It's my decision/ Life is what you're making/ I make it on my own." It seems like her position towards the public response on her work is self-confident, no critique can get her down.

Through the ballad Rain, Ce'Cile describes the overwhelming feeling of love that trickles down on her like rain. She perceives the rain as showers of blessing from which she neither wants to be covered up nor gets herself dry.

Nikki is No. 5 on the album and the second single to be released. It is the party anthem with a high potential to steam up plenty international clubs and to wine up the bodies of the lovers on the dancefloor. The dancehall riddim alternates between dark and aggressive, nearly military styles, through a dominant kicking bass and trance-influenced EDM melodies. In her lyrics, she heats up the vibe and proves that she is the ultimate party queen. "Put your hands right up […] We make the steam bubble up/When we stepping inna di place everybody haffi look."

In Mini Ce'Cile keeps up her confident attitude—only now she pays off with her female haters! She makes clear that she doesn't care about what other girls talk behind her back. She stands above things and counts on the strong crew behind her. In the song Mini, the listeners should expect a thousand "mini mini mini" –tones in the chorus.

In Complete, she comes up with a topic for which she's been known since the early days of her career: Using her attractiveness to seduce men with her songs and inspiring male fantasies about her bedroom performances. Here, she speaks plainly that she wants to fulfill a men's sexual needs to make him feel complete.

Track nine stands out musically from the set of modern pop beats, since it has more influences from dub than any other of her songs does. Necessary is built on the King's Riddim, which was produced by "J-Vibe" Farmer in the year 2012 and well-known through Pressure Busspipe's Forgive Them. Ce'Cile brings her own touch into this song through her lyrics. She feels so attracted by a man and confused if it's the weed or the wine, his smile or the smell of his cologne that turns her on so much. She feels devoted to him, nearly begging him to love her back.

Some Boys Do follows the reggae beat path and is another song in which Ce'Cile's sensitive and fragile side becomes apparent. Here, she is worried that the boy at her side might change his feelings toward her over time. "I hope you don't change when the love ain't so brand new/ Will you be still the same/Baby, will you change your tune?/Like some boys do."

The final track Reasoning shows perhaps her best vocal performance on the entire album. Ultimately, her voice sounds grown-up, real, deeper, not tuned as it is the case in few other songs. Not only her voice, but also the lyrics in which she contemplates and reflects on the journey of her life, confirm the maturity of this singer.

The album is a personal piece of work from a self-confident and talented women. More than others, Ce'Cile virtually embodies two distinct female characteristics in one person — power and vulnerability, which is reflected in the lyrics of her music.

What you also get in "Diary of A Journey" is a Ce'Cile internationalized. Her worldwide experiences have made her music all through more global. You're wondering if this is still Reggae? Still Dancehall? It's a transcultural mix of many genres. We don't need genre boundaries, as long as the output is a 100% for the musical pleasure. So it is when listening to Ce'Cile – Diary of a Journey.


---
Release details
Ce'Cile - Diary of a Journey
DIGITAL RELEASE [Young Generation Music Group/Smallboxx/J-Vibe Productions]
Release date: 02/26/2016
Tracks
01. Love It
02. Money Love
03. My Mood
04. Rain
05. Nikki
06. Mini
07. Complete
08. High School
09. Necessary
10. Some Boys Do
11. Reasoning