Review
Album Review: Carlton 'Santa' Davis - Africa Is My Home
02/02/2020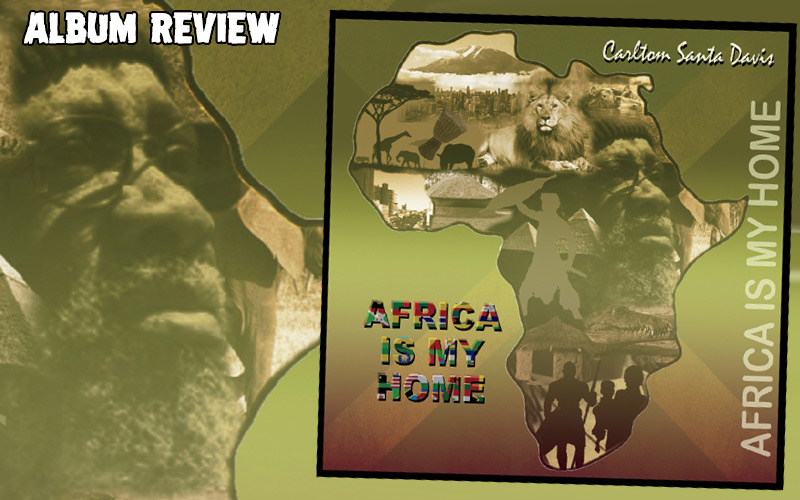 As one of the most iconic drummers in reggae history, perhaps best known these days as the longtime beatkeeper for Ziggy Marley, it may be surprising to learn that Santa Davis is a solo artist, as well. And with his latest release, Africa Is My Home, Davis adds to his own rapidly growing discography of solo records. Balanced between instrumentals and vocal cuts, Davis' newest album is an Africa-centric collection that utilizes reggae as a center, but is equally comfortable dipping into breezy jazz and blues-touched rock.
As a vocalist, Davis is brisk, wise, and capable, relying mainly on a hypnotic cycling style that finds a modest mantra of sorts and loops it into a meditative pattern, as on the title track or the herb-friendly My Collie Tree. There are subtle lyrical nods to Bob Marley on Africa Is Rising, as well as biting guitar on Do The Right and zephyrs of saxophone on Don't Call Me Ugly that accentuate the diversity of genres and grooves in and around his one-drop galaxy. It's a playful outing, too, with the cracked-mirror ska of Dance 'N Feet sliding up next to the pop-rock sunshine of I Love You.
The slow, seducing What Love Feels Like is midnight in the sand; Corporate Jungle is the lion fighting greed with faith: Davis is willing to try a lot of different things, never resting on his substantial laurels. And while this willingness to vary himself makes Africa Is My Home less a cohesive statement and more a bundle of ideas, it does have a greater chance to appeal to a wider spectrum of his audience. The rhythm master does make sure to keep his variety of beats up front in the mix, but it's a guide, not a ruler, as each track showcases plenty of twisting guitar and always-confident bass.
The final three of the record are layered and incisive, with So Much Sorrow serving Davis and his social conscience amidst hints of soukous, while Dub Land simply gets dark and trippy. The finale, Bad Dawg, too, is alive with darting tones and sounds popping in and out of the fray - voicebox snarling; percussion reverberating; a jaunty B-3; whispers and shouts echoing into the void. They're all bound together by the steady hand of the man, Santa Davis.
---
Release details
Carlton Santa Davis - Africa Is My Home
DIGITAL RELEASE
Release date: 02/01/2020
Tracks
01. Africa Is Rising
02. Jus A Come
03. Do The Right
04. Africa Is My Home
05. Don't Call Me Ugly
06. My Collie Tree
07. Dance'n Feet
08. I Love You
09. What Love Feels Like
10. Corporate Jungle
11. So Much Sorrow
12. Dub Land
13. Bad Dawg