Review
Album Review: Broussaï - In The Streets
02/28/2015
by Gardy Stein
In The Streets is a perfect reflection of urban life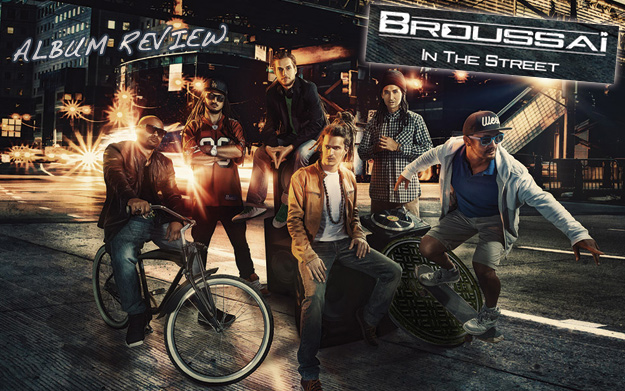 Our personal reality is defined by our immediate surroundings, our everyday relationships with the people in our lives and the things we take interest in. So complete is this involvement that other realities may only catch our attention when we are directly confronted with them. And confrontation is actually a good way to describe the style of Broussaï.

Formed in 2000 in Lyon and adopting the French word for scrub or brushwood ('broussailles') as their pseudonym, the founding members include Eric Waguet aka Karma & Alex Biol aka Tchong Libo (vocals & backvocals), Bruno Dubois (drums & percussions), Reynauld Litaudon (bass & percussions), Mickael Govindin (keyboards & backvocals) and Romain Ouanounou (keyboards). Reinforced by Jo Cocco (rhythm guitar), Julien Lacharme (lead guitar) and Sylvain Castagnos (Turntables), the band teamed up with Aurélien Pathenay (sound engineer, mixer & producer) to confront us with their fifth album In The Streets.

Pretty much "in your face" with a lot of hard electric guitar and stuff, the album starts off on Violence In The Street. Up next, Capleton aka King Shango is the first of three features, and along with the excellent raps, his name might help to promote Positive more than the actual quality of the song.

Dans La Marge is veeeery urban. Boumaye-Sytle! Actually a bit too overcharged with sound-effects for true Roots fanatics, but powerful all the same, especially along with the intro and lyrics talking about the challenges of modern life in the city. Any metropolitan DJ is well advised to save this one on his play list for the next block party. Likewise the hiphoppy Jump (feat. Rootwords): "Life is all about expression and getting things off your chest - that's what we're gonna do with you right about now!" Yes, that certainly is a fun song to experience in the club or, better still, live.

Much more relaxed, Marianne is embracing the traditional Reggae beat. I couldn't quite work out if he really sings about a woman he admires or "l'herbe", so it's up to you to decide. Apart from the very prominent electric guitar (which I found already "too much" in track 1), the instrumentation is dynamic and well-placed.

Singing birds and a Nyabinghi riddim - Le Temps De Vivre is calm, pensive and, again, lyrically rich (they are so right in what they sing!). Here, the voice of the singer is at its best, cajoling, convincing us to take time to live.

Change My World is masterfully crafted by the capable mixer - so much so that the voices almost seem a bit thin on it. Not a dub plate, but still a dedication to a wicked soundsystem is Stone Love. Although the riddim itself is no revelation, the lyrics capture a glimpse of how nightlife might look like in a club where the foundation sound plays.

The intro to Mister Mandela left me startled: "It matters not how strait the gate, how charged with punishments the scroll, I am the master of my fate, I am the captain of my soul." are the final lines of the impressive poem Invictus by W. E. Henley which I only recently discovered. Respect to these youngsters to include lyrical poetry in their song! Respect again to create a memory for Mr. Mandela. Even his voice is to be heard on this track! Let the memory live on...

More reflections are encountered in A l'Epoque which speaks about the eternal memory of the golden days of childhood. La Fin Du Regne is another proof of the poetic inclination of this band (the lyrics stretch from the days of slavery to the Arab Spring and predict a changing world order) – it's the words that dominate their music, not the other way round!

In The Streets is a perfect reflection of urban life: fast, powerful and relentlessly direct it takes into focus different subjects. As in a busy city, not every track taken is a completely pleasant experience (Toujours A Fond, despite its nice up-tempo beat, has a weak performance of feature Sir Jean and Dance With The Devil sounds more like a filler to me), but at the end of the day, it's the little moments, sounds and images catching your attention and admiration that count. And travelling unknown tracks with open eyes and ears will bring you plenty of these, so let Broussaï take you to that different reality!


---
Release details
Broussai - In The Street
CD / DIGITAL RELEASE
Release date: 02/26/2015
Tracks
01. Violence in the Street
02. Positive feat. Capleton
03. Dans la Marge
04. Marianne
05. Jump feat. Rootword
06. Le Temps de Vivre
07. Change My World
08. Sound Quake
09. Mister Mandela
10. Dance With The Devil
11. A l'époque
12. Toujours à Fond feat. Sir Jean
13. La Fin du Règne
Featured artists
Capleton