Review
Album Review: Anthony B - Tears Of Luv
10/16/2015
by Dan Dabber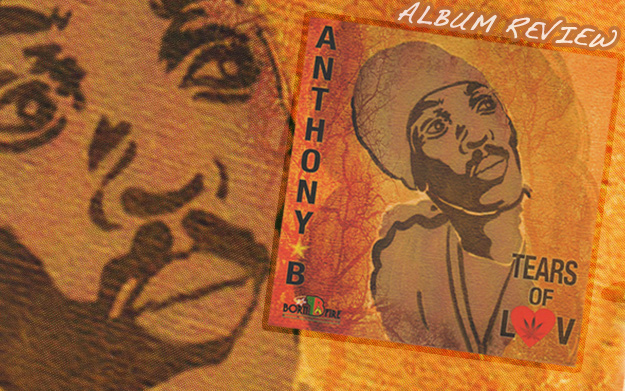 The 1990's witnessed what has been called the "Rasta Renaissance" as well as the sudden appearance and prevalence of a small army of artists whose music was fueled by the teachings of Prince Emanuel Charles Edwards, founder of the Bobo Ashanti branch of Rastafarianism. These Bobo artists went on wax demanding reparation and repatriation for descendents of African slaves, threatening fiery divine judgment in their wake. Artists like Capleton, Sizzla, Jah Mason, Junior Kelly, Anthony B and several others added their own brand of wild energy to the vibes, and their lyrical content took militant afro-centric themes to the next level of the revolutionary Richter Scale. Even their look was aggressive, often donning turbans and biblical-style robes over the standard tams, khaki suits, and blue jeans. Despite their unique fashion sense, the Bobo movement proved to be immensely popular, not just in the dancehall, but throughout the world as well. Many of the Bobo artists from the 1990's have managed to maintain their popularity throughout the years, retaining their relevance in Jamaica regardless of newer trends, while building a larger following in secondary and tertiary reggae markets abroad.

Anthony B, who started his recording career in 1993 and is best known for songs like Fire Pon Rome and Raid Di Barn, continues to be a force in reggae and dancehall after more than two decades. His newest album, Tears Of Luv, is nearly his 30th solo project, and it further cements his standing as reggae elite with a variety of songs that highlight Anthony B's strengths as a vocalist. Some of these tunes were sourced from previous riddim releases, like Mau Mau Warrior from Nature's Way Entertainment & Typhoon Music Group's recent release, World Peace Riddim, or 2013's Love Come Down from Rbz Records Inc.'s The Harp Riddim. Anthony B fans may also recognize tracks like How Do You Sleep, She Love Me Like Jesus, and We Are Only Human as single releases from earlier in 2015. Despite being a patchwork of previously released tracks and songs recorded and released exclusively for this album, Tears Of Luv is remarkably fluid, maintaining a consistent vibe throughout.

Although there is still a hint of rebellious aggression, Tears Of Luv, like its name suggests, represents a softer, more grown up side of Anthony B. The listener grasps this immediately, as the album opens with an acoustic ballad titled There Is A Reward For Me, which features Richie Spice on guest vocals. There is also a heavy helping of love songs on Tears Of Luv, including Maria, We Are Only Human, My Oxygen, Love Come Down, She Love Me Like Jesus, and 21 To 1, all of which help to soften the album and thematically tie it together.

The track that stands out the most on the album is Best Of The Best, a song voiced over a re-lick of the classic, Ba Ba Boom Riddim, re-imagined by Anthony B's own label, Born Fire Music. Their version of this timeless riddim has a slight hip hop feel, employing a sample-based production style that gives new life to an instrumental that originated in the late 60's. The track is just edgy enough to support the braggadocious concept and stellar lineup of guest artists, which includes relative newcomer Jah Clarity, as well as Anthony B's fellow Bobo Ashanti and 1990's Rasta Renaissance men, Sizzla and Capleton. The combination of these three artists has been heard on several songs over the decades and Best Of The Best, as the name implies, takes their musical coalition to the next level.

The familiarity of the Ba Ba Boom Riddim and the combination of guest artists on Best Of The Best make it a clear standout, but there are several other tracks on Tears Of Luv that are as musically solid and maybe do an even better job showcasing Anthony B's diverse talents. Can't Hold Me Back has a feel-good roots one drop vibe, complete with accentuating horns and a powerful female chorus providing backup vocals. The ladies add tremendous strength to the hook, but it is Anthony B who carries it with his unique singing style, juxtaposing his signature deejay approach, which he uses for the verses. His deejay method is also in top form for Guh Tell (Badmine), one of the few dancehall tracks featured on the album. However, the best performance on his newest record is Vow Of The Nazarine, which features Anthony B singing in almost a doo wop fashion over a nostalgic, early reggae-influenced riddim. Although Vow Of The Nazarine is a song with a serious spiritual message, the walking bassline and old-timey swing makes it the kind of track that could literally make everybody and their grandmother dance.

Tears Of Luv is a great representation of Anthony B's talents and, therefore, it is a must-have for his established fans, as well as a fantastic way to introduce a new listener to one of contemporary reggae's powerhouse veterans. The overall vibe is a potent mixture of romance, spirituality, and political consciousness, though the project remains highly approachable and relatable for a broad range of demographics. The radical Bobo Ashanti principles that made Anthony B want to burn out Rome in the mid 90's are still present on this album, but his message is now expertly wrapped in music that is digestible for almost anybody. Essentially providing that spoonful of sonic sugar that helps the medicine go down. Between Anthony B's established natural talents and his brilliant efforts for universal appeal, Tears Of Luv will have no trouble finding its way into dancehalls, ear buds, and car stereos all over the world.




---
Release details
Anthony B - Tears Of Luv
CD / DIGITAL RELEASE [Born Fire Music]
Release date: 10/16/2015
Tracks
01. There Is A Reward For Me feat. Richie Spice
02. Can't Hold Me Back
03. Build Back The Vibes
04. Love Mi Weed
05. Mau Mau Warrior
06. Guh Tell (Badmine)
07. Maria
08. We Are Only Human feat. D.Wisdom
09. Thinkerlude
10. How Do You Sleep
11. Vow Of The Nazarine
12. Life Good
13. Best Of The Best feat. Sizzla, Capleton & Jah Clarity
14. Peace And Love (The Only Way) feat. Kandia Kora
15. My Oxygen
16. Love Come Down
17. She Loves Me Like Jesus
18. 21 To 1
Featured artists
Capleton
/
Sizzla
/
Richie Spice