Review
Album Review: Cali P - i Thoughts
10/06/2016
by Gardy Stein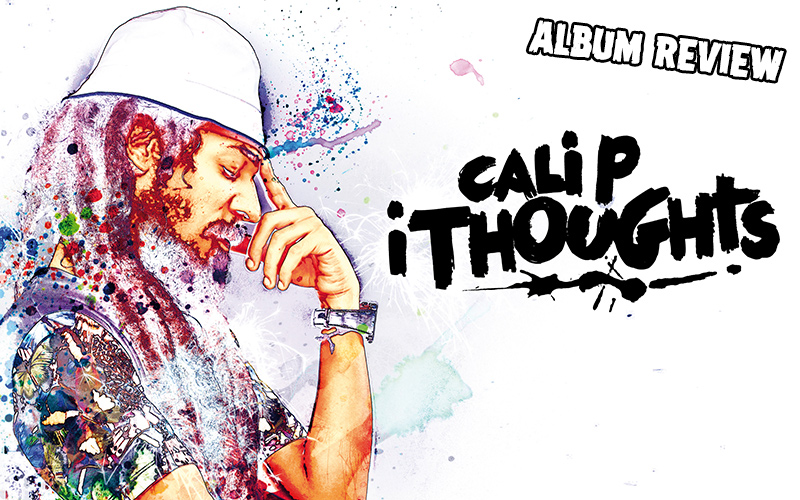 "Be positive, live positive, think positive - that's the first."

Consciousness! Two years after his last release Healing Of The Nation, Cali P shares a fresh dose of his i Thoughts with us. And these cover a wide range indeed: from the necessity to plant and grow your own food (Food Inna Di Yard) over spiritual musings in Guiding Shield to the failure to understand mindless killings in Why So Much Fighting?. "All violence haffi drop!"

Of course, love is on his mind as well, both in cases when it turns sour, as in Ease Off, and in its most vulnerable stages. Do You Love Me? is a tender plea for forgiveness, a question that turns to an affirmation of mutual dedication. The singer might not be the soft-voiced crooner a calm song like this calls for - his vocal qualities are more evident in the next track which brims over with emotion. On My Way Home is a stirring lover's anthem wrapping you up in warm bass-lines and the beautiful voice of Randy Valentine, who perfectly complements Cali P on this instant favourite.

The present album is the outcome of a string of events initiated by a memorable encounter with Yung JR last year. Their collaboration on Want No War, which is out on Yung JR's EP Start The Movement as well, exposed Cali to the high quality work of Manu Digital, and after the link was made, the French producer sent a whole heap of tracks to the singer. He chose 7 to put out, all of which have been reworked for this release (check that bass Manu Digital put in!), with four additional tracks for the features included. Apart from the above-mentioned On My Way Home and Want No War, we have the sweet but rather shallow Coconut Jelly Man with an enchanting Shanique Marie, a track recorded at Equinoxx Studio (Kingston) which is out on video since last year, too. Planned for video release as well is Dem Ago Burn Up featuring none less than "The Fireman" Capleton himself. Seani B and Don Chandler produced the track that has substantial pressure, both in composition and lyrics.

Speaking of… "Me a di Lyrical Faya!", Cali P states confidently in the opening track, an assertion that is validated both by his song texts and the teachings he inserts throughout the album. The Intro alone contains a bag of wisdom, and the speech at the end of Revolution brings his consentable understanding of leadership to the fore.

Let i Thoughts accompany you on your journey! It's one of the most multifaceted releases of 2016, and it gives you more than one reason to check out the artist live on his extensive European tour starting on the release day.

"Just be yourself! Be your great self in this life." is Cali P's message to the world. And indeed, if more people would stop follow fashion and let their own light shine, their own words ring and their own thoughts arise, humanity would make a big step forward in terms of consciousness.


---
Release details
Cali P - i Thoughts‬
DIGITAL RELEASE [Hemp Higher Prod / Flash Hit Records]
Release date: 10/07/2016
Tracks
01. Intro
02. Lyrical Faya
03. Food Inna Di Yard
04. Do You Love Me
05. On My Way Home feat. Randy Valentine
06. Why So Much Fighting
07. Ease Off
08. Dem A Burn feat. Capleton
09. Coconut Jelly Man feat. Shanique Marie
10. Revolution
11. Want No War feat. Yung Jr
12. Guiding Shield
Featured artists
Randy Valentine
/
Capleton
/
Yung J.R