Review
Album Review: Raging Fyah - Everlasting
05/27/2016
by Gardy Stein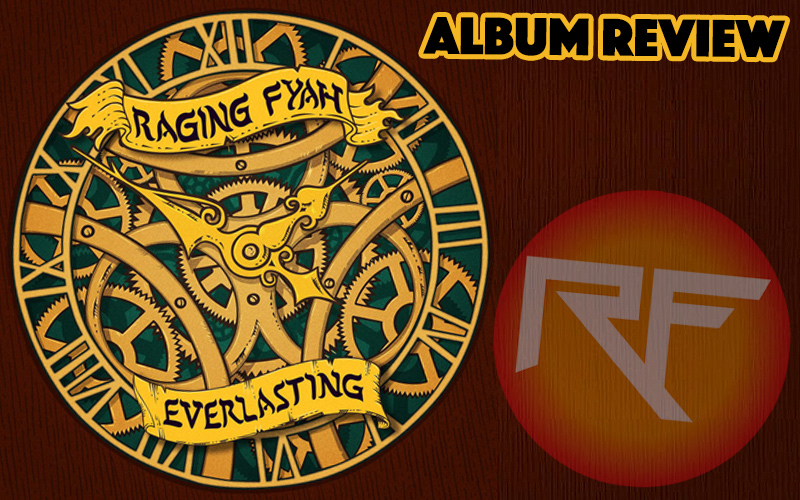 Everlasting is the name of their new masterpiece, and everlasting indeed is their music: Raging Fyah are releasing their third studio album, and as with its predecessors, the connection is instant, deep and intimate. Listening to the 13 tracks included is like re-connecting with old friends, which doesn't mean that the pieces resemble former releases though! Quite to the contrary, this time the five artists of the band (Anthony on drums, Pele on bass, Gizmo on guitar, Demar on keys and Kumar on guitar and lead vocals) invited illustrious guests.
Jesse Royal is one of them, adding his flow to the rocky Humble. And while J Boog seems a likely choice for a Reggae track like Live Your Life, the other feature is a real surprise: Dancehall-artist Busy Signal collaborated with the band on as many as two tracks! Would You Love Me, the second one, is a funk-tinged plea for love with synthie-effects and drum-programming that throws us back to the eighties.
The dab hand behind all this greatness is Llamar "RiffRaff" Brown, who, in tight collaboration with the band, made their visions become audible reality. Recorded at the legendary Tuff Gong Studio, the sound is immaculate, and the inclusion of guest musicians such as Dean Fraser, Nambo Robinson, Dwight Richards, Denver Smith, Sheldon Palmer, Everol Wray and Hector Lewis adds to the warm, organic feel of the album. The fact that it's the first time the band is working under a label other than their own (Dub Rockers from VP Records) did in no way limit their creativity. Thus, next to deep Roots as in Getting Dread or the classically introduced Get Up, we find Raggamuffin vibes ("You came here to live long and not to make a next hit!") alongside more pop-oriented pieces like Ready For Love as well as optimistic, making-you-feel-good tracks the band has a knack for, namely Dash Wata and Happiness.
The traditional Raging Fyah magic, however, unfolds in the title track Everlasting and the subsequent Justice. Instant earworms, you'll end up singing along the choruses upon second hearing, and I can't wait to experience these live. The lyrics, tho! While the former tells us that Jah Love is always and forever accessible for everyone, the latter covers the gamut from Christ to Marcus Garvey to the treatment of equal rights and justice in our present times.
Wondering, another gem, was written in Haiti and is a question to all the leaders out there – "How did we get here? Wondering where we went wrong…" asks Kumar in his haunting voice, announcing that a change is going to come.
The same touching vocals caress us in my personal favourite, Try Again, an uplifting, inspiring piece that tells us to never give up and keep trying. What brought tears to my eyes wasn't the words sung, however, but the melodica played by Demar from min. 2:08 to 2:37. This is pure, beautiful, heart-rending musical bliss!
Ah well, just get a copy and find out for yourself. With Everlasting, Raging Fyah once more managed to make this world a bit better, simply by doing what they love: creating everlasting music!
---
Release details
Raging Fyah - Everlasting
DIGITAL RELEASE / CD [Dub Rockers]
Release date: 05/27/2016
Tracks
01. Everlasting 
02. Justice
03. Live Your Life feat. J Boog & Busy Signal 
04. Dash Wata
05. Ready For Love 
06. Humble feat. Jesse Royal 
07. RaggaMuffin 
08. Try Again 
09. Get Up 
10. Would You Love Me feat. Busy Signal 
11. Happiness 
12. Wondering 
13. Getting Dread
Featured artists
Busy Signal
/
J Boog