Busy Signal Gets Six Months - Out In November 2012
09/21/2012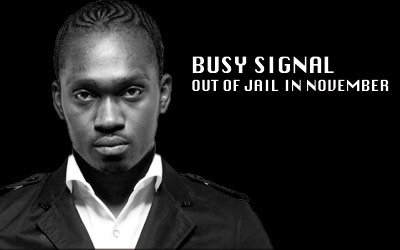 Busy Signal received a six months sentence in a US court today.
Busy will be out November! Tell the world! was tweeted shortly after the sentence was announced. The official Busy Signal Twitter account @busysignal-turf is administrated by his manager Shane Brown.
As Busy served 4 months in US prison already since June, it means he will spend only two more months behind bars.
Busy was arrested in May in Kingston and was brought to the USA in June. [read the past news here]
Rob Kenner from VIBE Magazine spoke to Shane Brown, who provided a very detailed review of the court day. Read it in Kenner's own blog @ BOOMSHOTS.com
IN THE PRESS...
Jamaica Observer: Busy Gets Six-Month Sentence [9/21/2012]
Jamaica Gleaner: Busy Signal To Serve Two Months In US Prison [9/21/2012]
Watch the news at CVM TV with an interview by Shane Brown: