Review
Review: The Half That's Never Been Told
03/14/2015
The Real-Life Reggae Adventures of Doctor Dread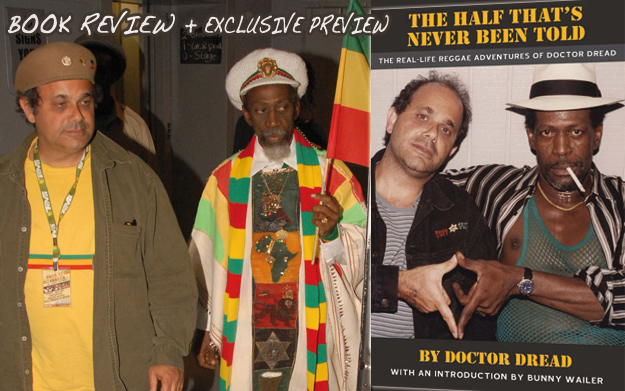 Jamaica is an exotic place, especially when doing business. It is not uncommon to find your day structured around the moods and whims of the radio station's play list. Music is the pulse that beats through everyday life on the reggae island. It is quite common for people who visit from other lands to become captivated by the culture and commit a great deal in their lives to maintaining the vibe of life there, by either moving there or engaging in business in some form, strengthening the ties to Yard.

Doctor Dread, born Gary Himelfarb an American of Jewish ancestry, walked the southern half of Jamaica from Bog Walk to Port Antonio as backpacker on a personal pilgrimage during the turbulent election violence period in 1977. After listening to albums like The Harder They Come and Catch A Fire in the early 70's and falling deep under the spell of reggae's alluring romance and rebellious glamour, in 1979 he founded RAS Records standing for Real Authentic Sound, which became one of reggae's most influential labels both inside and outside of Jamaica. Doctor Dread's music publishing company Tafari Music began soon after.

The Half Has Never Been Told is written as a memoir, a love letter and a true confession on one man's career in reggae, his devotion to Rastafari and love of Jamaica and its people. One of the most courageous people this reviewer has ever met, Gary doesn't give two frigs about what people think of him and this book exemplifies this vibe. I first met him in the setting of an independent distribution music conference in the 90's. What Gary did for reggae outside of Jamaica was to work tirelessly both as a label and as a distributor for other labels to ensure that albums began selling in the traditional record store distribution system that thrived before the digital age.

This lack of concern for any sort of judgement that may come his way doesn't mean that Gary doesn't respect Jamaicans and reggae people, what it means and what the book reveals is that he has fully embraced the Rasta culture and with it the crucial element of respect for others and their rights.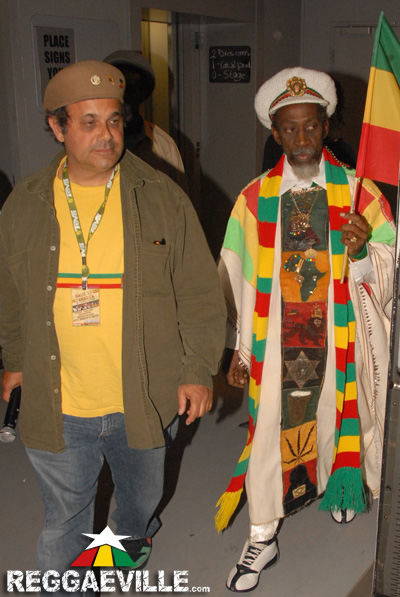 He operates with serious pragmatism and optimism combined with a strong work ethic and a hustler instinct that Jamaicans revere, a willingness to roll up his sleeves whether in the distribution and marketing sector, on the road, or in the A&R and recording studio universe. In the course of his career, Gary has trumpeted the abilities and played a pivotal role in a wide array of reggae's biggest stars including Israel Vibration, Bunny Wailer and Sean Paul. He has been a tour manager, booking agent, and show producer throughout his career, making some of reggae's biggest events shine brighter. The book gives a play by play account of some of the most memorable moments that he's shared with band members, promoters and producers all over creation.

What Doctor Dread represented and still does is a music business executive that will go to the mat for his artists. He has been a promoter for many years in the DC area producing events at the 9:30 club, he has been a tour manager and booking agent for Bunny Wailer, an artist whose skepticism of the industry is famed and who commands strict compliance with his contract details in any performance engagement. The book reveals many interesting details from this relationship.

Whether the relationships were good, bad or a combination of both, the book is written as a "tell-all" organized by chapter according to the individual artists and projects that most signify his life experience. Artists featured include Gregory Isaacs, Sizzla, Freddie McGregor, Toots Hibbert, Flabba Holt, Joseph Hill (Culture), Black Uhuru, Coxsone Dodd, Fatis Burrell, Inner Circle, Hugh Mundell, Don Carlos and even mainstream American icon Bob Dylan who he did a recording with "I and I" as a producer to add to his Is It Rolling Bob reggae versions of Bob Dylan songs album.

Extremely personal, Doctor Dread discusses his health troubles, his financial ups and downs, his family all within the context of the life path he chose as a reggae music executive, producer and booking agent. The book highlights actual dollar figures for many of the deals he did over the years as well as some of the perils he has experienced in the changing landscape of recorded music. There are a lot of juicy details that are given limited exposure here in order for you the reader to discover on your own. One chapter begins with the quote: "Gary, I need your help right away. I am stuck in jail in Baltimore and I need a lawyer. Please, right away." It was not the first time I had accepted a collect call from a prison with one of my artists asking for bail money, but this was different.'


Full of heart and soul as well as photos from many of the author's greatest moments, it is a must for anybody interested in reggae music and its cast of characters or the music business in general.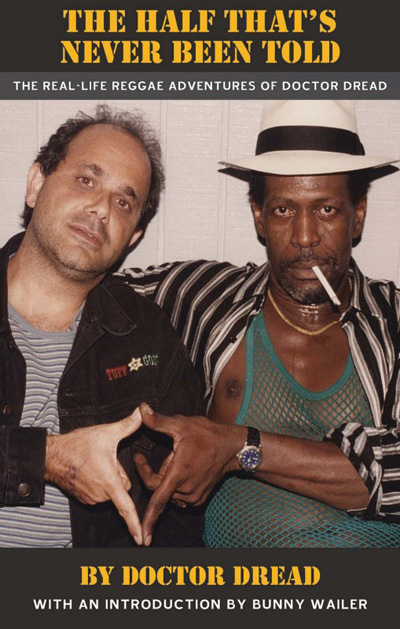 The following excerpt is taken from The Half That's Never Been Told: The Real-Life Reggae Adventures of Doctor Dread, Doctor Dread's gripping tell-all about his life behind the scenes of RAS Records. The memoir features an introduction by—and the blessing of—Bunny Wailer, who says Doctor Dread "has been and still is a favorite brother" of his. The Half That's Never Been Told is now available wherever books are sold.

Sometimes I wonder if Doctor Dread was merely thought of as the goose that laid the golden egg—and of course you would not want to kill off or harm an animal of that nature. Because of my relaxed and worry-free manner, many people in Jamaica felt I had lots of money. They mostly all respected me, but I never left Jamaica with a dime in my pocket. Bunny would call and say he was looking for a carrot. Or he was as broke as a church mouse. And although many times it sounded desperate, it never felt threatening. And if I was straight with him and told him I could not help him, he was cool about it and still gave thanks. If we made a big score with one of his songs, we would let him know about it right away and usually advance him the money before we even received it ourselves. Lots of money flowed through my hands into Bunny's, as his publishing was a constant stream of revenue.

The spring which fed the stream was of course his remarkable repertoire of songs, especially Electric Boogie, which he wrote for Marcia Griffiths and was used in so many commercials and movies that it became one of our top-grossing releases. Bunny and I began to spend a lot more time together in Jamaica and would have long reasonings about life that may have started with cursing and bloodclatting about something but usually ended with hearty laughing and good vibes.

At one point he had separated from his tour manager Bo Edwards and he came to my hotel in Kingston and told me of the circumstances, so we talked about me working with him in a managerial capacity. He also told me of the enormous burden he felt in being the only surviving Wailer, and that many people had wanted Bob and Peter dead, and it might be the same for him. I did not realize it then, but he felt responsible for protecting the Wailers' name.

Years later he would reveal to me the fullness of what this meant. He would tell me of how he and Bob, at five and six years old, would ride on donkeys in the hills of St. Ann at Nine Miles and round up the cows each evening. How he and Bob grew up as brothers, and how his dad had had a child with Bob's mother. About their time in Trenchtown together, and how Peter Tosh was recruited to form the mighty trio that became known as the Wailers. And how these very same Wailers had gone through the learning process under Coxsone Dodd at Studio One and later with Lee "Scratch" Perry to eventually form their own record label, Tuff Gong. The Power of this Trinity was strong and Bunny always referred to Bob and Peter as his brothers.





---
Release details
The Half That's Never Been Told: The Real-Life Reggae Adventures of Doctor Dread
BOOK [Akashic Books]
Release date: 03/03/2015
"Doctor Dread has been a very serious contributor to the global value of this great reggae music... Apart from being a serious businessman, Doctor Dread to I is a brother..."
- Bunny Wailer, from the Introduction
"No reggae fan can afford to miss this lively, rich, from-the-hip account from one of the industry's most unlikely visionaries. And no human being can afford to miss this story of spiritual questing, cultural boundary-crossing, and the transformative power of music."
-Adam Mansbach, author of the #1 New York Times bestseller Go the F**k to Sleep

"From the very inside of the Jamaican music business and its gnarly secrets to his intimate contacts with its greatest movers and shakers, Doctor Dread has told a story only he can fully elucidate. Amusing, insightful, deeply revealing, and certain to be controversial, Doc's book pulls the covers off Bunny Wailer, Gregory Isaacs, Freddie McGregor, and countless other world-famous iconic figures, giving us the day-to-day tussles and rewards of being one of the prime exposers of Jah Music in North America through his award-winning RAS Records. Essential to an overstanding of what really a gwan inna yard. Highly recommended."
-Roger Steffens, founding editor, The Beat; founding chairman of the Reggae Grammy Committee (1984-2011)
Featured artists
Bunny Wailer