Snoop Lion Strikes Back at Bunny Wailer
04/25/2013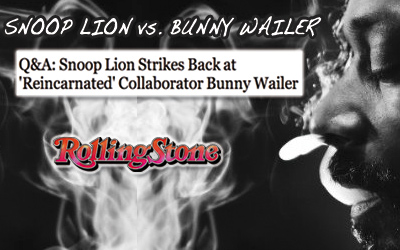 Back in January the big headline at TMZ read SNOOP LION REJECTED BUNNY WAILER & RASTAS. You can read that news plus some updates HERE.

Now, three months later, Snoop Lion talks about this in a very detailed way with Rolling Stone magazine.


Rolling Stone writer Jonah Weiner met with Snoop Lion in Los Angeles. The interview was published April 24th and can be read @ ROLLINGSTONE.com.


When Snoop was asked for the cause of the recent dispute, he replied "I couldn't tell you. To me, it's a miscommunication, and I'm not gonna speak nothing negative because I love him too much. […]"

As a matter of fact a few more questions dealt about the dispute and Snoop's plan to speak "nothing negative" about Bunny Wailer didn't work too well...
 
Question: Would it be meaningful for you to have a conversation directly with him?
Snoop Lion: I mean, it would be meaningful for him to talk to me. He's the one supposedly putting out the negative energy. I coulda said, "Fuck that n***a. Bitch-ass n***a." I'm still a gangsta – don't get it fucked up.[…]

Question: One of the things he accuses you of is not honoring contractual commitments. What's he referring to?
Snoop Lion: […] but I'm gonna put you in the movie – he signed off on it – put you on the album. It was too much negative energy so I said I don't even want him on the record.

Question: By negative energy, do you mean his public statements or something else?
Snoop Lion: He's speaking and the album isn't out. That gave me fair warning to get this motherfucker off my shit. I have no insight what turned him. […] How did I exploit Bunny? I gave you a chance to be in my movie. My movie gonna be the shit with or without you. I'm gonna be the shit with or without you. I'm Snoop Dogg. Relevant right now. […] You wasn't the shit in the Wailers. You was just one of them: Bob, Peter Tosh, then you. They dead mean more than you do alive. You get the energy? When it should have been, 'Hey, this brother is putting me back in the light; I could possibly get on the road with him, be on his album, eat again. Let me get in line. […]

Question: So he wanted more money to be on the album than you were willing to pay?
Snoop Lion: The reason for him not being on the album is I started hearing negative energy and rather than have him be a part of it, I kept him in the movie to show his positivity against his negativity.

Here this comes out of left field to make me go back, be the old ignorant-ass n***a. […] Who else would it come from to make this amount of noise? But guess who stood up in my defense? Rohan, Rita, Stephen, Damian Marley. Rohan went public. He called him Phony Wailer, or whatever he called him. […] If Bob's kids and his wife welcome they arms and say, "You one of the Marleys," then who is Bunny Wailer to say anything?

The interview ended with Snoop's direct message to Bunny Wailer:

Bunny, keep your head up. Jah bless; wisdom, guidance and protection.

We are sure the story continues and we wait for Bunny Wailer's take on this....