Interview with Gary Himelfarb aka Doctor Dread
10/26/2014 by Justine Amadori Ketola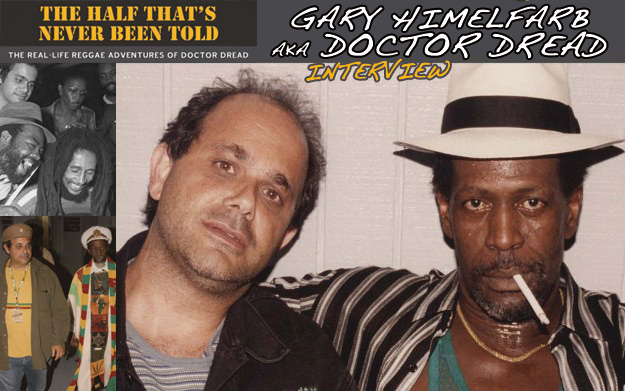 Gary Himelfarb aka Doctor Dread is a living legend in the reggae music business. His company RAS Records began in 1979 and released dozens of albums from some of reggae's greatest artists including Freddie McGregor, Don Carlos, Black Uhuru, Culture, Inner Circle and Mad Professor. His contribution to live show production is tireless and includes work with Bunny Wailer through the facilitation of countless concert appearances for the Order of Distinction recipient around the globe. His music producer credits are as extensive as his product catalog. Doctor Dread's publishing company Tafari Music administers the rights for numerous reggae songs including the dance floor classic Electric Boogie (The Electric Slide).

He has written a riveting account of his experiences with Jamaican reggae entitled The Half That's Never Been Told: The Real Life Reggae Adventures of Doctor Dread. The book will be released March 3, 2015 and it is a spicy serving of reality from one of reggae's strongest SoulJahs with stories on his close relationships with Gregory Isaacs, Philip "Fatis" Burrell, and many more. An avid cook and foodie, Doctor Dread has recently launched Doctor Dread's Famous Jamaican Jerk, a product line using his jerk seasoning to promote the Jamaican culture he so dearly loves. He remains part of the active music fraternity and recently began an alliance with Jah Cure as artist manager. Reggaeville connected with Doctor Dread in advance of his book's final draft delivery to the printer and the Jah Cure European club tour. He shares from the wellspring of wisdom he has gained as a creative visionary, a businessman and a Rasta.


We are connecting today to discuss the book as well as your other endeavors, in terms of reggae commentary, what can we expect to read in the book?
It has an introduction from Bunny Wailer who I have been very close to for around 30 years. It has a lot of chapters about many, many different reggae artists and also some of my personal experiences. It's published by Akhashic, they do a lot of work with Jamaican and Caribbean writers.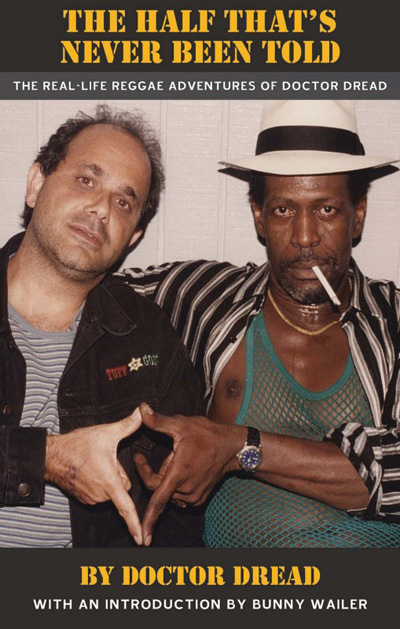 There is a photo section that connects to the chapters in the book. It's basically one person's perspective on Jamaica, reggae, people, life, Rastafari and just the many experiences that I've had in my lifetime as someone who was taken in and accepted by the Jamaican reggae community. So its basically some reflections on those experiences.

You had been a backpacker, spending time in South America and then made a pilgrimage of sorts to Jamaica for your first trip there?
In 1977 I went to Jamaica, I had very long hair and a beard and ended up letting it just knot up. I spent over three months and walked all the way from Old Harbour to Bog Walk and ended up settling over in Portland and hiked up to Blue Mountain peak and spent time meditating and spending time up there. I consider it a pilgrimage and that is how I got to know the people of Jamaica by literally walking across the island.

Was it a stop on the backpacker's journey, a type of Kerouac experience "on the road" or was it something where you set out and got that ticket and thought "I am going to Jamaica and I don't know when I am returning."?
I had gone to South America in '72 when I graduated high school and was definitely living a Kerouac-ian type of lifestyle where everything I owned was in my backpack. When I came back from South America in '72, someone played me THE HARDER THEY COME and Bob Marley's CATCH A FIRE and I was just totally transfixed by the music and the message of Rastafari and having come from the tropics where I spent a few years it just really resonated with me and I began planning my pilgrimage to Jamaica which ended up taking like four to five years to come to fruition. I specifically had Jamaica, Rastafari on my mind.

It has recently been announced that you are going to take on management for Jah Cure. What brought you to make this alliance with this artist?

It actually began as his music publisher Susan De Leon suggesting that maybe I would be interested in putting out his record, his new CD. So we had a reasoning over the Skype and I went to Jamaica and he was on a show a friend was putting on, Mike Cacia for Playing for Change and when I saw him perform for the first time live you know I realized that Jah Cure is a major, major superstar and we sat by the river, sipped a chalice and talked about life and different things and we kind of were feeling out each other's vibes and it felt like I could be more of a benefit to him by being a manager and working with him to help him achieve what was capable for his career. So I am going to Germany with him to kick off a European tour next week. You know I am a visionary, I see things and I see great things for Jah Cure and it is just my hope that he feels the vibes too and then does his part to work with me to reach what I believe is a common goal.

Your record company RAS had also a publishing component, Tafari Music which still operates as a publisher. How essential are publishing relationships in a reggae artist's career success?
What I believe right now is that the youth today do not feel the need to own music, they can go to Spotify to stream it, they can go to YouTube and even if there is no video they can listen to any song over and over and over again and their not concerned with fidelity. Owning music is not a necessity for today's youth and I think as older people we have the tendency to not believe what the future and the present is about because we hold on to the past.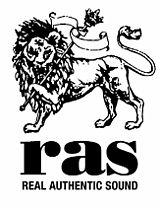 So people need to realize that your CD or your single or your music that you produce is mainly going to be used to keep your fans interested in you as an artist. So that makes the publishing component of your assets even more valuable because when you get things in movies and played through these streaming services or on Sirius you do get paid for your publishing. You get paid for your masters, too. But there's more opportunities for someone within the publishing domain. It's very important that artists educate themselves about publishing and how it works and how it can bring in revenue and the different types of deals that they may get involved in so that they are aware of what rights they are giving up and what they are holding on to.

How did you decide to embark on development of products for the food industry with your Doctor Dread's Jerk product line?
When Napster came, I saw the writing on the wall. I see things, I'm a visionary. I decided to sell RAS Records, because I knew that if people could download music for free, they would be less likely to purchase it. Ten years later I think that has come to be. So when I sold RAS I was not doing much because I always let my wife run the publishing company. It was decided I would get a job. I know seafood and fish really well cause I don't eat any meat or pork. I had been in the fish business 30 years prior with my brother. So I just applied for a job working for a big seafood company and I began selling seafood to restaurants and markets and different people in the DC area. What I learned for my five years of working for these very very large companies, is that people spend money on food.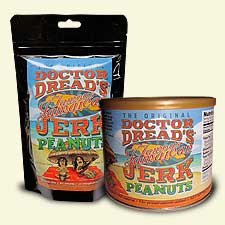 So I'd always wanted to promote Jamaica and its culture through music, I also realized that food is a very important element to the people's culture. So I decided to launch a Caribbean food company and what I am finding is that the food can help sell the music and the music can help sell the food. It's like a real blessing that I know Jah made happen for me. It's working out good and I keep coming up with interesting and unique Caribbean and jerk products that no one has really tried until I've come up with them.


You use opportunities such as festivals to sponsor and co-brand with your food products, is this how marketing is now performed, no longer with a blanket strategy, but laser focused to meet your customer?
I guess its something we'll find out, it just seemed natural to me to associate my brand and myself with music festivals, especially reggae music festivals. Its also a way to help the festivals and keep reggae music thriving. It just seemed like a natural kind of partnership, in a place where I could get my products out to people.

You made an album using the theremin, could you discuss more about your producer side and how you may have come to the decision to release this album?
Being a music producer, you really get finely tuned in to sounds and different notes and all the different elements that make up music. I was hearing in King Tubby's dubs the bass-y kind of sound he would add to the mixes and I could even hear it on stage when the band would go into dub wise and they would go into a spacey kind of thing. You know the sound in the Beach Boys' song Good Vibrations? I told a friend how much I liked that sound and how much I liked the Moog synthesizer and he said it was actually a theremin and there was actually a documentary that was done on this Russian inventor. My favorite American ever is Thomas Edison and he was a visionary and thought of things that no one had thought of. He invented the first machine that ever played music, he invented the movie camera which was the first thing that was able to capture video and play it back. So I have always been fascinated with Edison and when I watched this documentary on (Leon) Theremin I was just blown away by the man, the instrument. So I kept my eyes out for an actual 1929 RCA theremin and this same friend told me about one coming up for auction at a museum in Florida and it was the best one in the whole world. For some reason at the auction I held up my hand and ended up buying it. I knew how cool it would sound with dub music. I took some of the best dub tracks from the history of RAS from Israel Vibration, Mad Professor, Don Carlos and even a Bob Dylan track that I did a dub version of called I and I and added the theremin to the dub tracks and created this album THEREMIN IN DUB. I like it, I'm very pleased with it, the theremin has now found another home and I'm on to doing other things.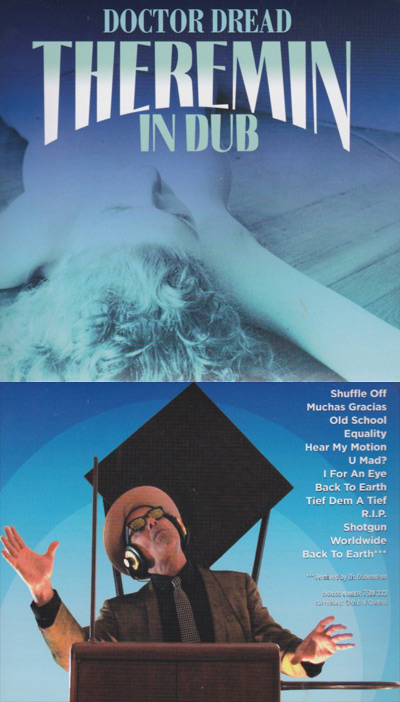 You released and produced an album of Bob Dylan reggae-styled cover tunes, IS IT ROLLING BOB. Are you inspired by Bob Dylan's body of work?
Bob Dylan is maybe the greatest songwriter of our time. His lyrics are incredibly pertinent to our lives and our generation. In my new book there is a whole chapter on Bob Dylan and that is my ultimate when Bob asked to meet me and we had a chance to talk for awhile. Mixing that song I and I is definitely one of my highlights of my career in the music industry. I put Bob Dylan on a certain level way way above certain writers and artists. He's been able to transform and reinvent himself and he's still touring 100 dates a year. He's still does things that make people interested in him. It is really way too long of a conversation or a book to talk about how influential Bob Dylan is on my life and on millions of other people's lives.

How did you get the project going to remix the song "I and I" as a reggae version with Bob Dylan?
I had become really close friends with his bass guitarist Tony Garnier, he's the band leader and he's been with Bob like 23 years and I was introduced to Bob's manager and I actually thought Bob could do a Bob Marley song, but all of this is in the book.

You released the THEREMIN IN DUB through CD Baby. Can you comment on how the landscape has changed for music distribution and the use of social media to market music, and how your current food industry endeavor may be similar in terms of using trade shows to present products to distributors as in the past with the independent distribution and sale of music?
I really think you have hit on it pretty accurately. I am using the same type of model that I did being an independent record label that I am doing with my independent food company. It's basically seeking out every nook and cranny and place where people would like your products. For music right now its really hard to sell music cause there are no record stores left, maybe a handful. They mostly sell vinyl and used, its a completely different world. I'm old, I'm gonna be 60 years old this year. The whole social media thing is something I understand but I'm really not a part of it like my kids are. So I know its important and I know you've got to be active there. I would just encourage all artists to keep their Facebook site lively and stay connected to their fans. That's all its about really and the rest just happens.

You have a family business model and partnered with your wife Debbie over the years for your business dealings, she currently runs your publishing administration company. What can you say to the concept that women should earn equal pay to men and whether this should be ratified in the US?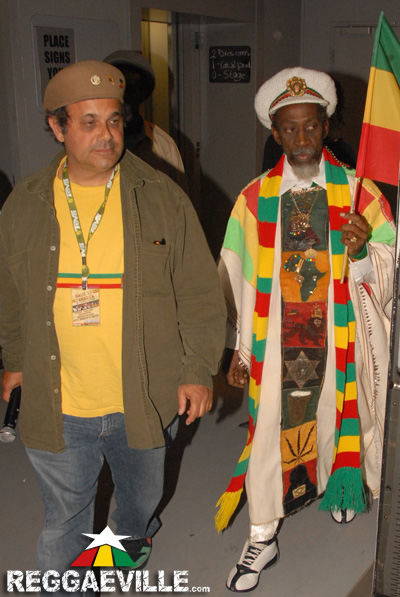 Well obviously there is still inequality in what women are paid compared to men, there is still rampant racism in our country. The whole economic divide of the rich and the poor is incredibly skewed with less and less people being able to exist in the middle class. These are all difficult situations to remedy and obviously it needs to be done through the laws and things of our country. I don't really deal in those kind of things, I just try to live a positive life and help people. I know Jah put me on this earth to help people. So that's what I do every day, I think about what can I do to help people, what can I do to help myself and sometimes at the end of the day I sit and reflect about you know, what did I really do today? I think more people need to think about that with their lives and see what they can do to contribute to making the world a better place for everybody. So if you are a boss and somebody fills out a job application and they are black, don't even think any way about that, it doesn't matter. If a woman has an opportunity to climb the corporate ladder, compensate them the same way you compensate a man, it doesn't matter. Hopefully people will become more enlightened and less self-serving. I am finding a lot of people only think about themselves and that can be a little disheartening some days. Hopefully there will be enough people trying to make the world a better place.

Any final comments to the Reggaeville massive?
I think its important that we all give thanks for another day and that we are here and to make the most of each day on earth. Tomorrow is another day, so you kind of get to start over again. I live my life the way I choose and I know everyone else lives life the way they choose and I just hope people choose to do things in their life to make a difference in the small amount of time we're here on this planet. So big up everybody out there that has respect for living a positive and upful life. Like I say, I just give thanks that I am sitting here in the sunlight talking to Justine Ketola and I know she is doing good and I am hoping everybody else is as good as they can be.