Bunny Wailer - Assault Incident @ Bob Marley Museum in Kingston, Jamaica
10/02/2015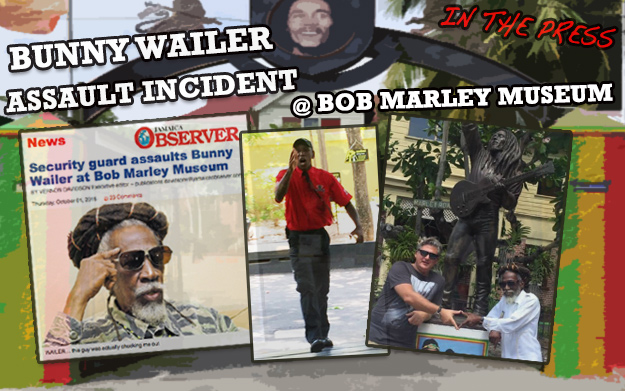 On wednesday, September 30th 2015, Bunny Wailer was kicked out of the Bob Marley Museum in Kingston, Jamaica.

The incident was made public by the Jamaica Observer the day after. Read below what happened according to Bunny Wailer, his demand for an apology and the official statement by the Bob Marley Museum management:


Security guard assaults Bunny Wailer at Bob Marley Museum
Jamaica Observer - Thursday, October 1st 2015
REGGAE icon Bunny Wailer said he was yesterday assaulted by a security guard and told to leave the Bob Marley Museum in Kingston

[…] He said the security guard, who was wearing black and red uniform, started pushing him and telling him that he should leave.

Wailer said the guard gave no reason for demanding his departure.
[…] "I am surprised. Normally I go into 56 Hope Road at will," Wailer said.
read the full article @ JAMAICAOBSERVER.com



On Friday (October 2nd) Bunny Wailer issued the following statement to demand an apology. It was posted on the Facebook by his manager Maxine Stowe:

PUBLIC APOLOGY FROM THE OFFICE OF THE PRIME MINISTER AND MARLEY ESTATE MEMBERS DEMANDED WITH IMMEDIATE EFFECT!
"THE HonoRebel Neville Livingston carries The Order Of Jamaica, OJ and Commander Of Distinction, CD that gives him the right to be in the company of Prime Ministers, Presidents, Queens, Kings! Who are the Marley's and their employees to try and intimidate and assault him at the Bob Marley Museum on the pretext that they were doing so as a security issue. Bunny Wailer was ASSAULTED physically, morally and spiritually and an apology from the Prime Ministers Office and The Marleys' is immediately demanded!"
Only a few hours later, the Bob Marley Museum released an official statement and provided their side of the story:


STATEMENT FROM THE BOB MARLEY MUSEUM REGARDING EVENTS ON SEPTEMBER 30, 2015.
The Bob Marley Museum wishes to advise, that on September 30th 2015, the world renown establishment was honored to host the state visit of Japan's Prime Minister Mr. Shinzo Abe and our Prime Minister the Most Honorable Portia Simpson Miller.

As requested by the state's security officials, at 11:15am the Bob Marley Museum advised all patrons and staff that all tours of the property would be suspended for the remainder of the day, to facilitate a security sweep in anticipation of both Prime Ministers' visit.

It came to the attention of the museum staff, that two guests to the Museum, one of whom was Neville Livingston (aka Bunny Wailer), had made their way to the back of the museum and belligerently resisted the request of the security officers who asked all guests to make their way to the front of the museum as the Police force and Jamaica Defense Force were on their way to secure the property in advance. Neville Livingston has been issuing threats and acting adversely to the Marley family for many years. In this confrontation, the security guard was injured by Livingston.


The injured guard filed a report to the Matilda's Corner Police Station and the matter is being investigated.

Signed,
Management of the Bob Marley Museum [October 2nd, 2015]



If you are wondering what the Bob Marley Museum meant with the sentence "Neville Livingston has been issuing threats and acting adversely to the Marley family for many years." This blog could explain it: Log on to WAILERSLEGACY.BLOGSPOT.com