Bunny Wailer - 70th Earthstrong Anniversary 2017
01/02/2017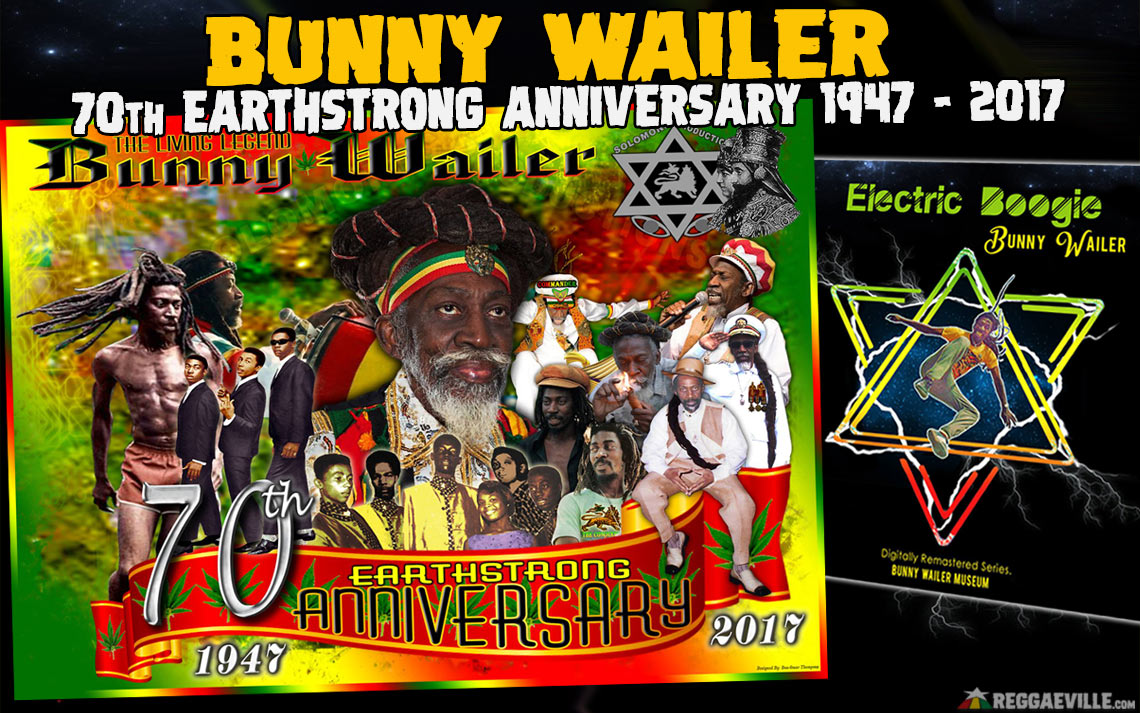 Back in November we reported about the Bunny Wailer museum to be opened in April 2017. Today Bunny Wailer aka Jah B kicked off the 70th anniversary celebrations. Watch the official Electric Boogie video below. Originally from 1989 and now online on Youtube for the first time.

[Press Release - January 2nd 2017]
April 10-1947 – April 10, 2017
70TH EARTHSTRONG THE LIVING REGGAE LEGENDHON. NEVILLE ORILEY LIVINGSTON OJ, CD PKA BUNNY WAILER

Electric Boogie's video is the first release of various commemorative projects that are in development around "The Wailers Museum – Celebrating The Life & Legacy of Hon. Bunny Wailer" that will be celebrated in Nine Miles, Trench Town, Bournemouth Baths, National Stadium and 10 Darley Crescent. It shows how 'Jah B' as he is fondly known, has always been plugged into the current of popular music culture from a child attending the rhythm and blues dances in East and West Kingston through Ska, Rocksteady, Reggae and Dancehall as also the amperage of music trends to come.

Electric Boogie strikes after 10 years (Click here to read the Jamaica Gleaner article) gives a good history of this memorable track and why the release of this video, that has been in the can since 1989 is a worthy first statement of what is to come this 70th celebration as the Bunny Wailer/Wailers Legacy.

As the Hon. Neville O'Riley Livingston OJ, CD pka Bunny Wailer walks up a 70 Year staircase, reminiscing on his storied life and career that is steeped in the urban history of East and West Kingston and rural Nine Miles, where his father, a Maroon from St. Mary, was a noted Ganja farmer, trader, business man and when he Neville was born, a Revival preacher and church leader who then seamlessly integrated all that he worked and stood for. This has provided him with a tapestry of all that developed as the rich and globally influential cultural and musical history of Rastafari and Reggae.

This 70 Year milestone chronicles and involves all the formative ingredients and experiences that make Bunny Wailer & The Wailers the most important living expression of the tangible and intangible cultural heritage of Rastafari and Reggae out of Jamaica to the world . The wealth of knowledge that has been musically transmitted into and out of Bunny Wailer as an authentic Nyahbinghi Rastafari Elder, exists in the harsh conditions related to copyrights and intellectual property in Jamaica. Nowhere else in the national or international music and lifestyle industry related to the moral and intellectual property rights of performers do these conditions exist as it does for The Wailers.

70 Years and counting, gives the Hon. Bunny Wailer the platform to present The Wailers as they were formed and existed as a group, Robert Nesta Marley, Winston Hubert McIntosh, Neville ORiley Livingston for 12 Years 1960-1972 "Simmer Down To Catch A Fire/Burnin" where as Bunny Wailer for 40 (forty) of these 70 (seventy) Years he weaves this history into a living expression, gaining 3 Grammys for this specific art of keeping The Wailers History 'Electric' and together within the art and life of Bunny Wailer. All this he has codified into law in the Bunny Wailer Trust, and will become known as The Wailer Who Lived & Did!