London Premiere of Bunny Lee's I Am The Gorgon
09/06/2013 by Angus Taylor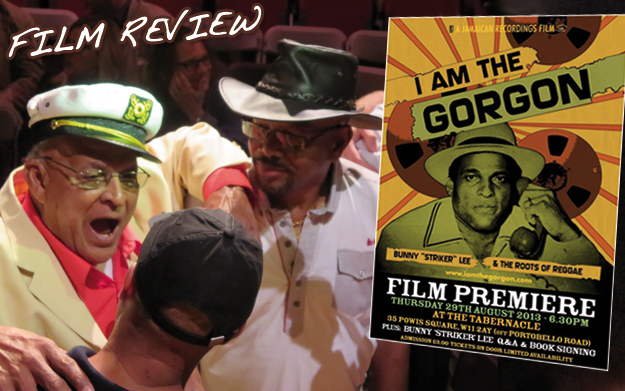 London, UK @ Tabernacle 8/29/2013

London Premiere of Bunny Lee's I Am The Gorgon.
King Tubby project planned next

INTRO
This month veteran producer and mid 70s dancehall ruler Bunny Striker Lee celebrated his 72nd Birthday. The celebrations continued on August 29th at Notting Hill's Tabernacle with the premiere of Diggory Kenrick's documentary I Am The Gorgon - based on Bunny's book with Noel Hawkes; Reggae Going International.

An enticing edit centred around Lee's naming of the "Flying Cymbals" sound and role in King Tubby's pioneering of dub had been shown two weeks before at the One Love Festival. But the Tabernacle was the first chance to see real thing.
 
Walking the quiet streets from Westbourne Park station, only the pink signs directing people to the Notting Hill Carnival and a few stray steel barriers would tell you the preceding weekend's giant street party had even happened.
 
However, on arrival at the venue lots of the key performers and characters from the carnival and the wider reggae community were still there.
 
Bunny and his son Edward Junior were joined by Dennis Alcapone, Locksley Gichie, Winston Reedy, B B Seaton, Norman Grant from Twinkle Brothers, Tappa Zukie, the Blackstones, Spider-Man from Jah Observer Sound, Solution Sound, Ital Horns and many more.
 
Inside the venue a medley of Bunny's hits including My Conversation and Russians Are Coming from the rocksteady era and Wet Dream, Bangarang and A Dance in Greenwich Farm from the reggae age played as the luminaries and fans took their seats.
 
The screening was optimistically due to start at 19:30. At 19:51 "the Gorgon" entered in a beige suit and his skipper's hat to vast applause.
 
"Thanks for coming along for Bunny" said Frank from Jamaican Recordings who helped fund the film - promising a Q&A with Striker afterwards where "He'll answer anything".
 
Then for 90 minutes we were transported back in time.
 
FILM REVIEW
In the movie, narrator Dennis Alcapone leads a veritable army of talking heads from Bunny's past and present including U Roy, Johnny Clarke, Cornel Campbell, John Holt, King Jammy and Derrick Morgan.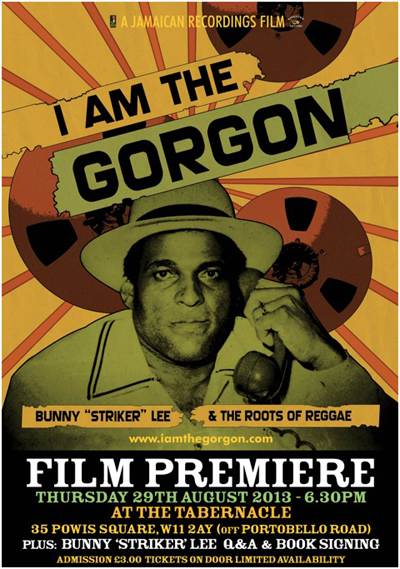 Director Diggory Kenrick has combined their reminiscences with vintage stills, music from Bunny's catalogue, modern footage of live concerts and Bunny being driven through the places he used to go. The assemblage communicates a dense period of history without simplifying or becoming overly didactic.
 
The key to this is in the editing. There might be a huge number of historical players, yet no one talks for too long. The other factor is Lee himself. Some of the cast have had their differences over the years but all pay tribute to his brain, ears and charm.
 
The film tells of Bunny's poor upbringing as the eldest of nine children. We hear how his sister's marriage to the great Derrick Morgan brought him into the music business and how in 1966 his dapper dress sense caught the attention of the crowds waiting for Haile Selassie.

As Bunny's production career begins in the rocksteady period he is presented as the plucky upstart from the ghetto, standing up to the studio-owning big three of Leslie Kong, Coxsone Dodd and Duke Reid. We see his ingenuity in being one of the first to re-version rhythms as a cost saving exercise and in coming to England to license his music to Pama and Trojan. The Wild West mentality of Bunny and his fellow impresarios is summed up by his response to Dodd's anger at getting dissed by him on vinyl. "It's the business. It's music. It sells records".
 
The claims that he coined the word and invented the beat named reggae with the Wailers on Bangarang are part of an on-going debate. Studio 1 drummer Fil Callender pinpoints the first reggae tune as Ride Your Donkey while rival producer Niney contended that it was Clancy Eccles, Lee Perry and Linford Anderson who did it with People Funny Boy and Say What You're Saying. Niney's role in the movie is also mildly contentious - his scenes are played for comic relief in a way that seems unfair.
 
On firmer ground is Striker's vital part in popularising the Flyers - even if its invention was a nebulous US meets JA thing. Likewise due importance is given to his pitting deejays I Roy and Prince Jazzbo against each other in the first ever ongoing rap beef, converting young wayward Tappa Zukie from a rudeboy to a deejay/producer, and in working with his friend King Tubby in the development of dub. Howard Johnson's documentary Deeper Roots supplies footage of Tubby's apprentice Jammy mixing with Lee in the studio. Bunny's dancing amused the audience but gives clear a sense of the genial atmosphere in his sessions. Another Tubby pupil Scientist, who has a rather downbeat take on that era in general, recalls those recordings as "laughs and girls".
 
By the 80s Lee is a less crucial figure but his legacy is in his and Tubby's engineer protégé Jammy sparking the digital revolution. Unfortunately, at this point the sound temporarily failed at the screening… and that's probably a good place to leave the review so as not to give everything away! Those who know the life of King Tubby will appreciate there are moments of pathos that take I Am the Gorgon beyond who recorded what with whom.
 
Bunny Lee was one of reggae's "personality producers" and his personality - earthy charming yet inscrutable - is stamped all over this film. Some of its assertions may be open for discussion but in terms of supplying knowledge, entertainment and good music in one package, this has to be up there with Johnson's own work as one of the better reggae documentaries around.
 
OUTRO
As the lights went on, the proposed Q&A evaporated as everyone rushed to swarm round Bunny and pose for pictures.
 
However Striker already mentioned at One Love Festival that he plans to follow his movie and book with a project telling the real story of King Tubby. On the basis of this one, it should be worth a look....