Review
Album Review: Buju Banton - Upside Down 2020
06/24/2020
by Gardy Stein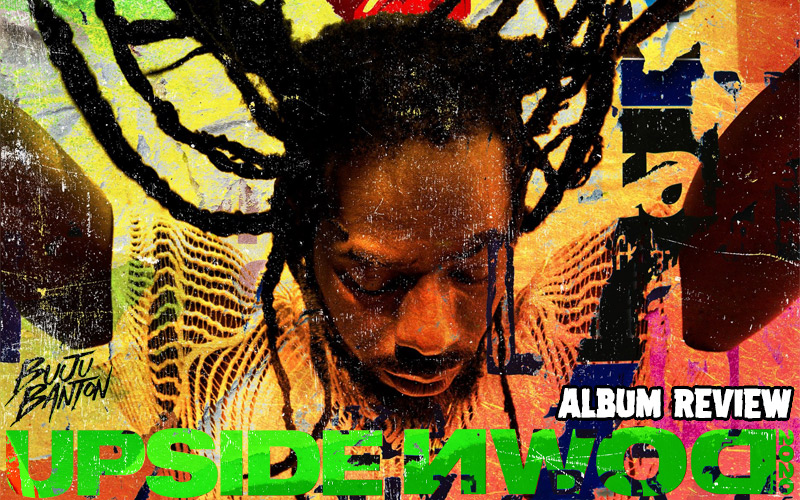 "It's all about music for me. Nothing else." (Buju Banton – April 2020)
How can you exceed expectations that are already soaring sky-high? If you are an artist with the relevance of Buju Banton, you damn well can. No stage show, no album has been as eagerly anticipated by the international Reggae community as the Gargamel's return to the mic - and here it is! With Upside Down 2020, he presents a fascinating array of songs that speak of passion, love, hope and, above all, of the long road Mark Anthony Myrie has trodden to reach the peak he resides on today.
20 tracks for this tumultuous year 2020, produced by winning formula Gargamel Music (aka Buju himself), Donovan Germain and Steven "Lenky" Marsden as well as long-running engineer Jermaine Reid and the Shiloh Band: the result is a stirring display of talent and diversity that has favourites in store for everyone.
You like the "classic" Buju Banton? From the intense opening chant Lamb Of God (also sung as opener for the legendary Long Walk To Freedom Concert in Kingston last year) via the already released Steppa to the Dave Kelly production Blessed, the artist you know and love since three decades is here again. Every note, every vocal timbre and every intake of breath testifies Buju's return!
You like Bob Marley? No way you can resist the Duppy Conqueror cover Yes Mi Friend, produced by the legend's son Stephen, especially touching with the mental picture of how liberty must feel after such a long time behind bars. This energy of trust, gratitude and optimism is continued in the subsequent Buried Alive, a track that will make your eyes water if you have a soul that feels.
You like the modern stuff? Then, of course, the celebrated Trust, the slightly confusing Beat Them Bad, the multi-layered Cheated and the Afrobeat-Jazz-Fusion Unity are for you.
You like collaborations? John Legend is the singer that flows with MC Banton on Memories, while The Neptunes created the Cherry Pie that Buju and Pharrell "Happy" Williams offer for consumption. And with Stefflon Don, a powerful female voice outta London claws herself tightly into the sexy Call Me.
You like Lovers Rock? Let songs like Appreciated (on a re-lick of the Waterhouse Rock Riddim) and Lovely State Of Mind speak directly to your heart, feeling the excitement again that tracks like Love Sponge or One To One made it flutter back then. A surprising, light-hearted swing is added by Good Time Girl and Moonlight Love – sweetness musified!
You like consciousness? The World Is Changing (produced by King Jammy's) carries forward a section talking about more serious issues opened by the anti-weapon plea Steppa. 400 Years and Rising Up add a Nyabinghi and Modern Roots vibe, respectively, the latter sounding eerily prophetic of the worldwide demonstrations sparked by the BLM movement. "Revolution is everywhere! They're rising up, everywhere around the world." And oh what a tragedy that producer Bobby Digital didn't live to see the release of his Helping Hand, an emotional hymn of empowerment and support!
With all this said, it is important to point out that these songs, this whole album, was not created to be liked or not liked by individuals or to feed any conceptions about common threads or playing lengths (these being criticised as flaws by others). On a much higher level, Upside Down 2020 is talking about global truths and the realisation of what it really means to live in a time like this. There is a change in the air, a shift rippling through our global consciousness, and it is artists like Buju who acknowledge that.
"I hope this lifts your spirit, brightens your day, opens your eyes, has you fall in love, has you think about things that you haven't thought about on a different level, has you dancing and feeling the very essence of what I felt while these songs were being created." (Buju Banton)
---
Release details
Buju Banton - Upside Down 2020
DIGITAL RELEASE / CD / VINYL [Roc Nation]
Release date: 06/26/2020
Tracks
01. Lamb of God
02. Yes Mi Friend feat. Stephen Marley
03. Buried Alive
04. Blessed
05. Memories feat. John Legend
06. Lovely State of Mind
07. Appreciated
08. Trust
09. Cherry Pie feat. Pharrell
10. Beat Dem Bad
11. Good Time Girl
12. Call Me feat. Stefflon Don
13. Moonlight Love
14. Cheated
15. Steppa
16. The World Is Changing
17. 400 Years
18. Rising Up
19. Helping Hand
20. Unity
Featured artists
Stephen Marley