Buju Banton Signs with Jay-Z's Roc Nation and Launches Steppa Video
11/22/2019 by Reggaeville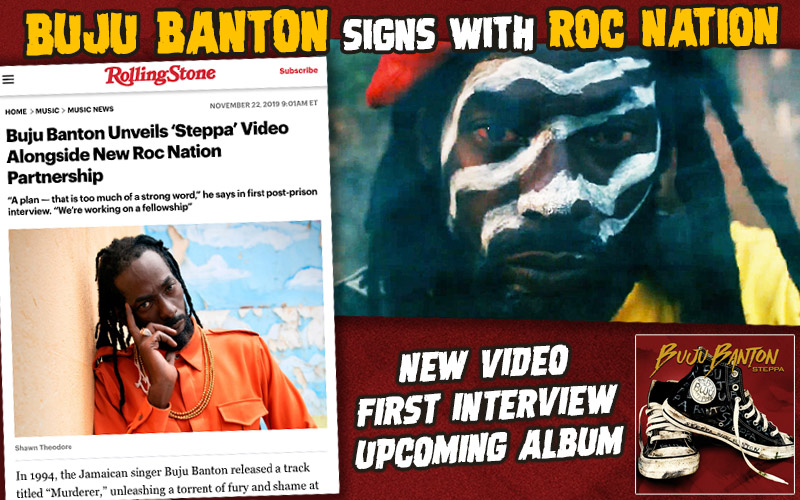 Today marks the release of Buju Banton's first solo music video in 10 years. The single Steppa was released back in July and the brand new music video is out now. Scroll down to watch the video.

Today was also announced, that Buju Banton is now part of Jay-Z's Roc Nation roster.

Earlier today The Rolling Stone magazine headlined:
Buju Banton Unveils 'Steppa' Video Alongside New Roc Nation Partnership
The author Elias Leight wrote "... he says in first post-prison interview", but in fact it was Ebro Darden for Apple Music who did the first interview in July 2019, when Buju introduced the new Steppa single. Listen to the interview here!

But still, the Rolling Stone interview provides some new details about joining Roc Nation and a possible album. Banton about the Roc Nation partnership:
"The connection came about through my association with the great queen, Miss Rihanna herself."
Buju Banton about the priorities he shares with Roc Nation: "...to do things independently and show that we can foster a unity in our people that can't be emulated anywhere else. Their affinity to the prison reform situation that's going on over in America, that's something I can identify with."

Obviously an album is in the making, but it is still far away from any confirmation. The author pens
'Banton hopes to release a new album soon, but he's coy about his plan for the coming year.' Buju says "I'm without a plan. A plan — that is too much of a strong word. We're working on a fellowship."
Check the full Rolling Stone article here!