Review
Album Review: Bryan Art - Bryan Art
04/13/2013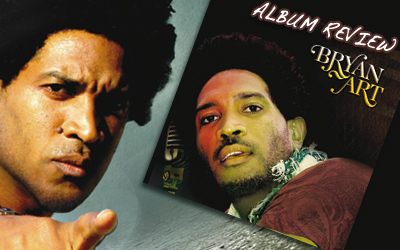 Bryan Art is a seasoned vocalist and songwriter. His self-titled release features his smoky, well-phrased vocals with some of the original instrumentatals found in reggae music today. The lead tune Anyway is a love song actually recorded in a straight ballad tempo that flows from straight ahead delivery to falsetto, patois, staccato type vocals over solo acoustic guitar.

On Get It Bryan sets his sights on positive outcomes singing a catchy chorus and agile melody over a solid guitar and drum driven riddim. New Day on the Reggaeville Riddim (a relick of an old Paragons riddim) starts with the sound effects of a crackling vinyl and the intro announcing Warrior King who joins the artist in an uptempo one drop peppered with grateful lyrics and the promise of a new day. The next tune Murder Dem a Play is another combination, this time with the majestic Queen Ifrica who chants against the violence of Jamaica's streets. As Bryan recalls the real world concerns of his bredren and family, Ifrica points out the dichotomy of life in Kingston's ghettos, "Inna di inna city where the flava it a sweet, how the people survive its amazing!".

An authentic Jamaican vintage flavor is featured on Rock and Come In as Bryan croons over the classic Uptown Top Rankin riddim bringing the vibes of the dance,"put your hands in the air because you really don't care because you earn your share…" while rhyming with the brands of some adult beverages one may drink inna dance. Capleton joins the artist on Dem Fass, breaking down the ways in which people are so quick to do evil and nonsensical acts. Bryan's vocal chants are delivered in deep patois to mirror the Prophet's message over a silky smooth one-drop riddim.

For Second Class Bryan Art is joined by Hawkeye to chant his deep baritone mission to uplift the poor. Bryan sings in the first person in a chorus reminiscent of the Wailers' Waiting In Vain, repeating, its "I don't wanna" phrase several times then moving to "be no second class", a rallying cry to build back Jamaica.

On Beautiful Bryan lists all of the attributes of a certain special lady with loads of allegory and pledges of intimacy and devotion. More romance on Sweeter Love finds him singing a moody ode to taking love to the next level. On No Malice the groove is straight pop dance showcasing his star quality vocal ability. For Taxi the tempo slows down to a shuffling ballad driven by exquisite acoustic guitar and dreamy delay effects. Bryan sings the ordinary activity of looking for a taxi, as he goes outta road to reach his baby.

For Show Your Love Bryan builds the sound inna R&B stylee. Nicely done cadences here, messages about being good to people, showing strong ethics and making charitable efforts to the world and your fellow citizens.

As the set closes with Best of Love which indeed recording lovingly and like some of the best with a great groove, catchy phrasing, and well-done female support vocals.

Bryan Art has toured for years with other reggae artists, now he sets his sights on his own future as a recording artist. What I want to know is whether the "Art" part is a patois pronounciation of "Heart", since he has shown so much love here.


---
Release details
Bryan Art - Bryan Art
DIGITAL RELEASE / CD [AL.TA.FA.AN]
Release date: 04/12/2013
Tracks
01. Anyway
02. Get It
03. New Day feat. Warrior King
04. Murder Dem A Play feat. Queen Ifrica
05. Rock And Come In
06. Dem Fass feat. Capleton
07. Second Class feat. Hawkeye
08. Beautiful
09. Sweeter Love
10. No Malice
11. Taxi
12. Show Your Love
13. Best Of My Love
Featured artists
Capleton
/
Hawkeye
/
Queen Ifrica
/
Warrior King